So once again im back.. I got rid of the CB in Florida for a Civic hatch and sold that in NY to get into a 2003 Acura Rl..... cleaned it up rocked it and sold it for a profit because i got really bored

I searched and search for a clean CB from NY to FL but couldnt find one clean enough so i went with the only other Honda/Acura i would mess with...
This Build will be a Function>Form Build with attention to detail on everything i can... Im building on a budget and hopefully will complete it with what i envisioned it to be... It is my daily driver not a garage bitch, built to be used and is a reflection of my personality and skill set!!
AND SO IT BEGINS!!
i found a Integra that had been grampa owned for most of its life from PA.. it had a bad motor so it needed upgrading

MOD LIST
Engine/Drivetrain
B20b
LS Trans
New passenger and Driver Motor Mounts
A/C,P/S/,C/C Deleted
Full Wire Tuck, Battery Relocated to trunk with Battery Box
"Big 3" engine ground upgrade
AEM V2 Intake
VC Color Matched
"stage 1" clutch kit
Interior
shampoo'd Full Interior including seats
Cadillac Escalade Rear Trunk Mat
Acura TL OEM Black Floor Mats over OEM
Color Matched Tack/Gauge needles
Exterior
Repainted 2012 Honda Fit Blue Raspberry Metallic
Dents and surface Rust repaired
Black Housed OEM headlights
Refurbished headlight Buckets
Refurbished Side Moldings
94 Accord OEM front lip
Brakes/Suspension
OEM Brakes
OEM Suspension
Rollers/Tires
OEM Steelies
OEM Calipers
Dura-Ass Pads
Audio
Pioneer CD/MP3 Player
Ipod playin the jams
Monster RCA Cables
custom 4 gage wiring
Rear Amped JBL p550c power series components
Front Dual BS speakers
JBL GTO504 4-channel amp
alpine 800 watt amp
10" Menace Competition High SPL Midrange Dual Voice Coil speaker 200watt rms
2 12" Road Thunder MTX Subs in Sealed box
Im gonne go deaf


Future Mods
Motor/Trans:
B20 Vtec mild build.. Rebuild Kit, b16/b18c head, ARP head studs, p72 oil pump, p72 oil pan,Golden Eagle lsv kit, hytec rep header, Cable b16 trans,Innovative traction bar, Tuned p28 with jumper harness...ETC
**Next Season**
2nd Motor Build choice:
All Basic bolt ons...4-1 Header, Aftermarket Intake Manifold, 68mm Blox throttle Body, Aftermarket Fuel rail/Regulator, b16 cable trans, Innovative traction bar, Tuned on p28.... possibly mild cam, upgraded mounts...
**Next Season**

Stopping Power:
Front-OEM Nissin 95 Acura Legend GS dual Piston Calipers (3mm Machined off for fit) ....
**ACQUIRED**
Mini Cooper Brembo Blank Rotors (10.3" DA Integra stock... 11.5" Mini cooper stock)
**Next Season**
Hawk Street Pads
**Next Season**
Speed Bleeders
**Next Season**
Rear- OEM Nissin 05 Acura RSX Type-s Calipers
**AQCUIRED**
EP3 Brembo Blank Rotors
Hawk Rear street Pads
**Next Season**
Goodridge Stainless Steel SS Brake lines all around
**Next Season**
Brake Line Tuck
Possibly Upgraded Brake Master..etc (Researching)
**Next Season**
Rollers:
15x6 Volk CE28 reps... repainted "Cyber Gray" by yours truely

**ACQUIRED**
Nitto Neo Gens VR... size 205/50/r15
***ACQUIRED***
ARP Extended wheel Studs
Muteki Super Tuner Lug Nuts... silver
Suspension:
Full 1-piece Coilovers (unsure brand)
**Next Season**
Wiked Tuning Rear Camber Kit
**Next Season**
Generic Front Upper Control Arms.. not sure..
**Next Season**
Blox Rear lower control arms
**Next Season**
Benen Rear Lower Tie Bar with Type-R Bolts
**Next Season**
ASR Rear Subframe Brace
**Next Season**
ST front and Rear Anti Sway Bar
**Next Season**
Neuspeed Front Upper Strut Bar
**Next Season**
Generic Rear Upper Strut Bar
**Next Season**
Energy Suspension Master Bushing Kit
**Next Season**
B-C Pillar Bars
**Next Season**
Floor Bar
**Next Season**
Custom "X" Trunk bar
**Next Season**
I prob forgot something

Exterior/Bay
OEM XS-i Headlights
**Next Season**
OEM CRX Foglights
**Next Season**
OEM XS-i Fender Side Markers
**DONE**
Acura OEM front Lip
**Next Season**
Custom Rear Lip

**DONE**
Replace front seats
**Next Season**
Repaint OEM Wing.. with New Trunk Gasket and Hardware
**DONE**
Re Seal Tail Lights
**IN THE PROCESS**
Color Match Engine Bay
**DONE**
here is the car after the swap and an accord lip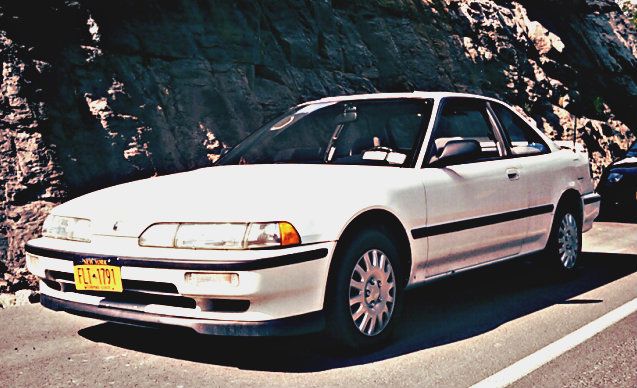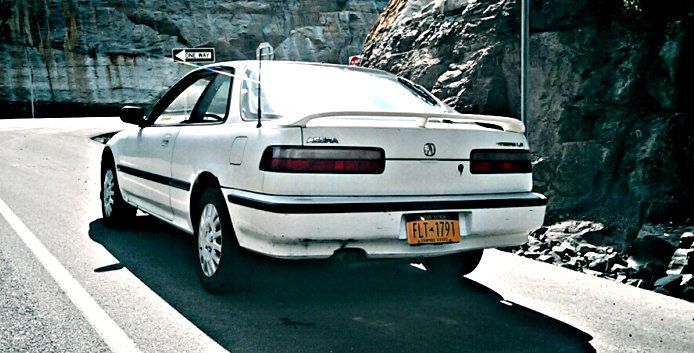 B20b
Interior is pretty much stock with a ripped seat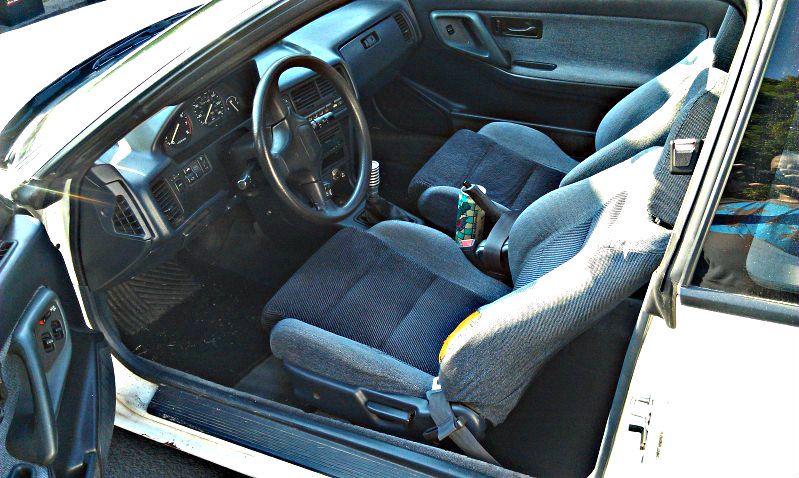 paint was dull and weathered so i had to polish it back up

ready to go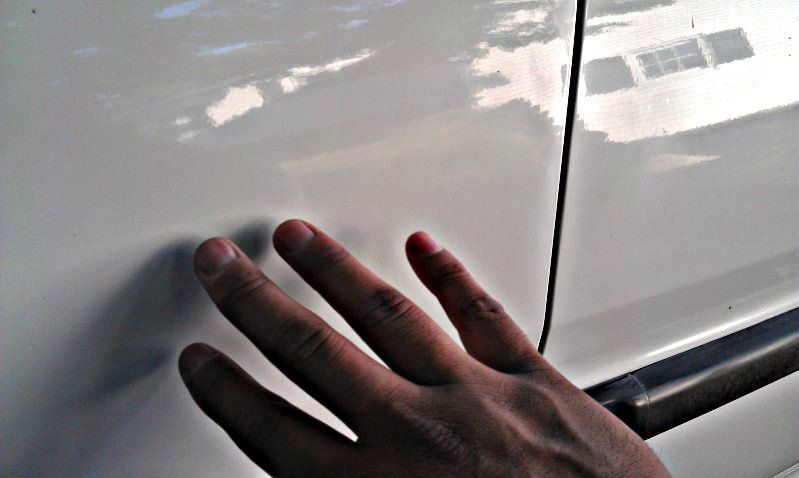 minor rust on both sides and a dent no biggie
After the full detail
after having it for a week or 2 i just didnt want it white anymore.. and the dents and rust had to go
so i disassembled it and prepped the whole car for paint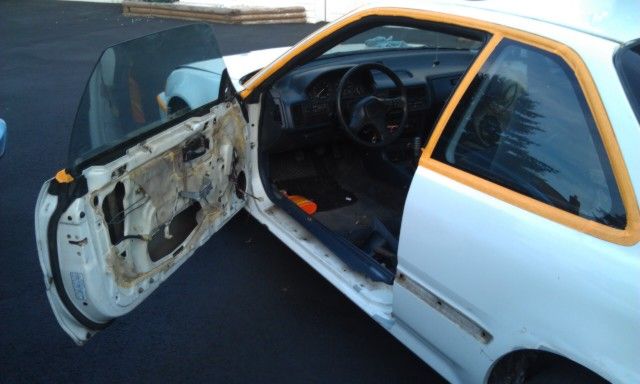 Taped it up and prepped the whole body sanding all the paint down... and taking care of some rust spots here and there (almost got struck by lightning working in the rain to get it done) lol
OCD JUST KICKED IN YO!!... cleaned the spare tire area lol