A little rant i had. Take it however you like...just an opinion from 2 years of turbo research and talking to people and real world results.
The 14b is absolutely fine and Very well suited to this engine. Even at Redline, you're still inside the efficiency map.
And to boot, our engines redline (6200+RPM) will drop way off on the Volumetric efficiency, so it's pretty much taking in as much air as it is at 5500-5900rpm (max power).
Doing the math...
5800rpm *CI (132) * 90% VE(optimistic) /2 /1728 *1.61 PR (1 +9psi/14.7) = 322CFM
322CFM / 14.55 CFM / lbs/min = 22.1LBS/min = ~221HP (some say wheel, some say crank Regarding 1lbs/min of air = 10hp) considering all the dynos at various PSI, 205whp is probably pretty close for stock boost.
So, lets look where 322 CFM comes in on the efficiency map, also note there will be some pressure drop across your IC and IC piping....a realistic turbo PR would be around 1.7 (alhtough the manifold is at 1.6).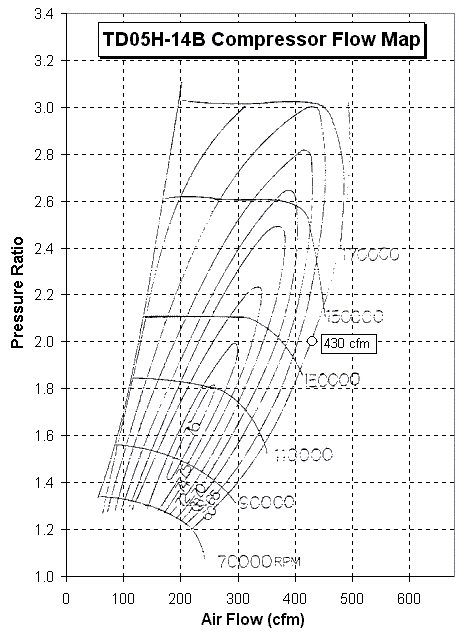 Still near 68% efficient...more than enough.
and the DSM world put out nearly 260-270whp on these turbos...regardless of PSI, the choke limit is gonna be about the same no matter the PR.
with any decent FMIC at near 70% efficiency, you can run this turbo probably out to around 60% efficiency...intake temps will only be about 8deg higher than a similar turbo at 70% efficiency.
Extrapolating that info on the graph above...you can see that at 60% efficiency, about 375CFM (about 220whp @ 1.7pr (9psi)), or about 420CFM at 11-12psi (what i may run) = about 245whp @ 1.9pr. Of course the DSM guys push some 20-22psi on these things and if you look on the map, near 60-55% efficiency, and about a 2.5PR, this turbo can potentially push out around 480CFM = 280whp.
that said, i think with a solid big FMIC you could reach even higher at these boost levels...running efficiency into the 50's isn't going to increase the Intake temps much at all with a 70% efficient intercooler. I'd say 240whp is attainable at 9psi and 265whp at 11-12psi...with accompanied mods that woudl support this flow at these PR's.
There are calculators of intake temps with certain Turbo efficiencies and Intercooler efficiencies, and we are really splitting hairs running a t3/t4 over a 14b at low boost levels.
You gotta at least come close to maxing out the turbo you're using.
Hell for a torque monster and instant spooling, the T25 would pull pretty damn hard at 8psi and make 190whp no problem...not bad at all.
Just ranting on turbo sizing...not sure how many have done all the math or not.