USDM H22A1
poormans skunk2 IM(stock IM w/ eliminated IAB plate)
74>69mm tb
DC header
2.5" exhaust
3" CAI
100 wet shot
NGK R5671A-7
I street tuned it and it made 174.66whp/145.44wtq.
Dyno tuned it today and it made 182.75whp/153.69wtq. Both at the same dyno, temp was about 5*F cooler today.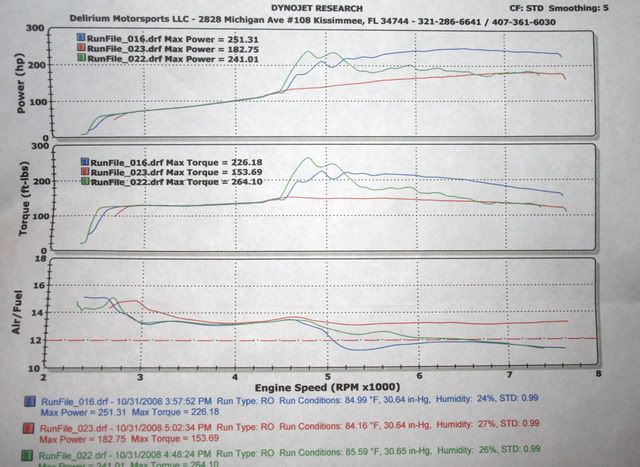 The peak numbers aren't the most impressive, but it's the area under the curve I focused on. I've yet to see any other h22 with such a strong/flat torque curve that lasts the entire powerband. This H22 feels and is faster than any other H22's I've ever tuned or ridden in(I rode in phatdoughnuts h22 that put out 190/153).
This motor LOVED being rich as the afr's showed mid to high 12's. If I went into the 13's, the torque would drop off quickly up top. The dyno's wideband was reading off by about 1 point. Good thing I had my own wideband hooked up.
Don't pay attention to the nitrous runs as the pressure would drop off really quick which explains the loss in power as the RPM's increased. He's going to get a 2Timer and then we'll tune for nitrous.
We'll get it to the track asap. The last time this thing went to the track it ran a 14.6 on a VAFC tuned by me. It's running MUCH better now.