So rumor was that the anchor type camber kit made the control arm hit the upper portion of the wheel well. Well, to be honest, I never experienced that with them before.
My upper balljoints have been torn ever since I got my hands on the coupe. I thought it was finally time to switch it up; and what better way then to do it right with an ingalls balljoint camber kit.
Well it works fine, but now it hits the frame of the car, basically the upper portion of the wheel well. Yes, the frame. I think it makes sense. It is hitting because now there is a nut on top of the control arm where it was supposed to be flush.
So what steps do I take to make this possible. I also heard anything lower than a 2" drop will make my control arm hit with this setup. The driver's side hits more than the passenger. Mostly with dips and speedbumps...with the occasional potholes.
I also know that when I was reinstalling the control arms, it had rubber bushings to flex when the car dips and raises. Does this have to be tightened at a certain degree? Only those who have actually messed with the control arms would know what I am talking about.
My friend has an EK and he used to have this issue. Not sure about the camber kit but he said it almost made a hole in his frame. Not a big issue but I was wondering if anyone would suggest hammering the upper wheel well up a little. Wonder if it would hurt, which I doubt.
Any suggestions would be appreciated.
This is how it looks now: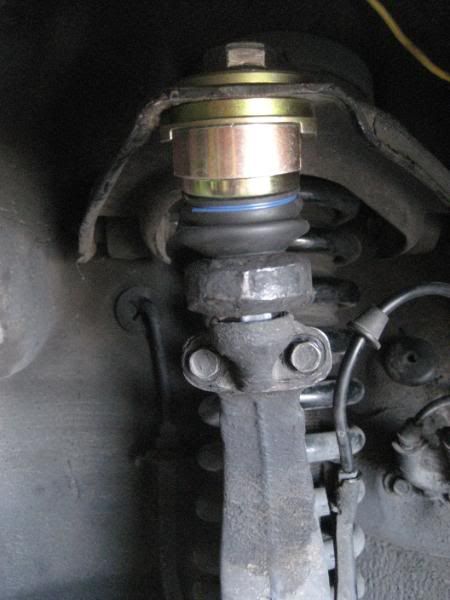 See the nut and plate on top of the camber kit? That is non-existant with a stock upper balljoint. Any ideas? Also notice the bushings at the ends of the control arm. Is that supposed to be positioned and tightened at a certain degree?
And my ride height: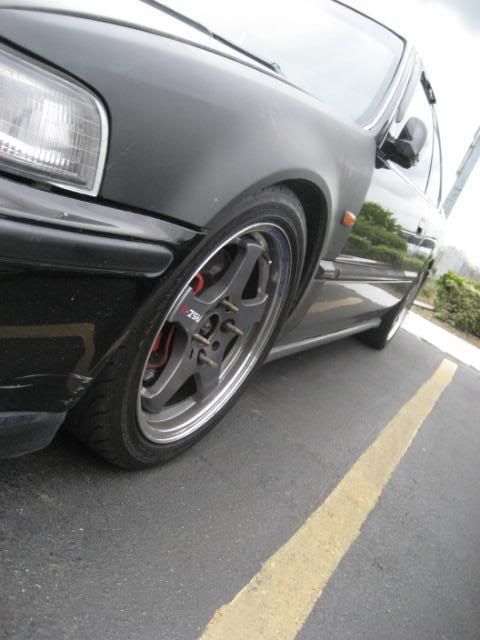 An old pic but still the same height.
Any suggestions without removing the camber kit and raising the car?
Thanks everyone for the input.
-Ant