***This is still in the works. If you see any incorrect info, PM me and I will correct it. If you have any info to add, please do. I will add anything needed to the main post.***
General Swap info:
Buy a manual for an H23 Prelude, for the vehicle it's going into.
Example: H23 with OBD-1 ECU (1993 Prelude SI, DOHC non vtec) into a 93 Accord. Get a 93 Prelude helms, and a 93 Accord helms manual. Go to
www.helminc.com
to get them.
Make sure you have ALL tools before you begin your swap. It is a major pain to go back and forth to the store for random parts/tools.
BAGGIES!!!!! Your swap will go so much smoother if you bag and label everything. Same goes with tools, do not leave tools everywhere. As soon as you're done using a tool, put it back in an organized pile. You will not believe how much time you will save by doing just that.
I've done swaps where ONE lost tool held us back for hours! It was frustrating!
For more general swap info, refer to
this thread.
Engine Harness:
More than likely, the harness that's on your F22B DOHC will be cut, so use the harness from your F22A. Everything plugs right in.
Engine Mounts:
Use your stock accord mounts. The DOHC should already come with the timing side mount. You CAN use it. I did, as I'm sure everyone has. You will have to transfer the rest of the mounts onto the new block.
Transmission Mounts:
If you're using a manual transmission that isn't the f22a trans, you will need to use a 10x1.25mm tap to tap the two unused holes in the Prelude transmissions case. Before you can do this, the holes need to be enlarged with an 11/32" drill bit... get a drill bit that is made to drill through metal! Remove the two studs from their old location, and install them in the location you just drilled and tapped. Then you can mount up the Accord's transmission mount on the Prelude transmission.
For Autos nothing is needed it just bolts up with no additional modding.
Clutch/Flywheel:
F22a/h23 components will fit without a problem. If you're getting a new clutch kit, I recommend going with an OEM throw-out bearing.
Axles:
As with any other accord swap, use your stock accord axles.
Air Conditioning(A/C):
Use the bracket from your f22a.
Alternator:
Prelude and Accord alternators are the same, they just have a different sized pulley. Either one will bolt up to either bracket, but if you replace your alternator for the one with the smaller pulley, you'll either need a shorter belt or you'll need to use washers on the 10mm tensioner bolt to get it to tighten all the way. Prelude alternators have a 6 ribbed pulley while accord alternators have a 5 ribbed pulley.
Power Steering (H22A):
Use the F22A Bracket and pump with a custom sized belt or the bracket and pump from the F22B DOHC with a custom sized belt. You cannot mix and match. Only two bolt holes will line up with the F22A bracket and you will have to shim the lower hole(use washers).
Fuel Rail:
You can use whichever fuel rail you want. It's much easier if you swap on your f22a fuel rail. Just note, if you use the JDM fuel rail, you will have to buy some fuel hose because the fuel fitting is on the opposite side as the stock location. Also, use the injectors that came with the JDM engine.
Exhaust:
You can use any exhaust that fits any f22a, h23 and f20a. The bolt pattern is exactly the same for those just mentioned.
Internal/External Coil Issues:
If you own a 90-91 accord, you have nothing to worry about. Your engine harness is wired for an internal coiled distributor. Plug everything in as it should without worrying about any wiring.
For 92-93 accords, your harness is wired for an externally coiled distributor. This creates an issue because the JDM F22B DOHC comes with an internally coiled distributor. You have a few options;
space
1.
Buy an H23 distributor(USDM h22/h23 are both external coiled, but the h22 costs more for some reason).
space
2.
You can buy an aftermarket coil such as an MSD Blaster coil and wire it up to the stock JDM F22B DOHC distributor(
click here
for instructions for this step).
space
3.
You can use the stock JDM F22B DOHC distributor by either;
space
A
) splicing the black/yellow and solid yellow wires together.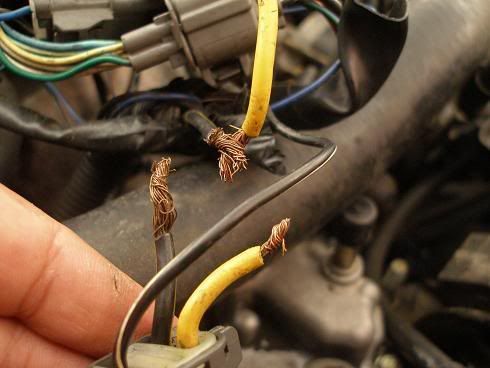 space
B
) Instead of cutting/splicing, put a 30amp fuse in to complete the circuit between the black/yellow and solid yellow wires.
space
4.
You can take apart the f22a distributor and put its internals inside the F22B DOHC distributor, making it now basically an H23 distributor.
If you decide to go with option 2, you can use your F22A cap instead of modding the JDM cap. You can also go to the auto parts store and buy a cap for your year accord, or an h23 distributor.
Timing Belt/balancer belt/water pump/oil pump:
This is the ONLY place I've found that sells the JDM F22B timing belt, but it's really expensive.
http://store.autodynamics-honda.com/hopt2tipt0ba.html
Other belts that fit:
Belt from an 88 dodge caravan 2.5L part numbers:
Napa- #250132
Gatorback- #40132
Gates- #T132
If you don't want to buy that or can't find another source, use an H23 timing belt. The tensioner will be pretty much maxed out. But it works. The GSR timing belt is too short and won't even go on(not for me anyways). Use an F22A balancer belt.
Buy a water pump for an F22A. It bolts on perfectly.(thanks to dbsharp)
Use an F22A oil pump.
EGR:
The JDM F22B's I have dealt with all have a different style plug on the EGR valve. Just swap out it out with the one from your F22A.
Water neck:
THe JDM F22B DOHC does not have an ECT sensor on the front water neck. You will have to swap the front water neck from your F22A.
ECU:
You have a few options;
space
1.
You can use any stock F22A ecu(pt3/pt6/p12). The only issue with any of these is that you will not get anywhere close to the performance you should be getting out of your JDM F22B DOHC engine. The fact that those ecu's are for SOHC engines does not mean you cannot run it on your DOHC engine.
space
2.
You can use a P39. It is the stock ECU for JDM F22B DOHC's. Very rare and hard to find.
space
3.
You can use a P14 from an H23 prelude. You will need to wire a knock sensor onto your block for you to not any codes with this ECU. As with option 1, you will not get the fullest out of your engine with this ECU.
space
4.
A chipped p06. These ECU's are from 92-95(OBD1) Civic LX's. You cannot run them while stock. You need to chip them and use a map designed for your engine. Refer to
this
thread for more information on chipped ECU's. If you have an auto and will be keeping it auto, refer to
this
one as well.
IAB's:
Depending on which ecu you choose, you can either keep the black box that is under the intake manifold, or throw it.
If you choose to use a pt6 ecu, then you can keep that box. Make sure that all vacuum ports are going to a vacuum source from the box to the intake manifold.
If you choose any other ecu(one that doesn't support IAB's) then you can throw that box out(sell it). Hook up the IAB diaphragm straight to the intake manifold.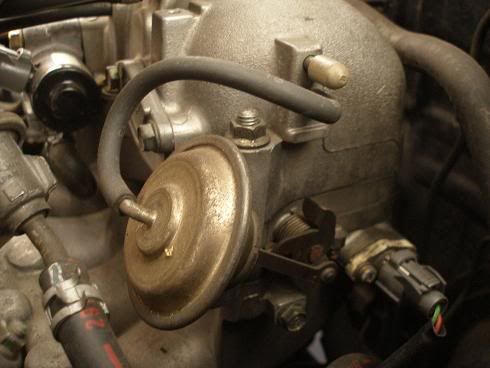 TPS:
Usually, on JDM imported engines, the TPS is busted. You will have to transfer the TPS from your F22A to the JDM F22B. Look here for more info
http://cb7tuner.com/vbb/showthread.p...&highlight=tps
http://cb7tuner.com/vbb/showthread.p...&highlight=tps
http://cb7tuner.com/vbb/showthread.p...&highlight=tps
Spark Plugs/Plug Wires:
Any F22 or H23 will fit. I personally used H23 spark plugs/plug wires without any issues. If you're on the cheap end, you can use stock F22A plugs and wires.
Oil Pan Gasket:
The block is essentially an F22A block, with a few exceptions. But, I can confirm that the pan gasket you need is from an F22A.
Other Gaskets:
As for the valve cover gaskets, get the ones for an H23. As far as I'm concerned, this engine does not have lower spark plug tube seals.
Cap/Rotor:
All F/H distributor cap/rotors interchange. You just need to get the one for your distributor type(internal or external).