Procedure
File or chisel tools.
Sharp knife, blade, soldering iron or Dremel like tool
2 x 9005 bulbs.
Protective glasses (you don't want to lose an eye) and gloves
1. Remove 3mm of plastic from the left of the center until you have 5-6mm of plastic left.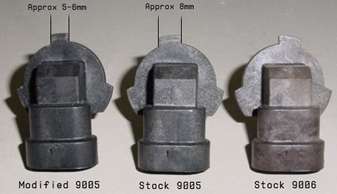 2. Remove the two guides inside the socket (I used a soldering iron for this. ( I didn't swap O Rings like the other and it worked fine for me)
3. Install the bulbs in your car and have your light adjusted if not already.
- I personally have done about 5 conversions and its really easy. just dont burn your self with the soldering iron like i did the first time, it wasnt bad at all just hurt like hell for a sec haha. not even bad enuf for a scar, just red for a day.
Special thanks to..
http://www.bmwe34.net/E34main/Upgrade/More_light.htm
for the pictures..