This is for those of you who want to convert your front blinker lights into fog/marker lights, without adding additional bulbs.
The end result will be the lower blinkers being on all the time depending how you have a switch set up, and each individual light blinking on and off when you use your blinker.

Here's What you'll need...
•2 New Turn Signal Lenses, Clear or black housed (if you want a "fog light" look)
•2 SPDT Standard Automotive Relay's (5 pin) With Harnesses
•Some extra 16 or 18 gauge wire
•Some misc wiring connectors and crimpers/strippers & Electrical Tape
Step 1:
Remove the factory lower blinker lights. Locate and unplug wiring harnesses from the lights.
Cut the Green wire going to each light. Left Wire is green/blue, right wire is green/yellow.
Step 2: Find 12v switched power from somewhere. I personally ran off of the ignition harness, to a switch inside the cabin, and then out to the lights. You could run off the headlights, or anywhere else that's a switched power source. Run This down to the turn signals.
Step 3: Now get your relays, one for each side.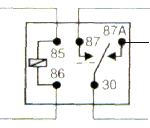 Here's how you'll wire up your relay:
Take your new +12v power wire, and run to pin 30.
Run a ground to pin 86 (you can get this from anywhere, or use the black wire, just make sure the bulb is still grounded)
Run the Green wire that you cut to pin 85 of the relay.(The car side of the wire)
Run The other side of the green wire (still connected to the bulb) to pin 87a.
Step 4: Put everything back together. If you want to get elaborate, and run some extra wiring so that the relays are inside the engine bay, it will be much less chance of burning them out. Personally, I leave them behind the lights, but this might result in you needing to change out the relays from time to time due to water damage.
Just remember the common automotive wiring techniques when doing these exterior wiring modifications. Things like soldering, and then heatshrinking your connections will greatly reduce the chance of corrosion down the road.