This DIY will help those of you with the problems of the sticky switch. In my case, everytime i try to move either of my mirrors to the right. the mirrors would continue going even after i stopped pressing the D pad. and the D pad was not sticking.
After 15 years, lube tends to not work as well as it did the 1st day it was dispensed


but ok on a serious note, this as well as a little dirt is most likely your problem.
IM NOT RESPONSIBLE FOR YOU FU*KING YOUR DOOR PANNEL SWITCH OR ANYTHING ELECTRICAL ON YOUR CAR UP. ATTEMPT THIS IF YOU FEEL THAT YOUR ARE COMPETENT and SKILLED ENOUGH TO DO THIS.
Here are the tools you will need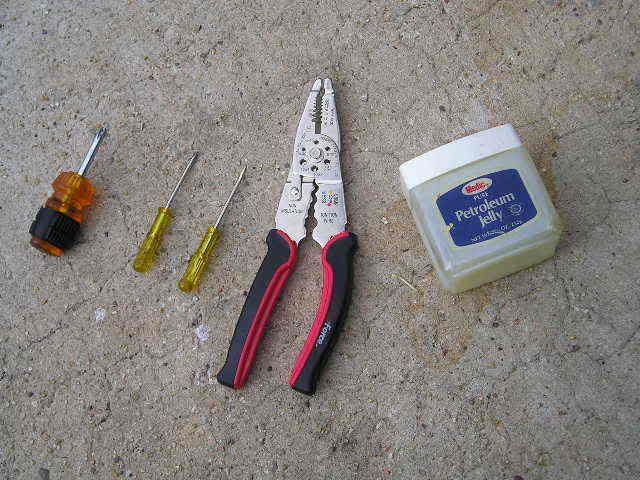 small flat and philips screwdriver
large screwdriver
needle nose
Vaseline

(
not
KY
not
WD-40 )
1st
thing to do is remove your door pannel ( 3 screws 1 pin and pull. if you dont know how to do this then stop while your ahead. )
2
to take off the master control switch w/o damaging the arm rest, you have to remove the many screws on the back of the pannel as well as 3 or 4 little clips. remove all the pluging from the master control switch. there are 3 screws retaining the master control pannel in.
I didnt have to do this because mine was already off for just such as an occasion. take your time on this step to avoid bending the armrest out of shape.
(THIS STEP IS A PAIN IN THE ASS)

3
ok here come the pix
this is the 1st screw you want to remove. remember that this is the SHORT screw when u put it back together.
4
from here just push the switch out. go ahead try to break it cause it wont happen. so if you break it then that sux cause i even tried.
5
remove the LONG screw thats in the middle of the switch. u cant miss it trust me. its the only other screw on the switch.
6
after that pry this little retaining clip away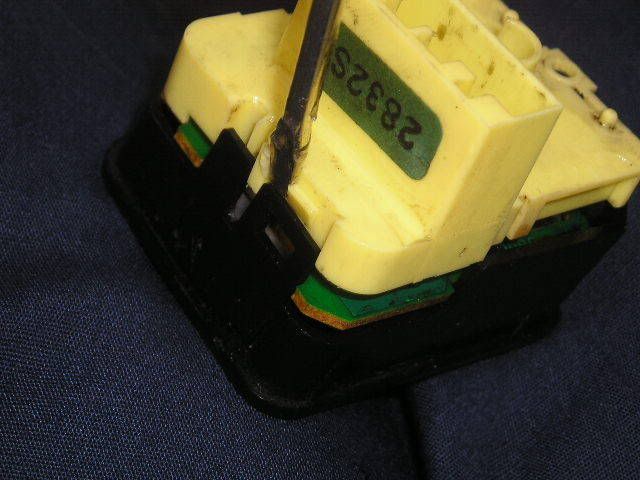 and PULL UP.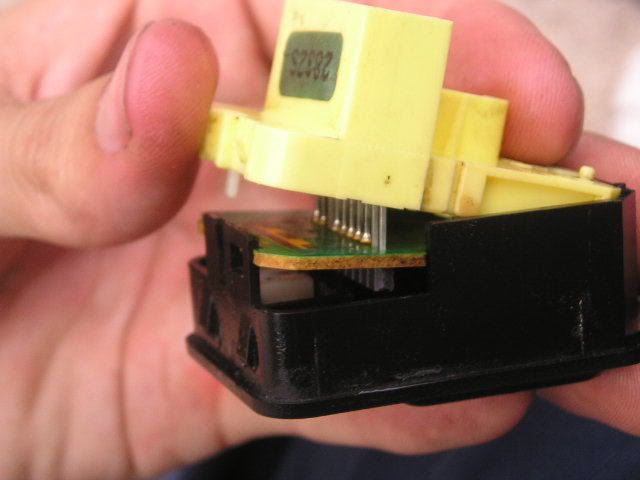 here is where you CAN break stuff. I broke a clip on one and a lil piece of the yellow backing on the other but w/e u break on this doesnt really matter. itll still work perfectly.
7
the 3 EASY FIXES
Easiest fix is dirt on these little contacts.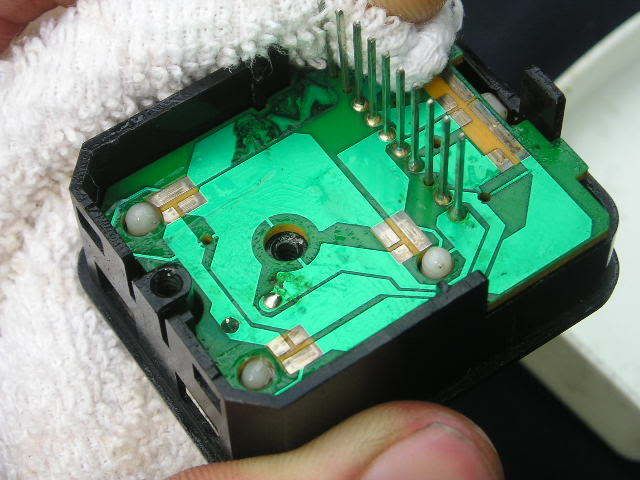 sometimes the metal might actually be missing. if so then just replace the chip.
2nd easiest fix push the mirros D pad and push the white stubs out so u can grab them with your needle nose pliers. clean the dirt from the end and dip in vaseline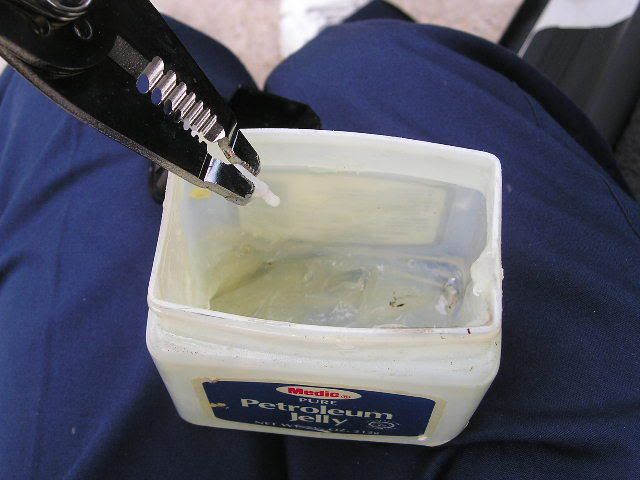 replace and its ok for the lube to gush out.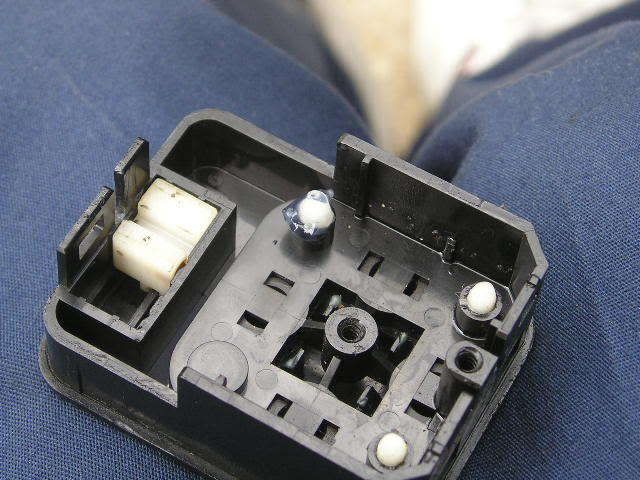 last fix and check are these little sliders
DO THIS IN A CONTROLED Area meaning indoors where you have alot of open space and its clean so you can find these lil suckers if they pop out and fly everywheres.
inspect that none of the little metal clips are bent or out of alignment with eachother. If one is pull the best one from your non working switch.
while the slider is out lube the inside of the cubby with vaseline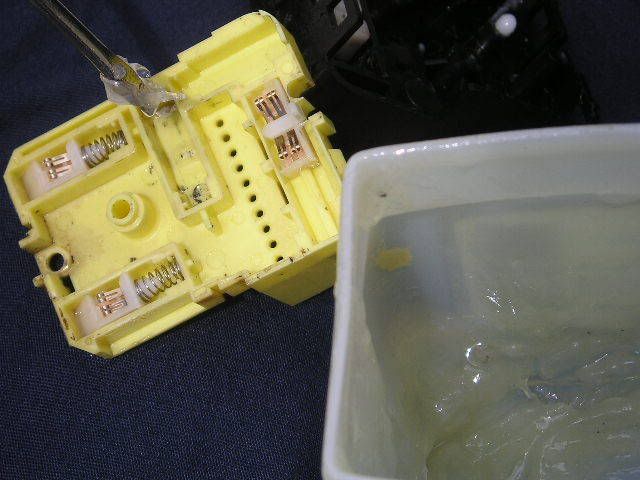 lastly replace the slider MAKING SURE THAT THE SPRING IS LOCKED IN THE YELLOW RETAINING SLOT !!! LUBE the angled part of the top of the slider avoiding the metal fingers.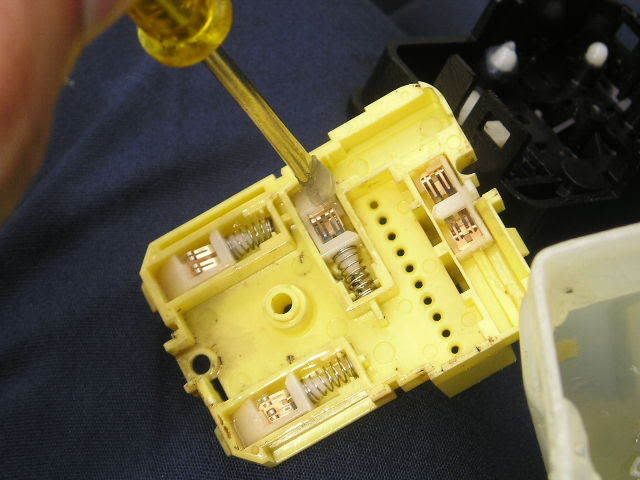 also be sure when you put everything back together that the small white slider at the top for the L and R mirrors fits in that little groove or your will either break it or it just wont work.
8
LASTLY TEST B4 U PUT EVERYTHING BACK TOGETHER NICE AND NEATLY !!!!!
you would be pissed the hell off to have to take everything back off just because u didnt spend 20 extra seconds testing everything thoroughly.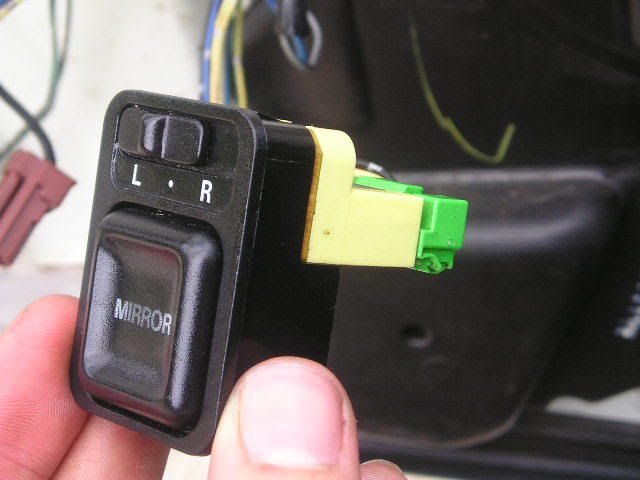 sometimes the lube needs to get all over so play around with it for a little bit but if the switch still isnt working properly. then swap around parts between the 2 switches from D pads to the green Chips and white sliders. you will get a working combo in there somewhere.
I have to Go back to work. wrote this on my lunch break. ill make corrections and explain details better whenever i have more time.
Hope this helps some of you with this problem.
===============
UPDATE 6-9-08
My control switch nvr worked better. i dont have the sticky switch anymore. so far so good. ill let u guys know if it fails to continue working properly. DO THIS !!! IT WORKSS !!!