This is my first DIY so bear with me and my dirty interior, im a busy guy lol:
*notice* i am not held responsible, liable, whatever for anything you mess up trying to follow this DIY. If you screw this up you will need a new gear selector, so keep that in mind.
tools needed:
pipe cutter
phillips head screwdriver
(maybe) allen wrenches depending on your shift knob
sorry if i forgot a tool
This was done once already but was deleted due to a member no longer with us. So i am reposting and hopefully this helps some of us slush-box drivers feel a little more manly in our automatics

I did this with a Pilot manual shift knob and matching boot from Pep Boys, but a majority of people have asked about look-alike knobs that actually depress like this one: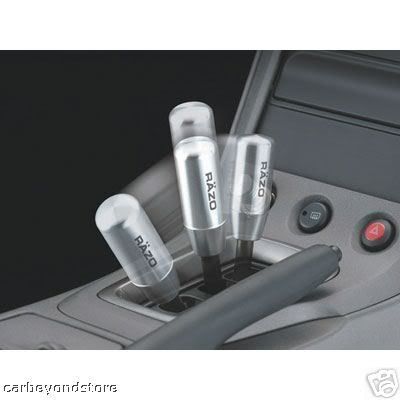 this diy can be used for these types of knobs as well, since the same basic principle applies.
*note* i find that when messing with the shifter its easier if you remove the interior panel surrounding the shifter and leave the shifter in the neutral position.
First, lets learn how an automatic gear selector works in our cars.
*note* pics are not of a cb7 shift knob
standard automatic shifter: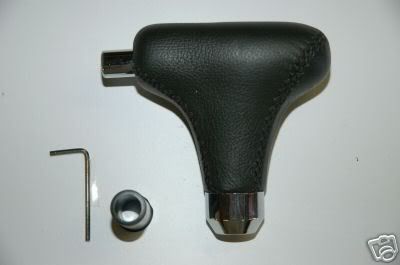 this can be removed via a couple screws located on the neck of the shift knob. Once it is unscrewed you simply pull up on the shifter. In some cases the spring and a white piece fall out of the shifter. dont worry about it, you dont need these anymore anyways.
The Way Things Work:
Heres what your looking at: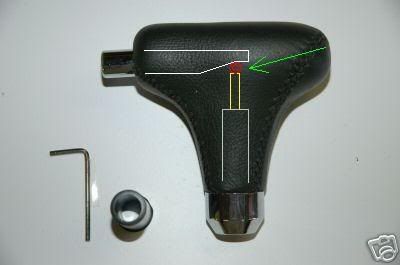 when you push in the button on the side, the tapered slide rolls over a small wheel, gently pushing down the inner rod.
The inner rod is locked upright and is only unlocked by pressing the brake pedal or inserting your key into the keyhole next to your gear selector.
Point of No Return:
For starters i didnt know how low i wanted to go, so i started by cutting off just the part with the wheel and a little from the outer rod. i used a Pipe Cutter i bought from Home Depot, much like this one: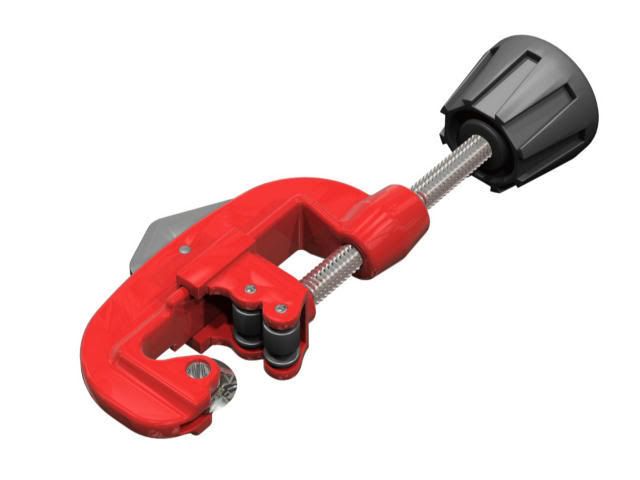 *note* make sure if you buy one that it is small anough to make full revolutions around your shifter rod assembly. Pep Boys sells a small Performance Tool one that i've used also.
Now i was left with this: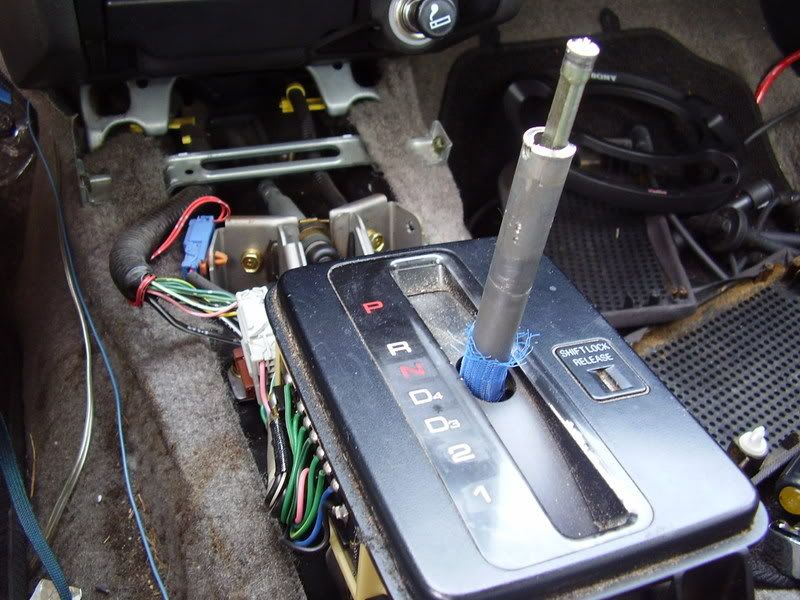 curious, i put the boot and shift knob on to see what it looked like: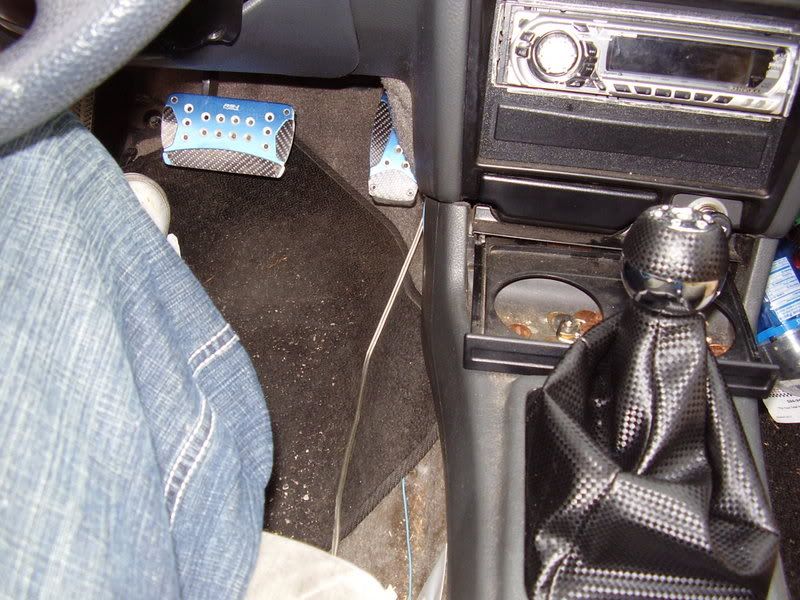 ugh, way too high.
I realized i need to go really low. PLS READ THIS CAREFULLY:
IF YOU ARE USING A PUSH DOWN TYPE KNOB: you need to make sure you have enough room so that when you depress your shifter to fully rake up and down thru the selections.
IF YOU ARE USING A REGULAR MANUAL KNOB: you need to buy a knob that is held on with set screws, since obviously threaded type knobs will not work, unless you want to run a die-nut over the rod, which i dont think anyone wants to do. Set the knob on the inner rod, push your brake pedal, push down on your knob and SET THERE. then try raking up and down through the selections
I dont have any way to tell you how much to cut, since every application will be different, so take off small increments until you are happy.
I ended up with this: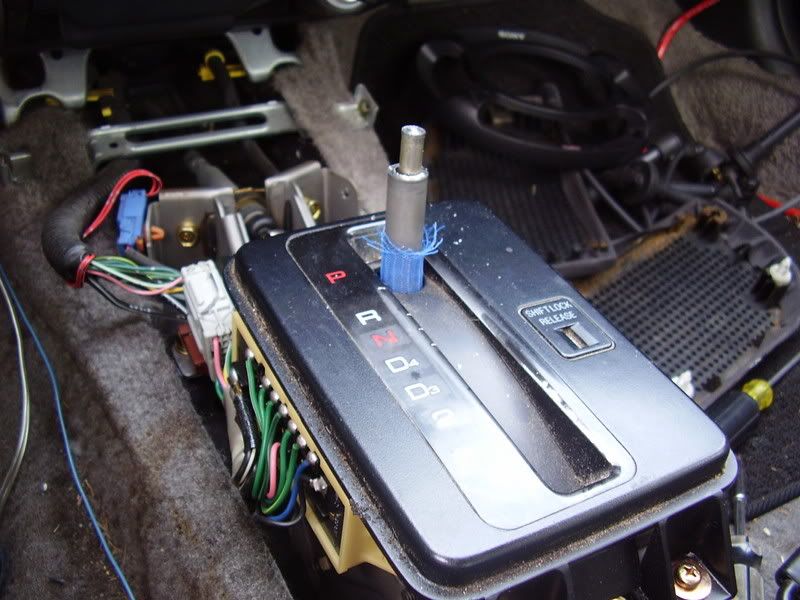 I also removed the plate with the letters to allow my boot to "sink in"
Heres my final product: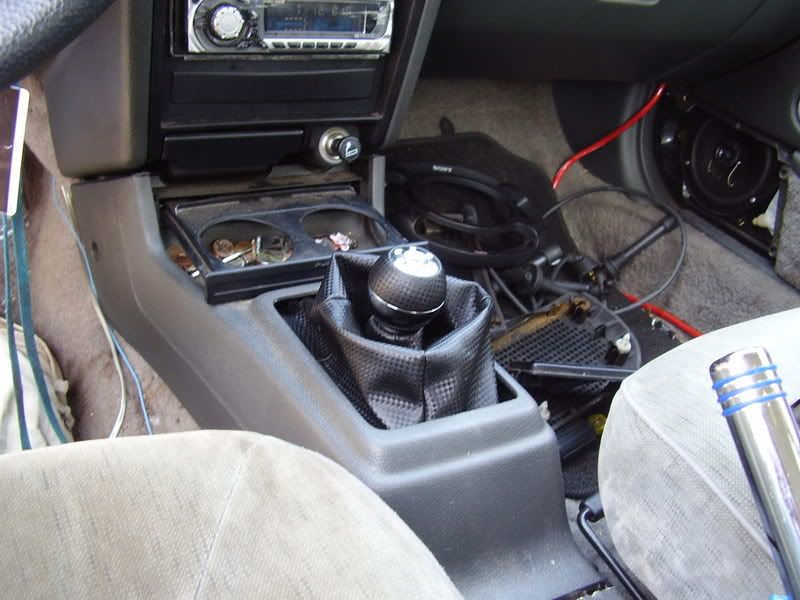 i love using the manual knob because i dont need to use my brake pedal to pull the car down into reverse, or from neutral up to reverse. HOWEVER, i cant recommend this to anyone because im not gonna be responsible for you pushing it into reverse on the interstate

hope this helps, pm me with any questions