^^^^
New look as of 2009 (shout out to
Kellen Photography, Inc
for the pic)
Engine:
:: JDM H22a
:: H22 5 Speed Tranny (M2B4 LSD)
:: ACT 8 lbs. Flywheel
:: Exedy Stage 1 Clutch
:: Custom Powder coated wrinkle red valve cover
:: RS*R JDM header...2 1/2 inch collector(very rare)
:: RS*R catback exhaust (yeah baby..I finally got one!!!!)
:: Magna flow/high flow Cat
:: AEM V2 BB6 cold air intake
:: Aluminum race radiator (dual core), Spoon radiator cap
:: Royal Purple 10W-30 every 4K
:: Battery relocated to the trunk
:: Ceelooboob filled motor mount
Exterior:
:: JDM one piece headlights (custom blackhousing/yellow high beam)
:: 6000K HID conversion kit for low beam
:: Custom Electron Blue Pearl (B95P) Civic Si paint job
:: Shaved Antenna, Shaved washer nozzles
:: DIY yellow front turn signals
:: OEM fogs with OEM switch
:: Red/Clear tail lights
:: Custom front grill (blue one), also DIY black g-square-look grille
:: Legend coupe front lip
:: Debadged
Interior:
:: Yeamans17 short shifter
:: Black Prelude front seats (retained my 90/91 auto seatbelts!)
:: Black console and hand brake
:: JDM Spoon Sports pillows (haha...suckaz)
:: DIY black door panels and carpet
:: Red/black leather Type R shift boot
:: Red/black Type R shift knob
:: ICE = generic CD player and Kenwood 6x9 speakers, with EX speaker pods
:: Digital tach with shift light
:: JDM squash air freshner/sliver and blue
Suspension/Brakes:
:: AMR Engineering custom made full coilovers (purchased 4/20/09)
:: Rear disc brake conversion
:: Progress rear sway bar
:: Energy Suspension red kit (completed 12/08)
:: SPC camber kit (front)/DIY for back
:: Megan Racing front strut tower brace
Wheels/Tires:
:: 18 inch Axis Crux
:: 215/35/18
Future Plans:
:: AEM big brake kit for the front
:: Nitrous wet kit (65 shot for a little kick) (completed 12/2009)
:: Skunk2 Intake mani and 70mm throttle body (removed....sold)
:: AEM Tru-Time light weight pulleys
:: AEM fuel rail, predrilled for nitrous
:: Type S cams or skunk2 stage 2 cams and valve train upgrade
:: Dye dash black or swap it out with a black one
:: 92/93 bumper swap and install 92/93 fogs already purchased (completed 7/11/09)
:: SPC camber kit (front)/DIY for back (completed 01/09)
New look as of July 2009: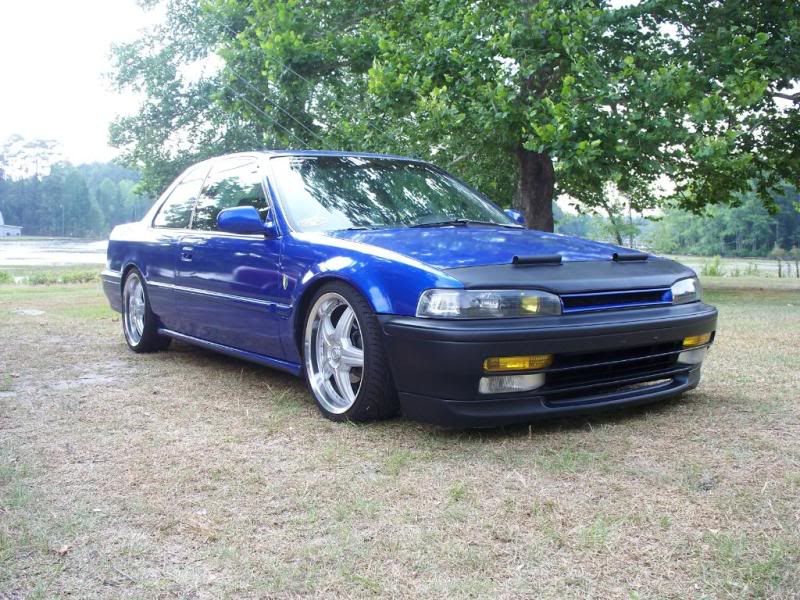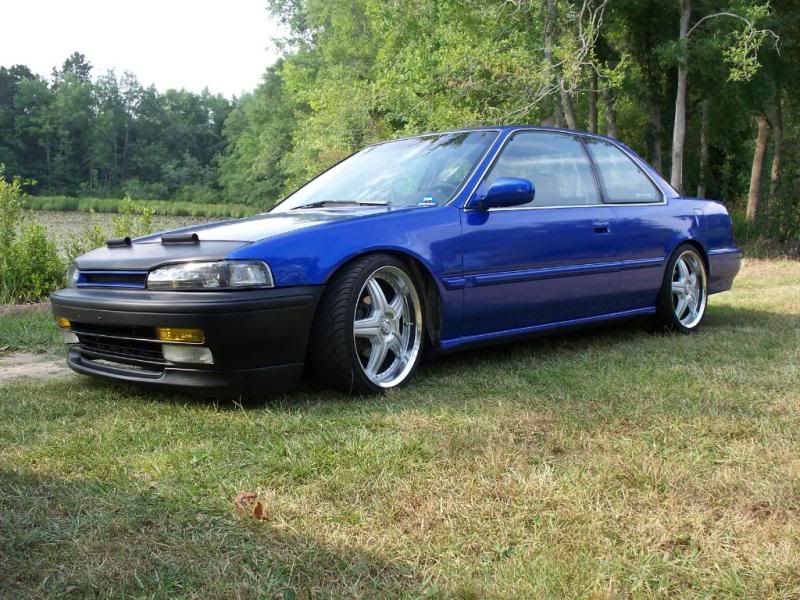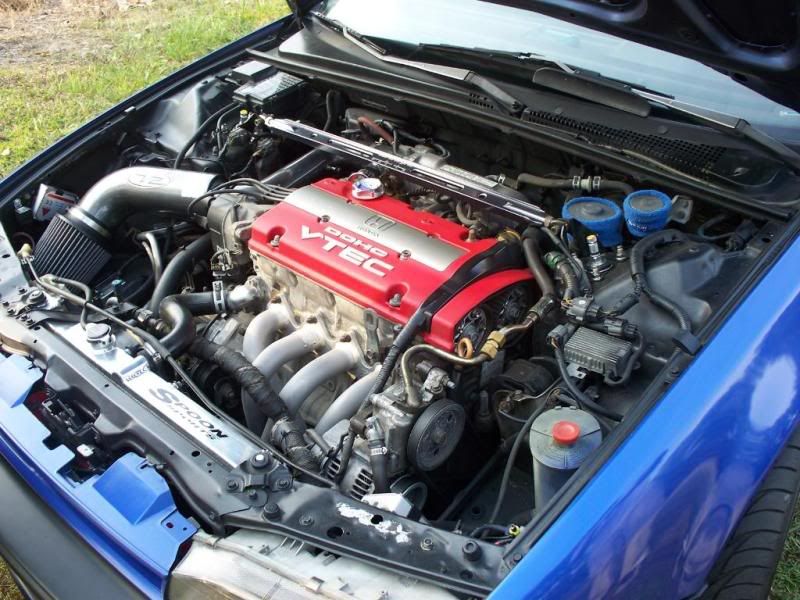 Before pic (car was purchased for 500 bucks):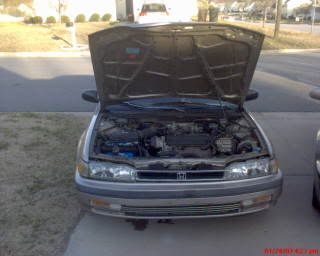 After pic (new paint/body work/H22):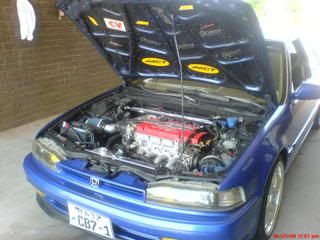 Another engine shot: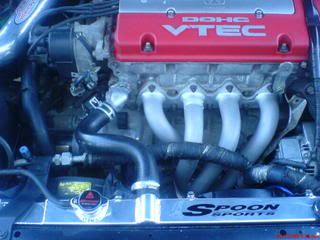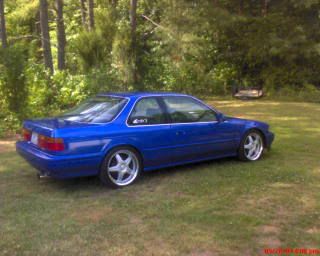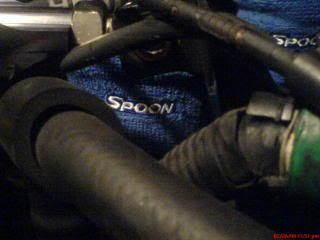 more to come!