Welcome!
PICTURES ON EVERYPAGE!!!
Best Viewed on a 19" Monitor with 1280 x 1024
Dial-up ppl, u've been warned

This is my new CB. After a year-long search, I've found a CB chassis that is worthy of turning into a project. This build should answer: "If I could build my CB all over again."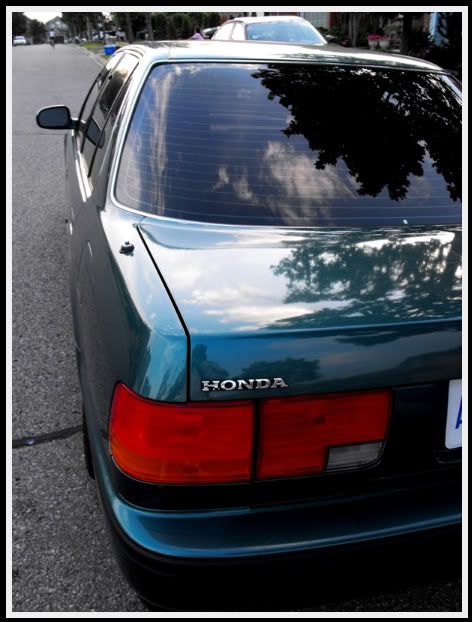 CB7II Mandate: Clean & Fast


MoD LisT:



ENGINE & DRIVETRAIN:


-1992 Honda Accord EX-R SOHC F22A6
-1992 Honda Accord EX-R Automatic 4-speed transmission
-140 hp @ 5600 RPM
-150ft-lbs @ 4000 RPM
-6200rpm redline
-125,000km = 78,000mi (2009-07-07)
-New Rebuilt Driveshafts installed




EXTERIOR:


-Redone 92-93 Accord Color: NOT SURE YET SOME BLUE GREEN GOODNESS.
-Honda OEM Sunroof Visor

thanks Dustin!


-Honda Of America Silver Badges




INTERIOR:


-Original Honda Accord Light Beige Mouse-fur seats
-Black Dash & Highlights (EX-R model)
-1st Gen Honda Integra Type-R steering wheel
-EF Civic Steering Wheel ribbon = working horn



SUSPENSION/WHEELS:



-Front brakes: Brand new Honda OEM CB9 Wagon brake swap including calipers, rotors, pads
-Rear brakes: brand new Honda OEM CB7 including calipers, rotors, pads
-Mitsubishi Lancer OZ Wheels 15x6 42mm offset
-ROH (Lotus Flower style) 15x 6.5 35mm offset
-Honda Accord OEM 15x6 Aluminum Wheels
-Nissan something 16x6 42mm offset
-Nokian Winter Tires 185/60-15



AUDIO/ELECTRONICS:


-Stock speakers, they sound great!
-Clarion 4x50watt mp3 deck, multicolor



FUTURE PLANS:


-None! okay maybe some.
-Seat heater buttons converted to Cruise Control switches.
-ST sway bar set swapped over
-little rust spots fixing, I don't want any rust, none!!! efff rust!
-Full Detail, inside & out. I want to see what I am working with here.
-windshield chip fix
-Vigor brake swap
-SS brake lines
-Higher rated dampers (dampers < springs)
-OEM right-side Headlight replaced
-new right fender
-Honda OEM 6-disk CD player
-front fogs, I like this bumper, just needs fogs. maybe swap over the brown bumper???
-wheels & tires
-side fogs, with tint, I need to see what is going on when I make a turn.