Here's my member's ride addition:
Been a member here for awhile now and thought I share some of my work. Alot of you here are my inspiration for getting my own CB project going.
Check below for the full story of this restore and built project... yes I did all the work includes all the H22/T2T4 engine, tranny swap and bodywork and paint.
*****(some update with pics)*****

My other cars.... now former cars on pg. 4
Front shot.. and Kouzie's new ride pg. 5
Cute baby? yes HATCHing is finally a father pg. 7
Interior pic pg. 10
New toys.. BISIMOTO header!! pg. 11
More toys.. Apex'i WS2 arrived. pg. 12
3" exhaust setup pg. 17 and pg. 20
Finally dyno tuned: http://www.cb7tuner.com/vbb/showthre...165984&page=24


As it stand today: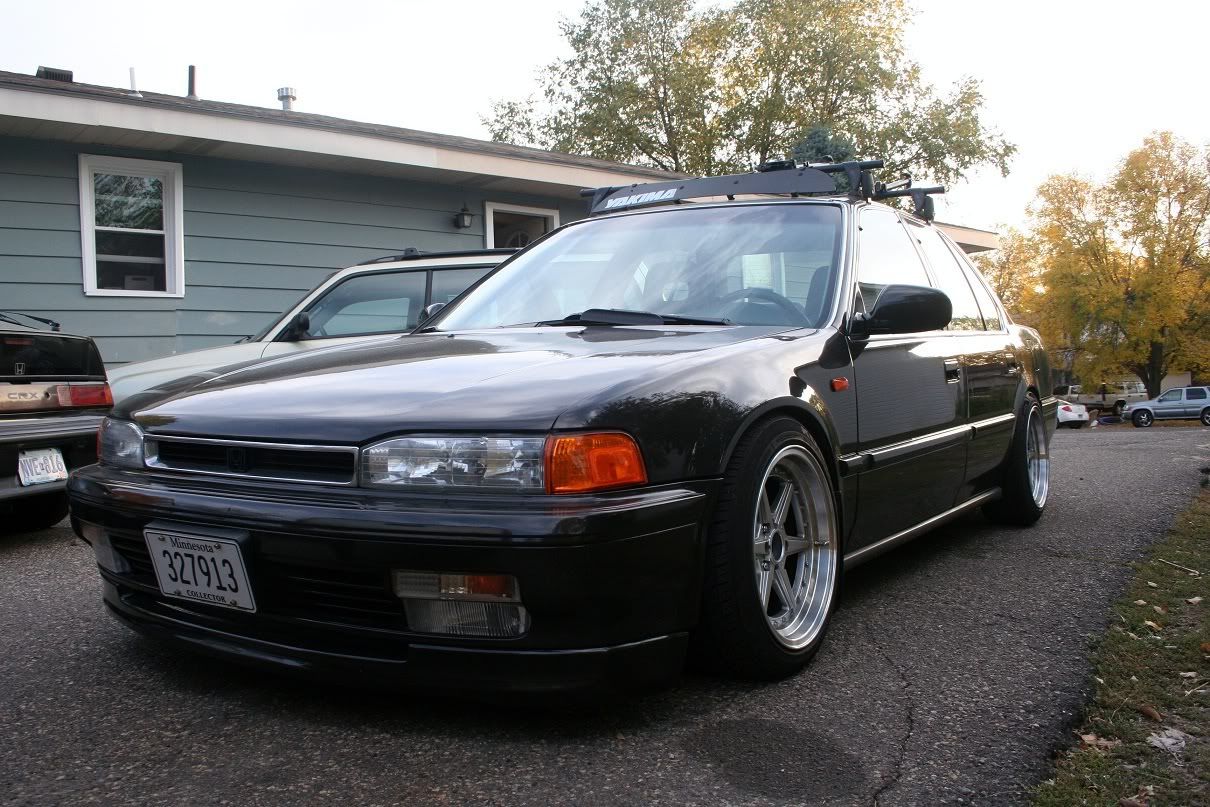 98% All red taillights...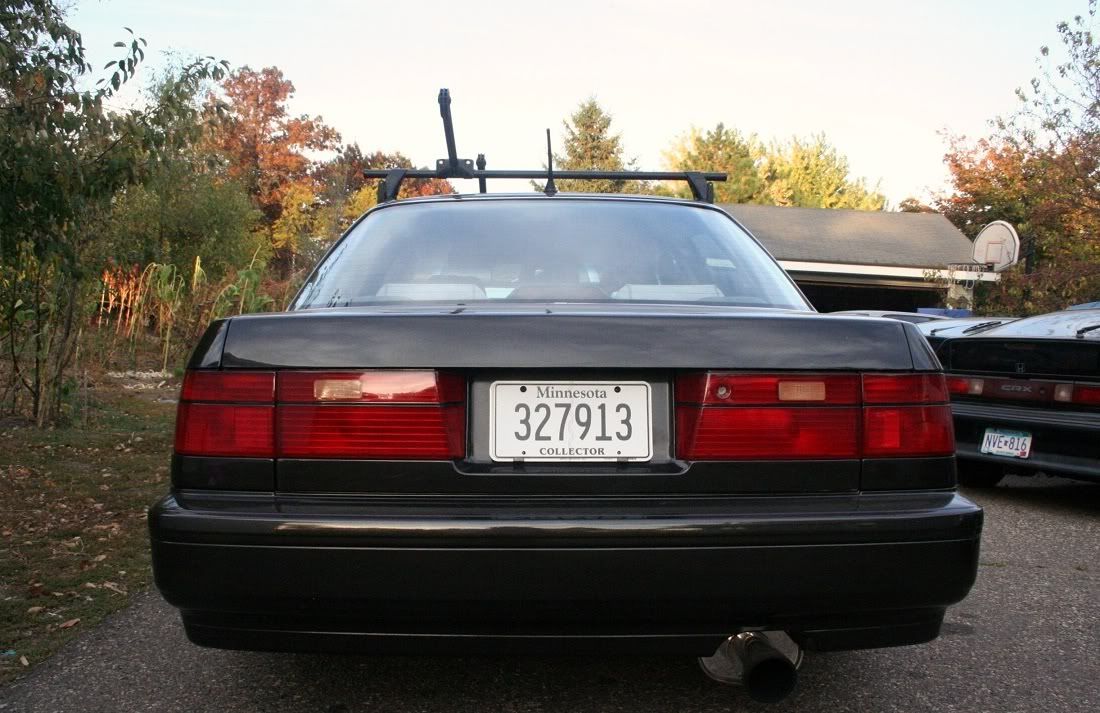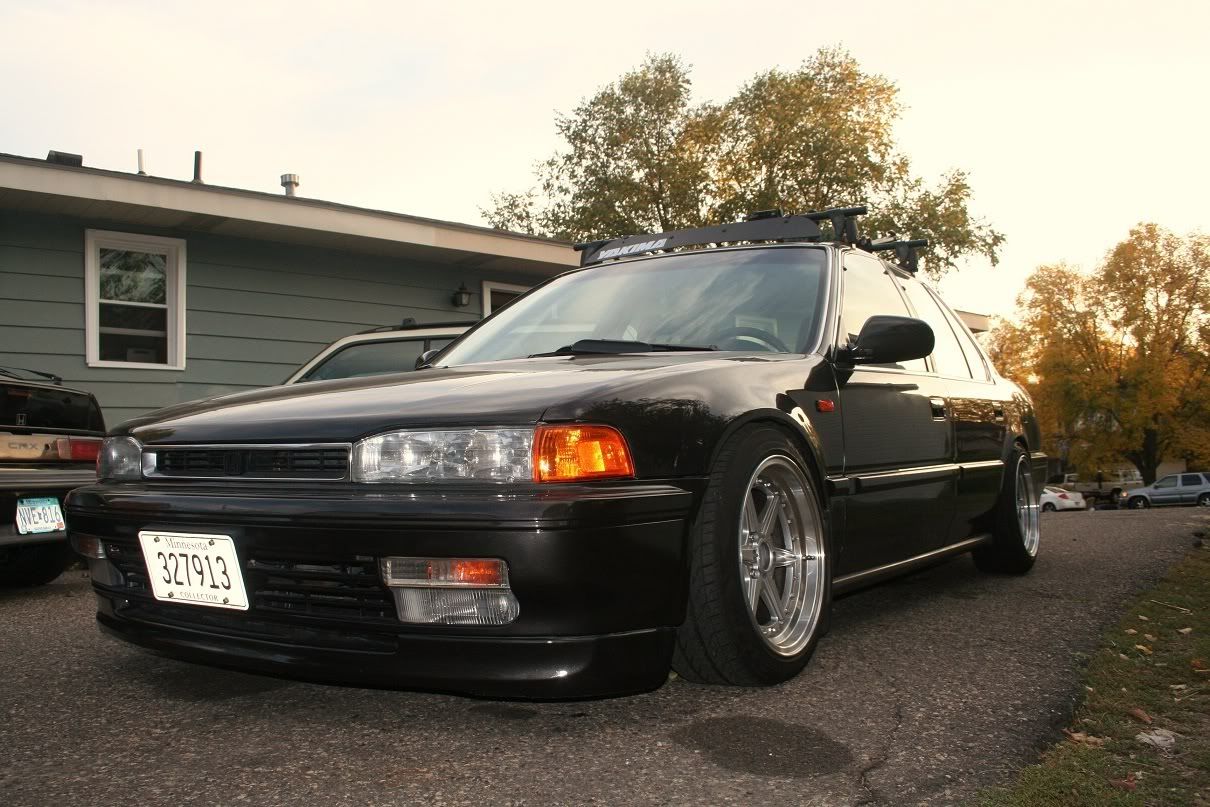 Found some video that show a few footage of my CB:
My CB is feature at 1:33
http://www.youtube.com/watch?v=B_xdu...ure=plpp_video
My CB won: Best Honda and Best Exterior 2011 Fall MNHondas.com meet.
Same video but feature is at 8:30 minutes.
http://www.youtube.com/watch?v=1a5-y...1&feature=plcp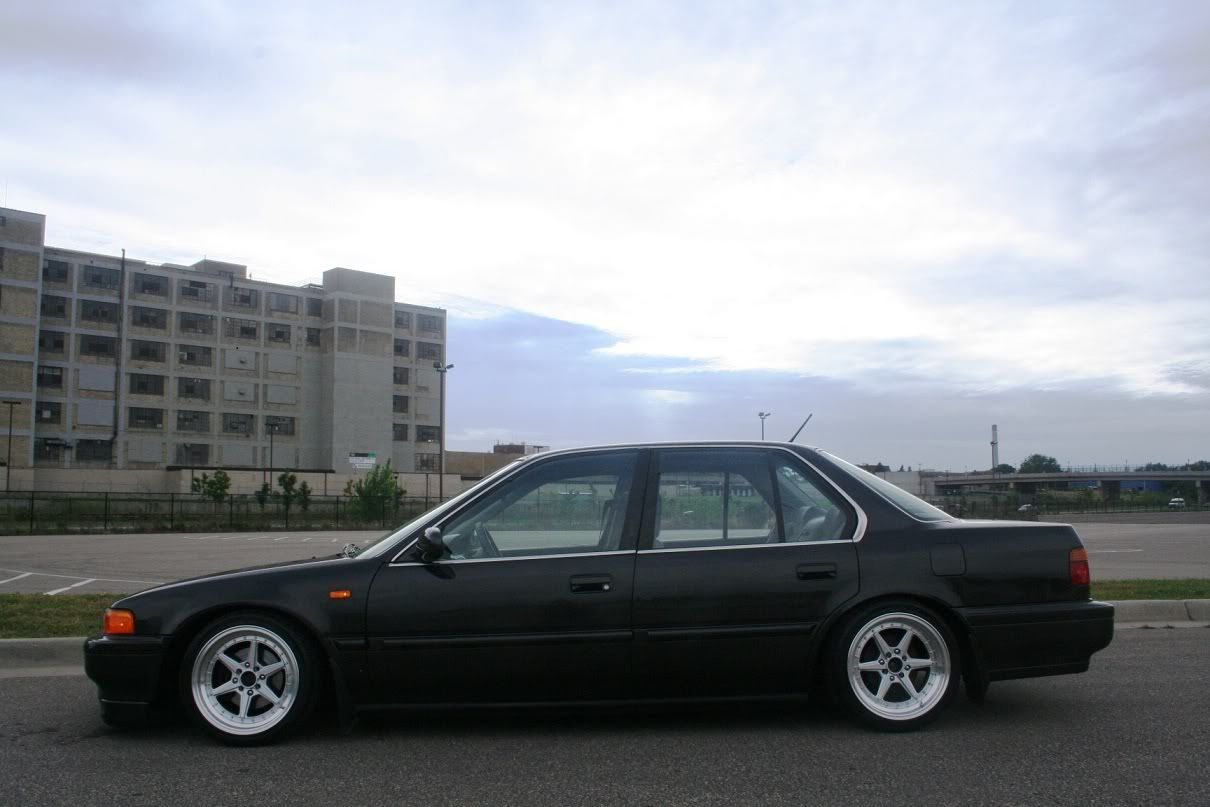 [
Replacing it tonight ... WS2 if I can get it done. SOLD it for a 3" custom setup.
EX dual tip getting replaced..
**** MODS****
Engine:
JDM H22a
T2T4 LSD tranny
Exedy stage 1 clutch
NGK Sparkplugs
Chipped p28 ecu
Apex'i filter on Ebay polish hard pipe **replaced
EX Dual tip muffler--replacing soon
70mm Omni power throttle body
PasswordJDM Carbon Kevlar intake
BISIMOTO Header w/ 3" collector --the replacement
Apex'i WS2 catback exhaust system--the replacement *** SOLD*** for a 3" upgrade.
3" Kteller weld-on exhaust kit.
3" Vibrant street power muffler
3" Vibrant ultra quiet resonator
3" Vibrant flex pipe
Exterior:
Legend front lip-paint match
OEM fog lights
Roof mounted shorty antenna-
Shaved oem antenna
Shaved emblems
BB6/EK side markers
Amber corner lights
Rear emblems shaved/deleted
Painted match mouldings
Interior:
Integra headrest
DC2 GSR shift knob --(back-up)
BLOX 490 Neo Shift knob
Custom Red stitch leather shiftboot
BA Prelude Steering wheel
400mm Broadway rearview mirror
CD Accord grey floormats
Black leather arm rest
DC clock
Modified Toyota Avalon trunk mat
Suspension/Tire/Wheels and Brakes:
Functions and forms type 1 Coiloves
16" Sportmax/XXR 501 15 offset Wheels
Kumho Ecsta ASX tires
Nexen tires** Back up tires
SE Rear disc brakes swap
Engergy Suspension front sway bar bushings
Brembo blanks rotors
Stainless steel brake lines
Rotara brake pads
Wicked tuning rear camber arms
Audio:
Alpine head unit
Rockford fosgate speakers
Future plan:
lots of stuff... rear disc brakes(done!!), cams, intake manifold Skunk2? sway bars and a new set of wheels..
History:
I bought this car for $100 buck with a clean tittle. It was not running, had some rust all over especially the rear quarter panels. I have it tow home and first thing was getting this thing up and running. Pulled the stock F22 out and found out the problem... yes indeed it has a few missing parts that would prevent it from starting. Rather than getting the stock F22 running I know I need more power so the F22 was swap out for the lower mileage JDM H22a... and better LSD T2T4 tranny.
Next was putting this thing on the road.... it rides funny for a 20 yr old car as the shocks seem to be blown. I order a set of Functions and forms type 1 lower it a bit and hey it dont look too bad..... well...beside the rust. If you guys know me, I hate rusty cars especially one that I would use as my daily driver.
So here comes the plan: I was going to cut the rusty quarter panels patch the new panels in and respray it. But as I work more and more into the restoration I feel more attached to this project. I found myself asking this question... I will do it right or dont do it at all. Being the bodyman that I am I know a few thing or two about body and paint. So I decided to restore the whole car.... by replacing the rusty hood, driver door, driver side fender for another oem non rusty piece.
Also I removed alot of random rust around the car if you guys know anything about Minnesota is that we salt our roads on the snowee-winter to melts the snow and ice. Salt and moisture really hurt our Minnesotan cars but like I say anything is repairable with the right amount of money or in my case enough body and paint knowledge.

I finish the exterior restoration project and all done within few weeks, I spend about 2 hours each day on the week and 3-4 hrs on the weekend.
Oh yea I should point out that I did the body and paint right in my own garage at home. All rust removal was done by myself by using metal patching... the right way of fixing rust. Overall the total expenses I spend on car which includes the car, wheels, tires, motor, tranny, suspension, body and paint.. all for about $2,500.00 or less.
BTW Thanks for reading and sorry for the nasty grammar because english is my 2nd language.
Enjoy these pics:
Order a set of 1/4 patch panels for both sides.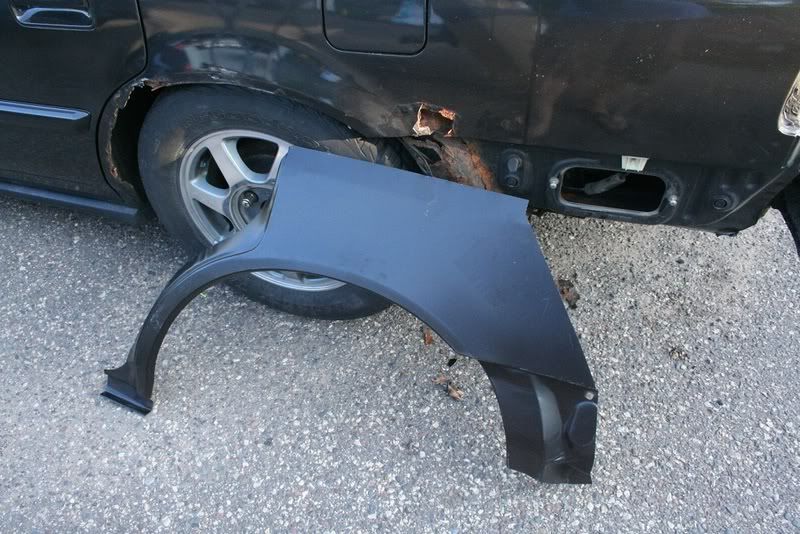 Test fitting.....
cutting it out and welding in the new metal panels.....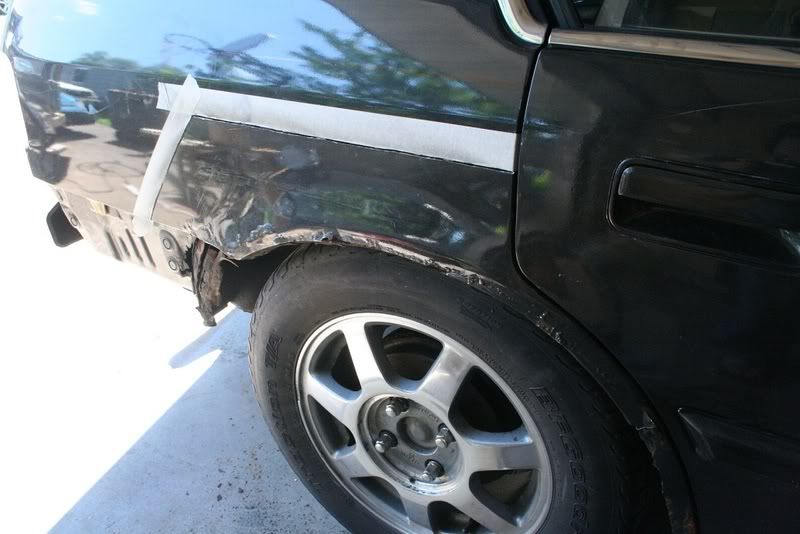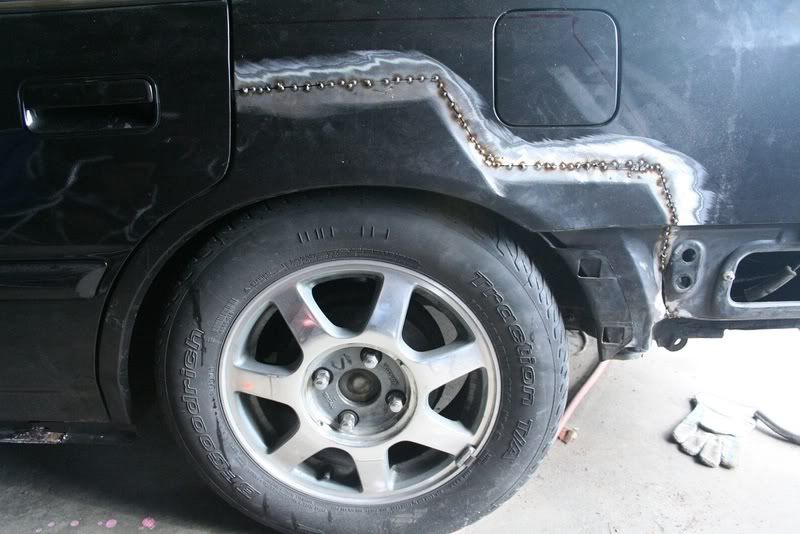 some bodywork and sanding.....
Repairing both bumpers... yes too many battle scars at the local grocery!!
Preping the whole car before paint.... bottom pic.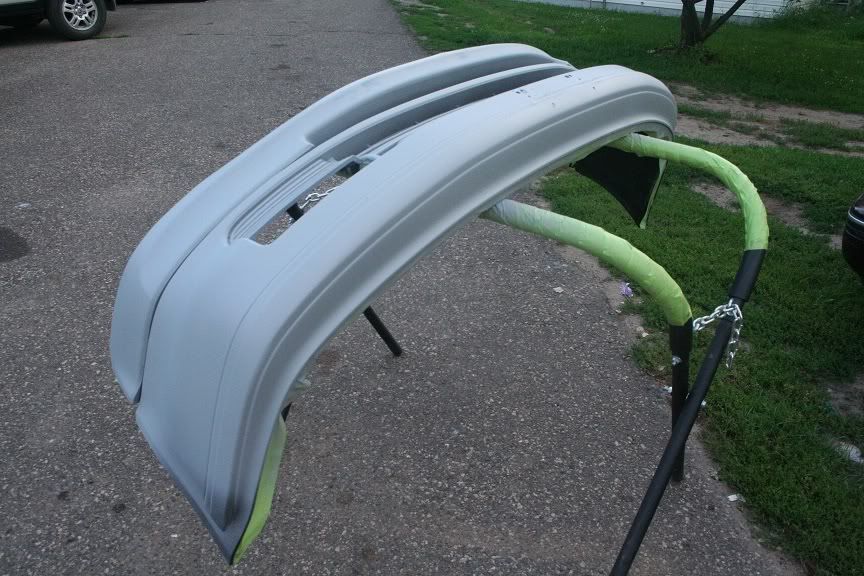 All painted...by me. Yes I painted it myself.