Well I have been MIA from the forum for a while and I figured it was time to start my own members ride thread. Some of you are already familiar with this car, I purchased it from my really good friend Dajap (Chris) before he moved to California. The car was definitely being built on the right track and I plan on keep it moving forward. Here is how the car looked when I purchased it:
http://www.flaccords.com/forums/showthread.php?t=181
Here is the Mod list when I purchased the car:
Engine
- JDM H22A (HMO) installed at 183,588.4 miles
- JDM LSD (HMO)
- H23 Manual Tensioner Kit + Belts and Water Pump (Majestic Honda)
- Short Ram Intake W/ BPI Velocity Stack Filter AKA "Baby Eater"
- Hondata Intake Manifold Gasket
- ESP H22 Header
- ESP Motor Mount Kit
- RSR EX-Mag Exhaust
- Exedy Stage 1 Clutch
- Fidanza 11lbs Aluminum Flywheel
- Summit Racing Battery Relocation Kit
Interior
- JDM Honda of America Shift Knob
- JDM Honda of America Steering Wheel Emblem
- JDM JCI Sticker
- JDM Clock Sticker
- JDM Honda of America LHD Coupe Carpet
- Full Evo 8 Recaro Seat Package 95% Complete *Rear seats need fine tuning*
- Manual Seat Belt Conversion 98% Complete *Needs fine tuning*
- 15% Tint
Exterior
- JDM Two Piece CB6/9 Headlights
- JDM Fog Lights
- JDM Coupe Visors
- JDM 6000k 1 Watt Led Parking Light
- JDM 6000K 1 Watt Led License Plate Light
- JDM BB6 OEM Clear Fender Lights
- JDM Chargespeed grill
- JDM Light Up License Plate *Need to install light up bracket*
- Flushmount Replica
- Techone 6000k HID Kit
- OEM Honda Mud Guards
- OEM Legend Coupe Lip
- OEM Sunroof Spoiler
- OEM 92-93 Side Moulding
- Removed OEM Led Spoiler
- custom hail dents
Wheels / Suspension
- JDM Volk TE16 Wheels Custom Powder Coated
- JDM Rays Extended Lug Nuts
- JDM Tanabe Sustec Coilovers
- Rear Disk Brake Swap
- EBC Slotted and Dimpled Rotors on Front and Rear
- EBC Green Stuff Brake Pads
Since I purchased the car the mods I have done to the car are:
Interior
- Completed manual seatbelt conversion with 93 Accord Coupe pillar liners
- Accord DX coupe black interior with suede inserts *90% complete*
- Black Seatbelt Swap
- Black Dash swap
- Suede rear speaker deck
- Installed Honda of America VIN plate
- Installed sound deadening material on roof and rear speaker deck
- JDM Personal Non Smoker Box
Exterior:
- Completed the paint and body work
- Shaved the Antenna
- JDM Coupe Power Folding Mirrors
- 93 Sedan trunk and taillight swap
- JDM Accord Coupe Emblem
- JDM Honda of America GOLD Pillar Emblems
- JDM Accord 2.2i Exclusive Emblem
- JDM Charcoal Rear H Emblem
Engine:
- Custom Color Matched Valve Cover
Wheels / Suspension
- 205/50/16 Nitto Neo Gen tires
Future Plans
- Professional Products billet throttle body
- Black Carpet
- Finish soundproofing the entire car
- Install HID's in the foglights
- Etc...
Waiting to install
- Sun Automotive Hyper Rev Grounding Kit
- Rosko Racing Intake Manifold
Here are a few pics that aren't the most up to date, but I have plenty from the body shop that will be uploaded.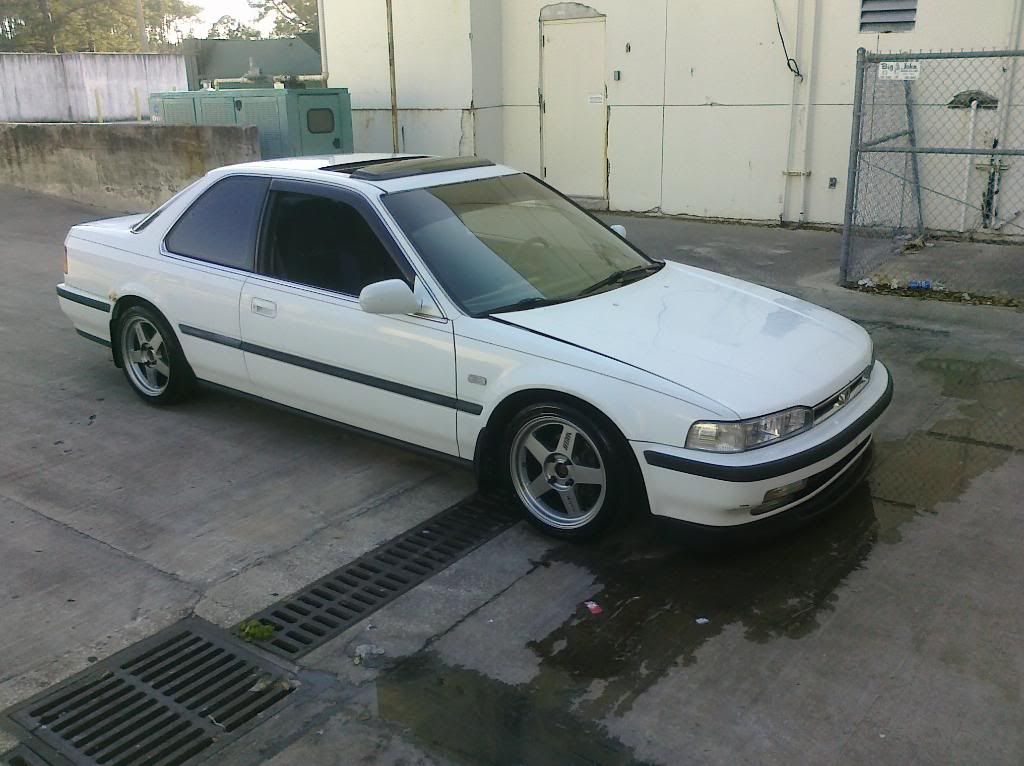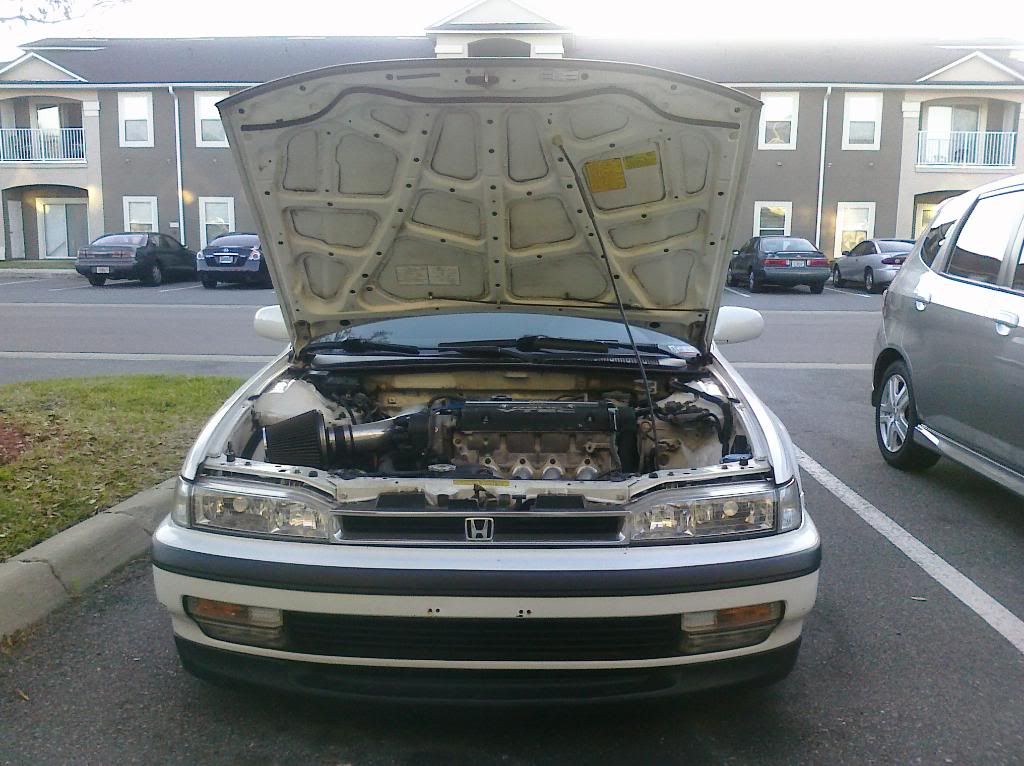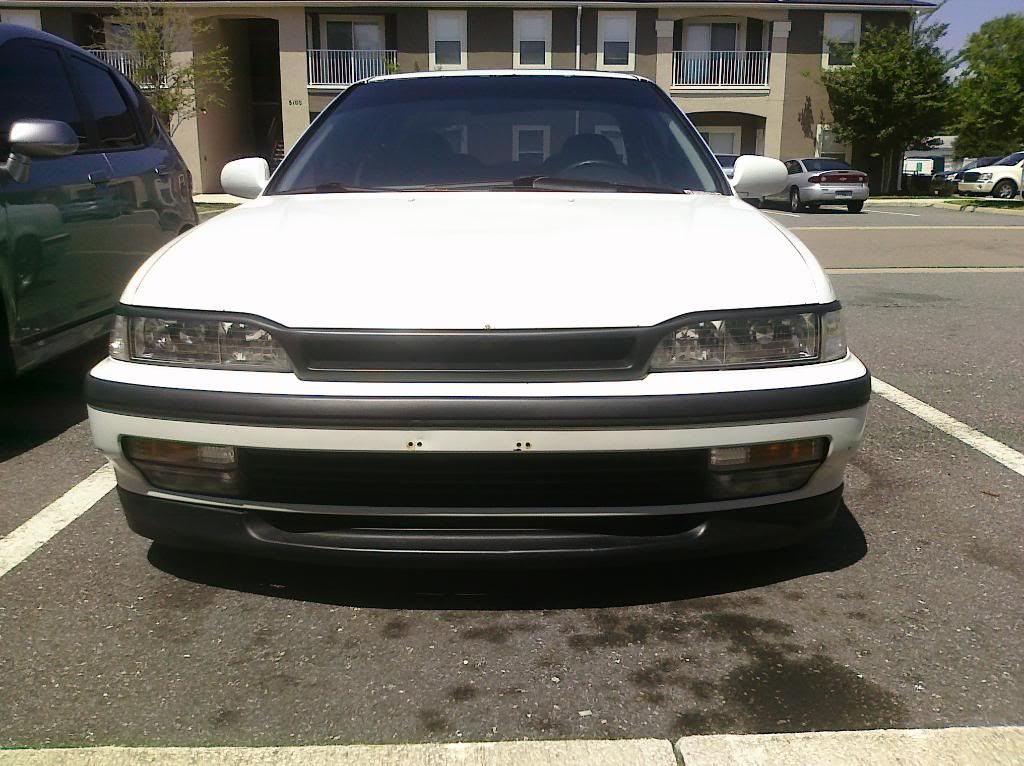 Here's a pic of a from VA in January '09