UPDATES ON ALL PAGES!!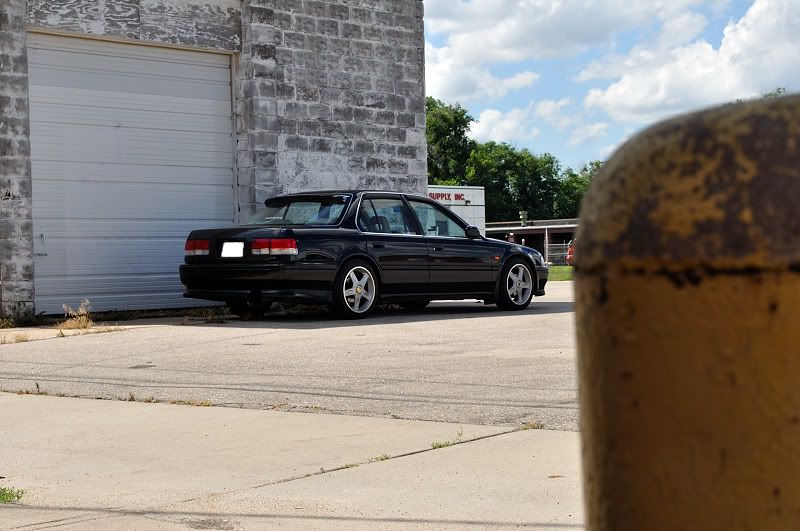 Project Name : WingZero (ala cero)
::History::
Car has been in my family since 93, I changed hands ownership with my mom in 2003, when she aquired a new car. I started modifying around 03/04 in auto shop class, when i was a soph / junior in HS when I found out about CB7Tuner.com.

Then after 05 after i graduated the car went under its most extensive work for the first time, heart and auto to 5spd conv. quite an achievement for back in 05 not alot of info was around. and all the OG's were still around.
NOW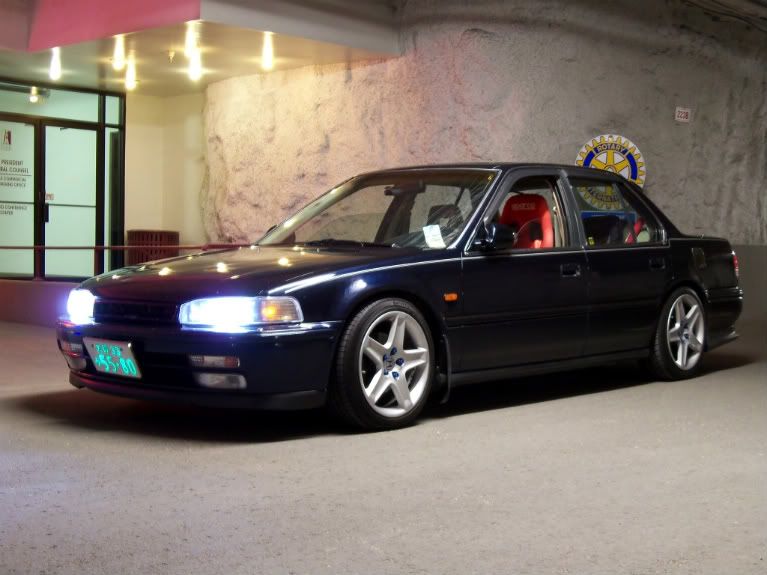 THEN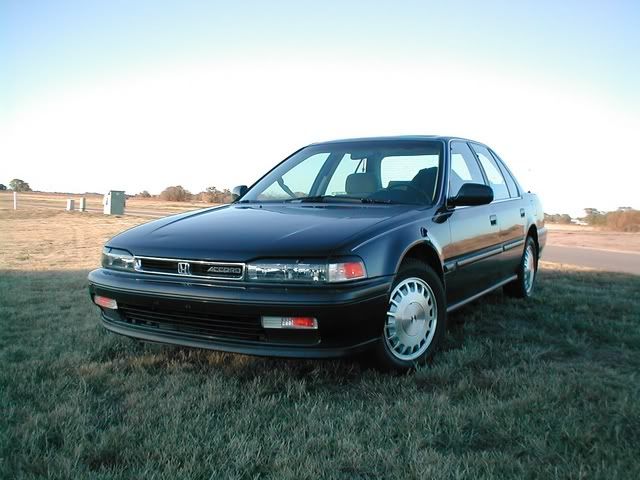 ::PROPULSION::
2.2i
Spoon Oil Cap
Greddy Radiator Cap
F.P.R. / Gauge
Diy Oil Catch Can
Diy E.G.R. Blockoff Plate
Spoon Reservoir Covers
Ngk Plug Wires
C.A.I.
AEM Bypass Valve
APEXi Dual Funnel Dry Element Filter (custom made CNC billet flange to mount)
P.Jdm engine and gearbox magnetic drainplugs
P.Jdm cf cover
hood dampers from 92 legend

:: DRIVETRAIN::
Auto To 5spd Conversion
94-95 accord 5spd transmission mount
LSD Gearbox
Reverse Lights Wired Up


06 Civic Si Corsport Aluminum Shifter Bushing Set
::HEAT DISSIPATION::
DC Sports 4-2-1 Header
Custom Fabbed DP
RS*R Catback Exhaust System
Catco High Flow Cat
::FOOTWORK::
Stock "Bottle Caps" 195/55/15 (sold with my coupe)
Rays Engineering CV Pro Europe 215/45/17 (unequipped)
Lancer Oz Edition Wheels 215/60/15 (SOLD 9/8/12)
04-05 TL non Type S wheels with honda centercaps (SOLD 11/4/19)
SSR Lugnut Taper Conversion Washers
JDM Schneider A-Tech 17x8 +35 wrapped in hankook concept v2 215/45/17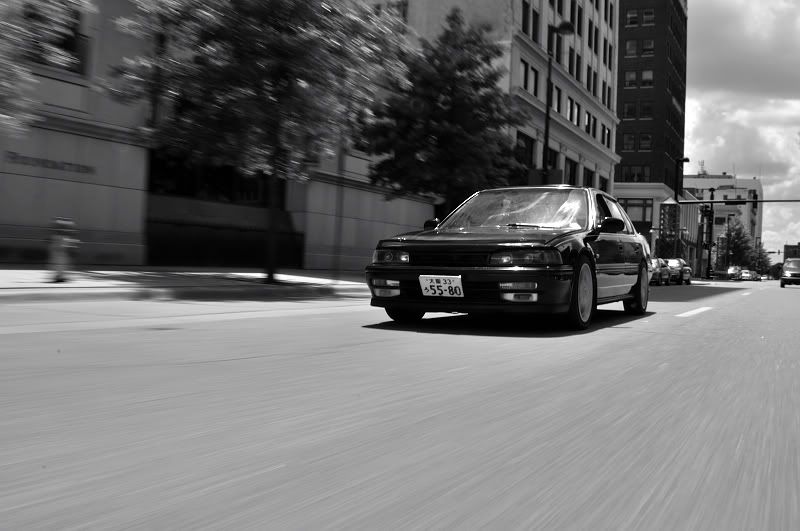 ::STANCE::

NEW Oem Upper Control Arms
Ingalls Front/Rear Smart Arms Camber Kit
Progress 22mm rear sway bar
Function & Form T1 Coilovers For CD5
ARP Extended Studs
Annodized Blue Extended Stud Muteki Lugnuts.

NOW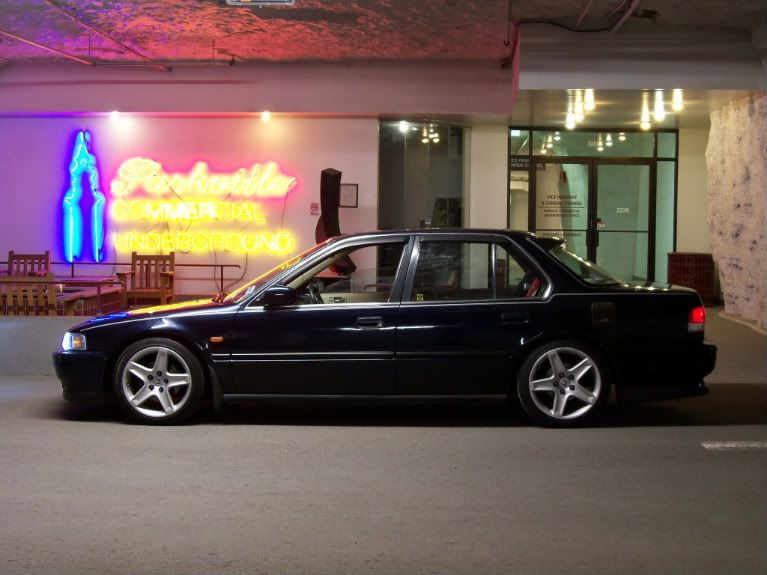 THEN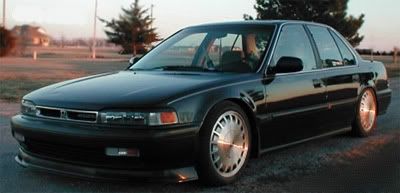 ::EXTERIOR::
Oem B54P (Cobalt Blue Pearl)
92-93 B54P Trunk Lid Swap
Jdm Door Rain Visors
New Rear Qtr Panels


New Pin Stripe
Edm B54P License Plate Garnish
Edm G-Square Grill
Edm 2.2i badge
CTR (EK9) Sidemarkers
B54P Power Folding Mirrors
92-93 Sedan Red/Clear Tailights
92-93 Jdm B54P Front/Rear Bumper Conversion
Jdm Si-T Bumper Lights
jdm 92-93 Fogs
LEDs In The Brakelights (red)
LEDs In Corners (amber)
LEDs In Sidemarkers (amber)
LEDs In Taglights (white)
Amber Cornerlights (SOLD)
Lower Tiebar
Clear Headlight Covers
92-93 129A Erebuni Rear Aero Spoiler Fitted To 92-93 Rear Bumper
Jdm Blackhoused 1 Pc Headlights With Amber Corner Retrofitted With TSX Projectors
D2R Matsushita oem ballasts
Relay Harness For Plug And Play 9006>D2R
6000k D2R bulbs
Yellow h1 Highbeam With Custom Jumper Harness 9005>h1
94-95 Oem Accord Front Aero Spoiler
CB Roof Aero Spoiler (NOT BLIZZSHADE

)
Carbon Fiber CF1 Trunk # 13/13
Eurolites H3C to H3 Conversion, Ion Yellow Bulbs.
Jdm Cb4 Fog Mouldings
Edm Flat Sidemoldings (custom made clips, first one completed on CB7T)
Carbon Fiber VIS CF Hood with hoodpins (Sold

)
Carbon Fiber Gas lid
Jdm Luminous light up license plate / holder
bug deflector(uninstalled)
HELLA Supertone Horns Behind G-square Grill

(First on CB7T)
BELL License Plate Relocator Custom tabs for jdm plate
Nostalgic Flair From A Honda S600 In G Square
6k Colour Led Lights In Reverse Lights
Rolled Rear Fenders

::STICKERS::
CB7TUNER.COM
JAF PARKING STICKER
Hallet Race Circuit Cling
I

<3

MY HONDA Window Cling
SOCIETY CLOTHING BRAND STICKER
HONDA OK STICKER
You like this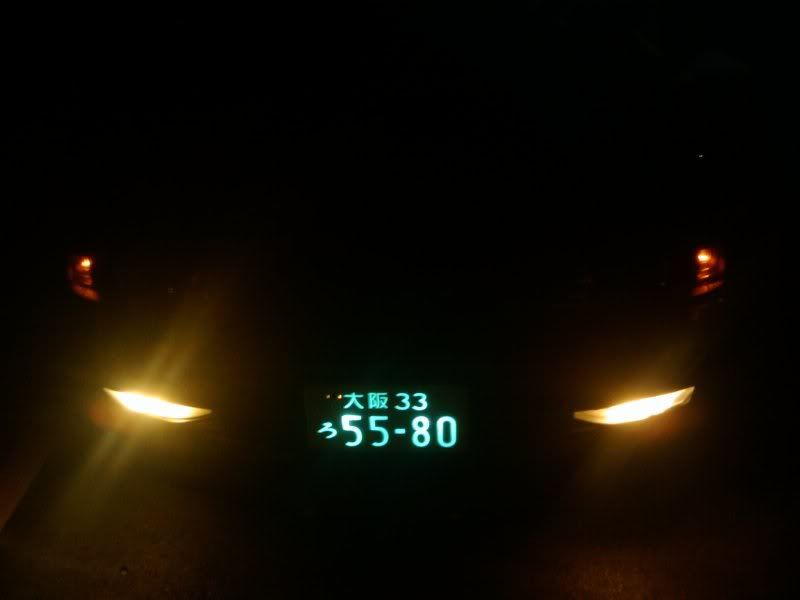 NOW.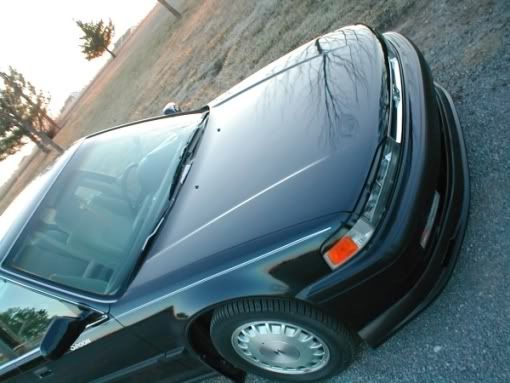 THEN.
::RESISTANCE::
Rear Disc Brake Conversion From A 91 SE
Nissin Brake Master Cylinder
EARL'S SS Brakelines.
Semi Metallic Brake Pads All Corners
5Lug Conversion Front 95+ RA1 knuckle Oem bearing/Lower Balljoint
5Lug Conversion Rear 97+ BB6 Non SH Hub Bearings
ITR ROTORA Slotted Front
98+ CG1 V6 Rear Rotors
DA 4040 Proportioning Valve
BB4 23T Front Calipers / Hardware
::INTERIOR::
Shoulder Pads
Jdm Oem Fog Switch
Edm Doorlight Covers (red)
LEDs In The Doorlights(red)
White Illumination DC2 Clock
90-93 DA Tan Cloth Integra Headrests
96 Spec ITR Steering Wheel non srs
96 Spec ITR Shift Boot (red stitched)
Yeamans17 Short Shifter (Bucket Dropped)
Jdm Spoon Duracon Shift Knob (black)
Air-spencer Squash Scent
White LED smd Board In Dome Light
Jdm Jaf parking sticker in rear window
91 SE Tan Leather Door Panel Inserts
Deleted Trunk Springs (cf trunk sits flush now, but feels like a ton)
3rd Brake light delete shelf
Manual Seatbelt conversion in Tan



92-93 Jdm Armrest Tan
EDM air recirculation switch
Sparco Speed Bucket(Driver)
Recaro Slides
CE1 Recaro Brackets custom made crossbars to fit bucket


CB9 Storage Tray In Boot
Corbeau TRS Bucket Seat Narrow (Pass Side)
Corbeau 4pt Race Harness
Broadway Mirror 300MM blue tinted and convex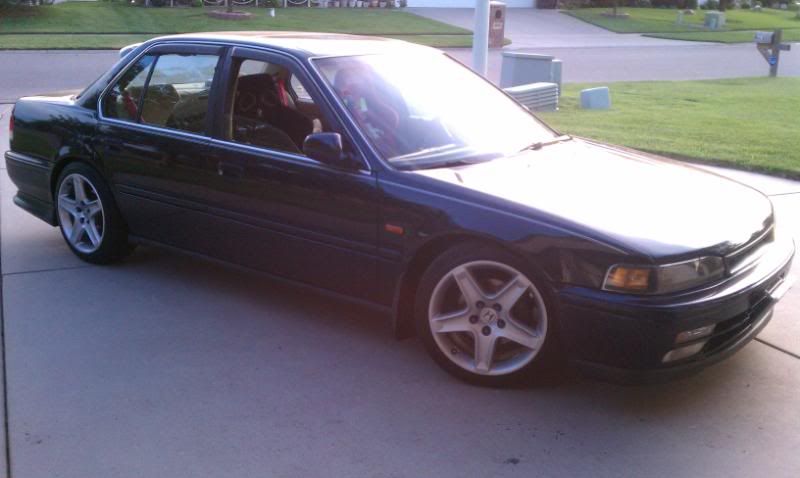 ::BEATS::

::Future plans::
Flushmount
*SOLD*

Edm Headlight washer nozzles
*SOLD*
Jdm 2pc Headlights
SOLD

Drl Module
SOLD

Jdm CD5 Sports Front Strutbrace
SOLD

Rear Fog Integrated Into Tailight Piece
Esp Auto-5spd Engine Mounts
Esp polyurethane Engine mounts
Edm plates
Edm Front/Rear Plate Mounts
*HAZ*