Well I saved this Coupe from being salvaged because I needed cheap reliable transport to my new job and my Ford just gave up the ghost. I got it for a few hundred dollars so I knew it was in poor shape to begin with but the motor was strong with 165K miles and the transmission was fine but needed a new TCU. The previous owner thought the tranny was shot and had awesome service records, but the car was externally abused and just didn't want to put more $$ into it. The pictures I'm about to post are not the prettiest on the forum, nor do I claim to have an amazing CB. I have literally only had this car for less than a week, and the laundry list of repairs has been a junk yard challenge.

Over all I have less than $800 in the car so far! EDIT: This is before modding and repairing...
Also it looks better when you look at it when drunk or through squinted eyes at a distance, the sad thing is that the coupe is 100% better now than it was when I first picked it up, and I still have a LONG way to go before I'm happy with the appearance of the car. So rather than starting with a mod list I'm starting with a repair list.

As I have the car longer you will see where it goes and where it came from.

As it sits 11/03/2012: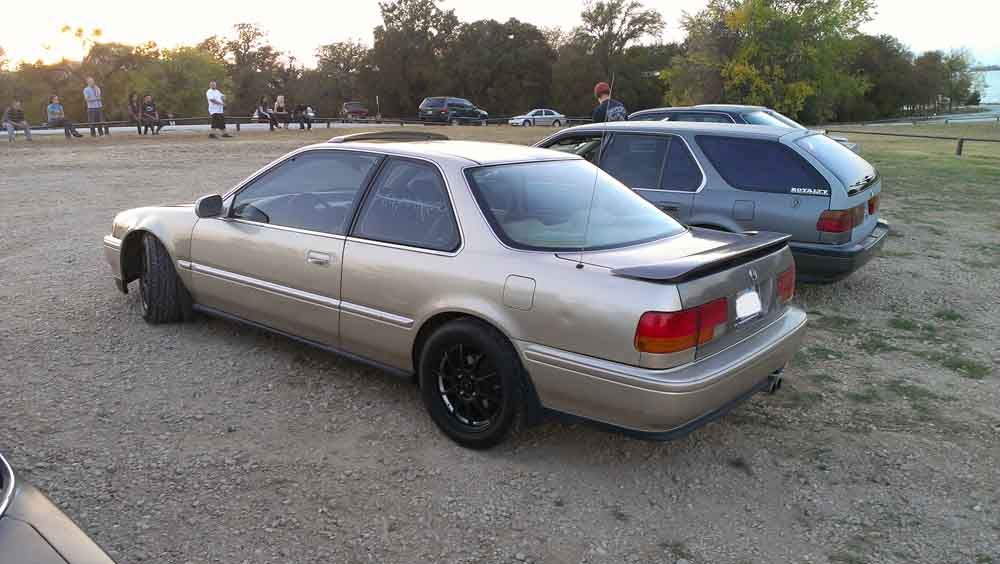 Just after I joined:
More photos on page 3:
http://www.cb7tuner.com/vbb/showpost...7&postcount=49
REPAIR LIST (Completed)
Windshield replacement
Front end damage
Passenger side TBone damage
TCU repair with RadioShack parts and a spare TCU ordered from fleaBay just in case
Replace cracked sun roof (used 1990 Accord Sedan glass)
Replace Bose cassette head unit (LCD screen died on it the day I bought it)
Remove and bypass stock Bose Amp
Remove 6 disc CD changer
Replace worn Bose speakers
Replace shift lock solenoid
Replace Passenger door
Replace weather stripping on passenger door
Repair tan interior handles until I find replacements in junk yard
Oil drained, driven and then refilled twice
Tranny drained and refilled, driven, repeat 3x
O2 sensors to pass emissions
Replace power antenna with stationary from a civic for a temp fix
Replace oil pan gasket
Replace main seal
Replace timing belt
Tune-up
accesory/power steering belts
A/C rebuild and upgrade via thread on this forum
Tweak front end a bit more, she is close but no cigar you still tell it whacked something or someone hard at one point
Motor mounts
New valve cover gasket set (had oily plugs)
New oil cooler o-ring (fixed that damn leak on the back of the block)
driver axle
passenger axle
tie rods (inner and outer)
upper control arms
lower control arms
lower ball joint
hub/bearings in front
hub/bearings in rear
Distributor Cap
Distributor Rotor
Distributor ICM and o-ring
REPAIR LIST (Needs)
Repair then replace power antenna mast (damn thing is aftermarket)
Remove nasty dent from donor passenger door
body work and paint
Retint rear and quarter windows with limo tint and the front windows with 35%
MOD LIST
Acura PS cap
Acura Hood struts
Legend front lip
Sedan trunk swap w/ spoiler
ENGINE
STOCK F22A6
EXTERIOR
STOCK
Needs new hood and front panels
Still sourcing JY trim to comple OEM restoration
Will sand prime and block over the winter
INTERIOR
STOCK
New door handles from JC Whitney
All OEM parts located for restoration
SUSPENSION/WHEELS
H&R Lowering Springs
Koni Yellow Struts revalved for H&R spring drop
Kazera 16x7 rims
Hankook Ventus 205/55R16
Energy Suspension Poly bushings
AUDIO/ELECTRONICS
Pioneer Head Unit
Kenwood Speakers (front and rear)
Infinity Kappa 10" Subwoofer in MTX Bandpass box
Alpine MRX M100 mono amp
1.5farad capacitor
FUTURE PLANS
OEM Swaps of junkyard finds:
Integra front seats
BB6 gauge cluster
Fog lights and/or bumper swap
DOHC VTEC (H22A) engine swap(SOLD)
DOHC VTEC H22A4 engine rebuild and swap
H22A LSD Auto transmission
P13 OBD1 ECU
many more, will add as I think of it... I'm just getting started on this car after all!

GOALS
1. Reliable transport to work for the next 6 months (ACHIEVED!)
2. Get another reliable DD then garage, paint, and make an NA VTEC sleeper out of it that looks somewhere between JDM and stock but not riced out (no offense if body kits and huge wings are your thing, they just aren't mine)