Well I've been here long enough time for a MRT, Its not pretty by any means but she's mine. She's my DD.
Bought it in May 2010 for $1000, clean title, no accidents.
I haven't taken alot of pics but I will soon...the sense of pride is building strong.
I finally feel like I've accomplished enough to post a MRT.
ENGINE
-F22a1 313,xxx kms
-Generic Short Ram w/AEM Filter
-p12 Auto ECU
-60mm Yonaka Catback
-Front Upper Generic Strut Tower Bar(black)
Exterior
-HOA Silver Badges
-Legend coupe lip
-OEM 92-93 Headlights w/Sylvynia Silverstar Xenon zXe
-Depo 92-93 Corner lights
-OEM Seattle Silver Paint
-5% Limo Tint(poorly done)
-Silver Accord License Plate Cover
-Red Honda Badges
-OEM 92-93 Grill w/chrome Trim removed to make room for RED H Emblem
-eBay rain guard door visors
Interior
-LED dome light
-OEM Maroon Interior
-Michelin Rubber all season floor mats(rains alot)
-Momo Steering Wheel cover
Suspension/wheel
-Koni Str.t (oranges)
-Neuspeed sports
-Poly bushings everywhere
-Progress Rear Sway Bar
-Winter 14" Steel Wheels painted Bronze
-BF Goodrich Advantage 185/70-14
-Summer 16" Enkei 10 Spoke
-Yokohama Parada S-spec 2 205/45-16
-
Audio/electronics
-Kenwood Excelon KDC-X996
-4-12" Kenwood Excelon subs
-Hertz HDP5 5 Channel AMP
-Exile 2500w AMP
-Kenwood 6.5's All around 70w RMS x4
Future Plans(No Particular Order)
-Redo Tint(professionally this time)
-JL Grille(paint Matched or Black)
-OEM Foglights
-Projector Kit w/HID's
-Possible Replace rear Quarter Panels Due to massive Cancer Issues(depends on $$$$)
-H23 Intake Manifold
(Aquired)
-Camber Kit for the front
(Aquired)
-Magnaflow Hiflow Cat
-DC Sports Header
-Window Visors(done)
-Fix A/C
-Legend Dual Piston Calipers
-OEM Flushmount OR Install My Vigor Spoiler
-New Tires for Both Sets Summer to 205-50 or 55 and Winter's to same
-Resurface My 16"
-Find Some OEM alloys for Winters
-Replace Cracked Driver Side Lower Turn Signal
-6x9 Speaker Pods and new 6x9 kenwood excelons
-Upgrade Subs to custom Fiberglss box with 3-10" in Spare Tire enclosure
-Depo Amber Corner Lights
-Repaint Valve Cover
-Replace OEM Honda badge
-Red/Clear Tails
-F&F Rear LCA
-Replace Front upper Strut Bar
-OEM Hood Bra
-Replace steering wheel with a different model OEM or aftermarket Wheel
-replace carpet from paint spill
-Either Find a Donor car to interior swap with, Find a 97-99 CL to take seats from, Reupholster my own seats or if I win the Lotto(Katskinz)
Pre Drop this Summer 2013
Last summer 2012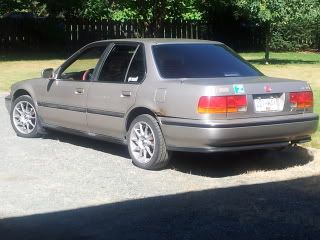 TODAY!!
LED dome light at night
Ballin Momo cover
subs