1991 Accord EX Wagon
Hello Fellow tuners. I havent been on here in a long time, but I`m back with a new ride. I got this CB9 early Nov 2013 for $700 in south New Jersey. I almost did get for two reasons. 1) I wanted to get a 5 speed man Volvo 240 (I still want) and 2) the add on craigslist didnt have any pictures for this car. But I called the dude and to my surprise it was exactly what I was looking for, 1991 EX (didnt want ABS) 5 speed and the deal sealer was when he said it was a wagon.

Once he said wagon, I told him to give me two days to get the money and I was at his house bright and early. I fell in love as soon as I saw it. The drive home showed me I had a good buy. At 242xxx miles on the clock it had no problem cruising the NJ turnpike at 90mph for 90 miles lol.
As she sits now
This is the day I got her home.
Side shot! Very little body rust! WINNING!!!!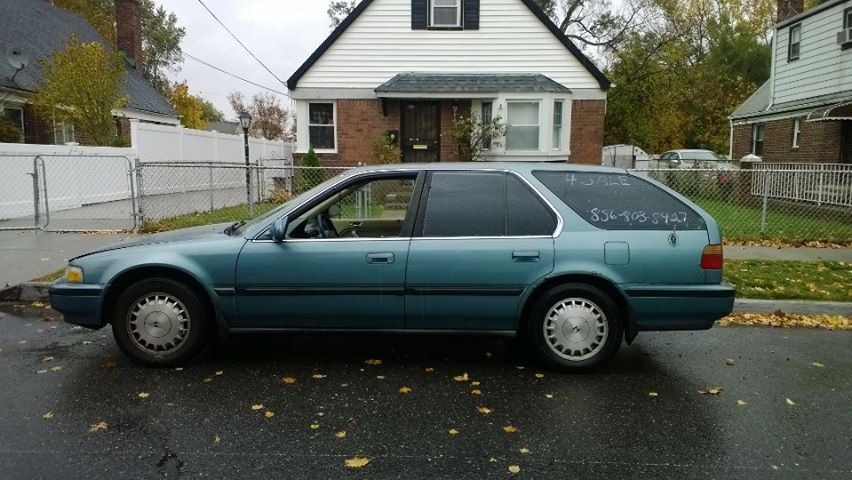 Back shot!
DRIVE TRAIN
F22a1 (long block was replaced)
F22a6 head tweaked and lashed by me (waiting to be installed)
SUSPENSION/BRAKES
FnF type 1 coilovers ( used)
CD5 V6 rear disc swap
INTERIOR
dirty
EXTERIOR
no name hood bra
black painted grill
OE 91 coupe/sedan front lip
CD5 sedan side skirts ( to be installed)
Harbor Freight rectangle fog lights
AUDIO
Kenwood KDC-355u
Renegade RX 62 6 1/2" speakers front and back
FUTURE MODS
Home made roof rack
5 lug conversion
clean and repair
RACE CAR BUILD!!!!!
What I plan on doing to this is very simple. I want to have a fun car that I enjoy on the track as well as the street. Basicly I want to build a race inspired wagon. Some will say its pointless to do it to station wagon better yet a Honda Accord but I want to be different and will not care what anyone have to say. My car My way.