I've been out of the loop for a while, but I'm really glad to be back in another CB7 and becoming an active participant in the CB7tuner community again.
In 2009 I ended up totaling my old sedan. Those were days where I was pretty immature quite honestly. I didn't do regular maintenance as I should have, I struggled with homelessness, trying to maintain grades in order to graduate, losing my track scholarship, losing a ton of friends, etc... I had a lot of fundamental lessons to learn, in short. Most importantly some work-ethic.
So, here we are nowadays. Two S14 240sx's, one degree, and a new home later I found myself biting the bullet on another CB7, here she is: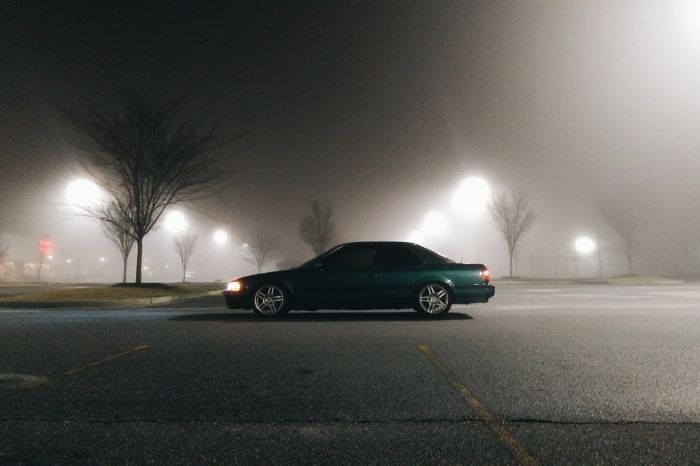 Information
Engine/Transmission
- F22A1 with 55k - Rebuilt 4 years ago
- MSD Ignition Blaster Coil
- DC Headers
- 5-Speed
Exterior
- OEM Arcadia Green (Resprayed)
Interior
- Momo corso steering wheel
- Momo woodgrain shiftknob
- Re-upholstered leather seats
Suspension
- KYB GR2 Shocks + Adjustable lowering springs
- SPC adjustable ball joints
- Front: '95 Odyssey knuckles, hubs, rotors, brake calipers
- Rear: 2001 BB6 hubs, 2001 Integra Type-R rotors
Wheels
- 2007-2008 Acura TL Wheels (17x8 +45 offset)
Audio
- Alpine Headunit
Future Plans
In General
- Study CB7 service manual & owner's manual
- Cleanliness in general, much more cleanliness.
Engine (Bay)
- Clean up wiring
- New fuel filter
- Replace battery
- New battery tray or move battery to the trunk
- Polish or respray strut bar
- NGK Wires
- Polish and clean as much as possible
- Examine rack & pinion
- Replace power-steering components
- Replace headers, front pipe, flex pipe, catalytic converter, and back.
Electrical
- Restoring cruise control
- LED interior lighting
Exterior
- Secure amber signals and turn signals for options
- Restore turn signal lamps
- Remove overspray and polish side molding
Interior
- Find alternate use for dash clock (won't hold correct time)
- Refurbish shift knob
- Refurbish steering wheel
- Amber or pure white 74 bulbs for cluster (not sure about LED's just yet yet)
- New shift boot
- Soundproofing in the trunk area
... This is what I have for now, I'll be filling in with more information and pictures. Thanks for taking a look!