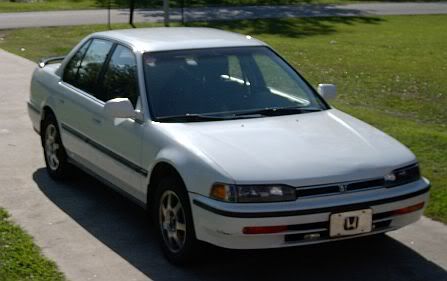 Engine:
Stock F22A1
Short Ram Intake
Bosch +4 Platinum Plugs
Running Castrol Syntec synthetic oil
Fram Tough Guard Oil Filter
Wheels:
7-Spoke OEM 5th gen. Accord Aluminum Alloys.
Rear tires: 205/65/R15
Front tires: 205/60/R15
Exterior:
OEM Rear Wing Spoiler (Black)
DIY Blackhoused corner lamps
DIY Blackhoused headlamps
APC Foglights
Rear Mudflaps
Interior
Sony Xplod 220W CD player
2 6.5" 220W Max Sony Xplod speakers
2 6x9 240W Max Sony Xplod speakers
600w 4/3 Channel Sony Xplod amp
10" 800W Max Sony Xplod Subwoofer
Custom vented and insulated box (by me)
Future Plans:
I dont know what condition shes in right now, so ill have to check once im back.
Well im on a mission right now in Mexico, but ill be back on October 8th 2008. Thanks to everyone of my friends on here, and all the great feedback ive gotten from you guys. Take Care!