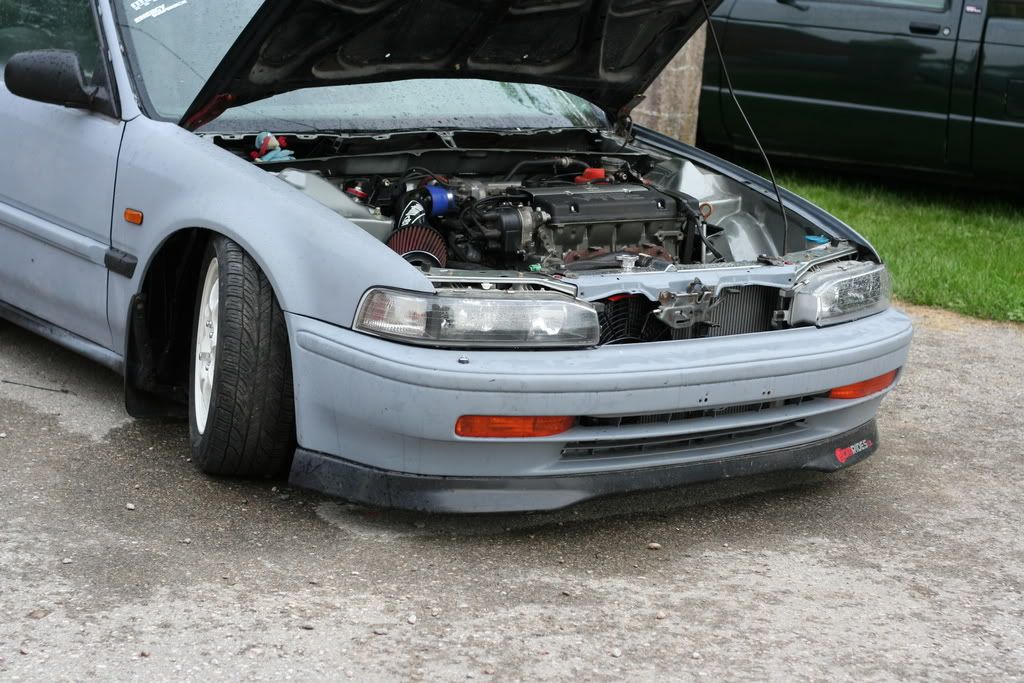 ENGINE:
1994 JDM H22a
M2S4 H23 5 speed transmission. (swapped from automatic)
ESP-NET Poly Auto to 5Spd Mounts (Black Inserts)
Exedy Stage 1 Organic Clutch
Fidanza 8lbs Flywheel
Mahle 11.5:1 CR FRM Pistons
Golden Eagle Standard Rods with ARP 2000 Studs
Eagle H-Beam Rods
ACL Rod Bearings
OEM Main Bearings
P+P'd Exhaust Side of Head.
Skunk2 +1.0mm Oversize High Compression Valves
Skunk2 Dual Valve Springs
Skunk2 Titanium Retainers
Skunk2 Billet Cam Seal
Skunk2 Rad Cap
Skunk2 Adj. Timing Gears (Red)
ARP Head Studs
Golden Eagle Fuel Rail with B+M Fuel Pressure Gauge and Regulator
DSM Bluetop 450cc Injectors
Optima Yellowtop Battery
Taylor Battery Trunk Relocation Kit
Koyo Rad
12" Flex-A-Lite Electric Pusher Fan
Glowshift Oil filter sandwich
P/S delete
A/C delete
Cruise delete
Wire Tuck
Shaved Engine Bay
SUSPENSION/BRAKES:
Tokico HP Blue struts in the front
KYB AGX adjustable struts in the rear
Skunk2 coilovers (no sleeves in front, just springs)
Megan racing rear short adjustable lower control arms
Energy suspension polyurethane bushing kit (EVERY bushing in front suspension)
Megan Racing Front Upper Strut Bar
Earls Stainless Steel Braided Flexlines (For 93 ex)
Rear Disc Swap
Brembo rear cross-drilled rotors
Kleen-Flo Dot 5 Approved Brake Fluid *Dot 3 now, 5 sucked bad!*
No Camber Kits
EXTERIOR:
Spray bomb Primer.
16" Advanti 5-Spokes
*sold*
Stock Ex Rims (Painted a Goldish colour)
96 Spec Integra Type R wheels.
JDM Blackhoused 1 piece headlights
Red/Clear taillights
92/93 front end conversion
ex lip
acura vigor lip
5th gen lip
5th gen Type R style lip
*installed*
Kaixen 6000K H.I.D's
JDM CB3 Sidemarkers
JDM parking pass
JDM Bumper Pole
JDM OEM 1 Piece blackhoused headlights.
INTERIOR:
-Swapped grey interior
-New OEM Rubber Pedal Covers
-JDM OEM foglight switch (no fogs yet, but i can pose right?)
-JDM OEM Bumper Pole Switch
-JDM OEM Dc2 ITR Radio Delete Cover (in C/F)
-Oem ShiftKnob
-Cheapy Gauges Retro-d into HVAC slot.
-Custom Vinyl Wrapped Armrest. (Thanks Mom)
-Proform Shift Light
-1995 Prelude Seats (Not Installed)
FUTURE PLANS:
Hondata S300!
Get it tuned and painted!