PROJECT UNDER REPAIR - UPDATED 6/28/08
She's a 1993 EX Coupe with a 5-speed. Rosewood Brown paint and burgundy interior. The car only had 80,916 miles when I found it for sale in Hampton Falls, NH. (I work right down the street.) It had been living in Saratoga, NY most of its life, and was recently bought by a retiree in Springvale, ME. He slid it under the back of a pickup truck, prompting him to trade it in, probably for some sort of gas-guzzling SUV. The wholesaler replaced the hood and valve cover and put it on the lot for sale. I picked it up 6 days later. (Short) mod list is as follows (stay tuned for updates):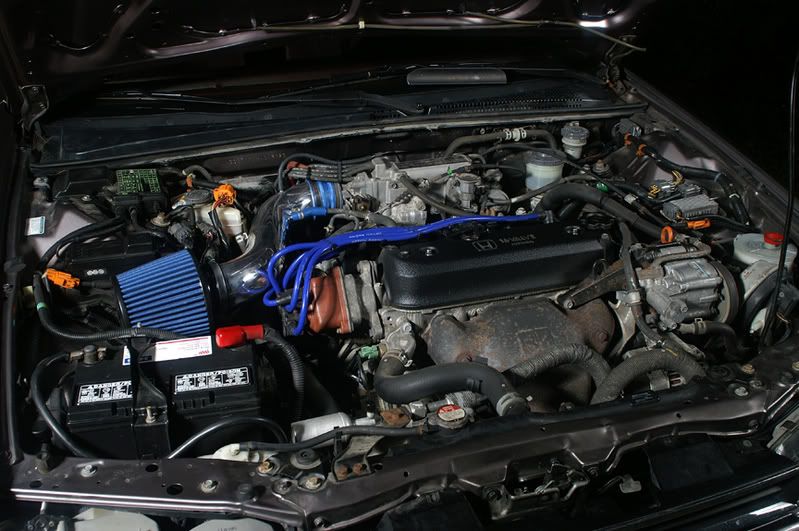 Engine:
A-Spec short ram intake
Spectre Performance air filter
10mm silicon jacket plug wires
Tenrai/Himoto stainless catback exhaust
Exterior:
Amber corners
Accord Coupe trunk emblem (To be installed)
Interior:
Ractive pedals
Carbon fiber shift boot
Audio:
Pioneer AVH-P5000DVD head unit
Pioneer CD-I200 iPod adapter cable
MB Quart DKF-169 speakers (rear deck)
Suspension & rollers:
Generic rear upper strut bar
Stock 92-93 EX wheels with Hercules 195/60R15 tires (winter set)
Konig Rated R 17x7 wheels with Michelin Pilot HX MXM4 225/45HR17 tires (summer set)
The car will remain largely stock under the hood for the time being. (Reliability purposes: it's still my daily driver.)
Planned upgrades:
H22A swap
DC Sports or Bisimoto header
Vibrant high flow catalytic converter
Megan Racing or K-Sport coilovers or air suspension
Upgraded sway bars
OEM-style foglights*
Retrofit TSX projectors*
Philips D2S bulbs
OEM ballasts & igniters
CCFL kit*
Carbon fiber hood
Expanded audio system:
MB Quart QM332.02CX three way components (front)*
Custom lower door panels (for MB Quart QM332.02CX components)
Image Dynamics IDMAX 12 v.2 D4 sub*
Rockford Fosgate Punch 400s amp (100x2 for fronts)*
Rockford Fosgate Pro AX BD1000P amp (500x1 [1000x1 @ 2ohm] for sub)*
Comments or suggestions appreciated! Love what I'm seeing, it's giving me lots of great ideas!
* = already own