1992 Lx coupe Auto
Opal Green Metallic colored
ENGINE:
JDm h22a Auto
ENGINE MODIFICATIONS:
-cold air intake
-

Apexi

vafc
-KMS egr block off plate
-

Gates

low tep thermostat
-

Buddy Club

fan switch
-f22a ps pump with

Gates

belt
-no cc
EXHAUST:
-heat coated/heat wrapped egay header
-n1 style catback system 2.5"
-hi-flow egay cat
EXTERIOR:
-jdm bumper pole(not hooked up)
-clear euro corrners
-clear euro turn signals
-depo fog lights
INTERIOR:
-black seat covers
AUDIO/ELECTRONICS:
-kenwood cd player
-kennwood door speakers
SUSPENSION/WHEELS:
-stock shocks
-
TEIN
s.tech springs
-energy suspension hyper flex kit (front)
-energy suspension sway bar links
-new tie rods with ball joints

FUTURE PLANS:
-jdm cd h22 cluster swap soon!!!
-rims around summer time
-bisi h22 header???
-maybe nitrous??
this is when i bought her-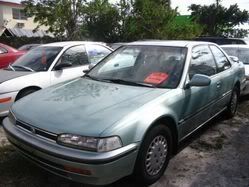 -inside-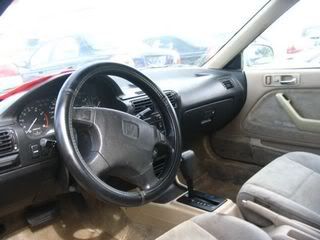 -backseat-
-f22a1- with short ram intake-
then....a hose on the thermostat was bent and not letting any coolant in and it overheated and blew headgasket and now oil and coolant mix (not a good thing)

this is what the head looked like
so now it swap time.