I removed my FITV and made this block plate cheap. Re-routed coolant line into a loop off IACV, which seemed like the right thing to do. Works great for me, idle is much smoother, should have done it sooner. After a certain point tightening down the plastic screw in the FITV stops working and effectively all you are doing is blocking it off. This removes the non-functioning part.
After a few months looks like this:
This is an F22a1, if it matters.
There are other threads on methods and commentary on removing the FITV. You should research before doing, do at your own risk, blah blah.
Assuming you already have gasket paper, you can get everything else at a well stocked hardware store.
- plate
- gasket paper
- hose connector
- hose
- hose clamps
- shortened bolts
- paint if you want
Materials:
Electrical section; square box cover plate. ~58 cents.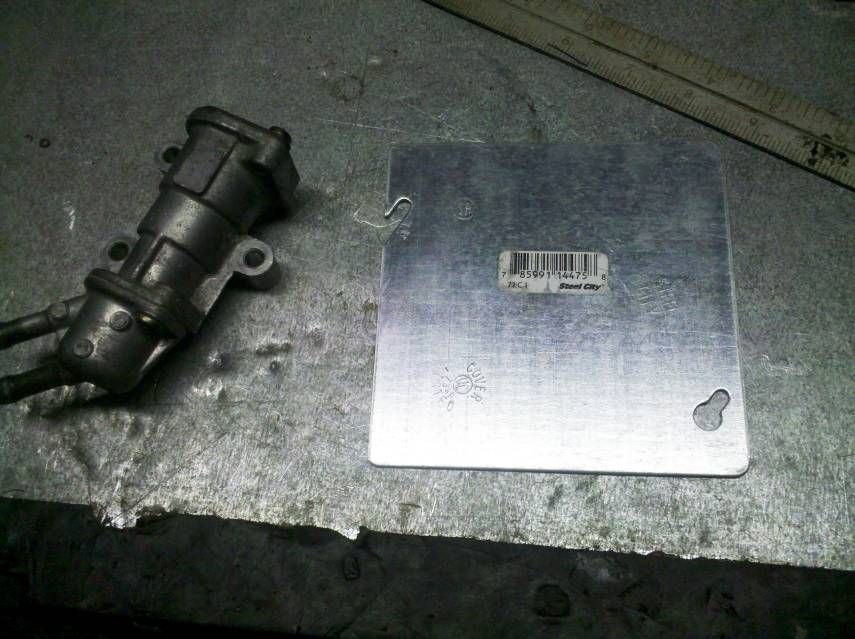 This is much sturdier than the cut up can route, though is more work. I think this is a better way to go, IMO.
Plumbing section;
- Hose connector: you can either get the brass double ended barbed connector (1/4") (~$3.50), which was out of stock in two HD's i went to, or substitute with a length of 1/4" copper tubing. They come in one or two foot lengths...look carefully, easy to miss. Mine cost ~$1.58.
These are better than the plastic connectors you can get at auto store. (In first pic you'll see one...i had cut this section of tube before for cleaning...it was deformed but had yet to fail when i removed it after ~20k.)
- Hose clamps. Near the barbed connector, or get at auto part store. You only need two, but i opted for a third. Not sure if cheaper at hd or auto store.
Mower section;
1/4" fuel line for repair. If you need gasket paper, i'd say get this at the auto part store, but i dont see why this item available at Home Depot wouldn't work...slim chance not anti-freeze safe, but this is probably just regular auto vacuum line repackaged.
One foot is plenty.
(Note: if you really wanted you could prob just carefully bend the flexible copper tubing into a loop and clamp down into a short length of hose off the IACV).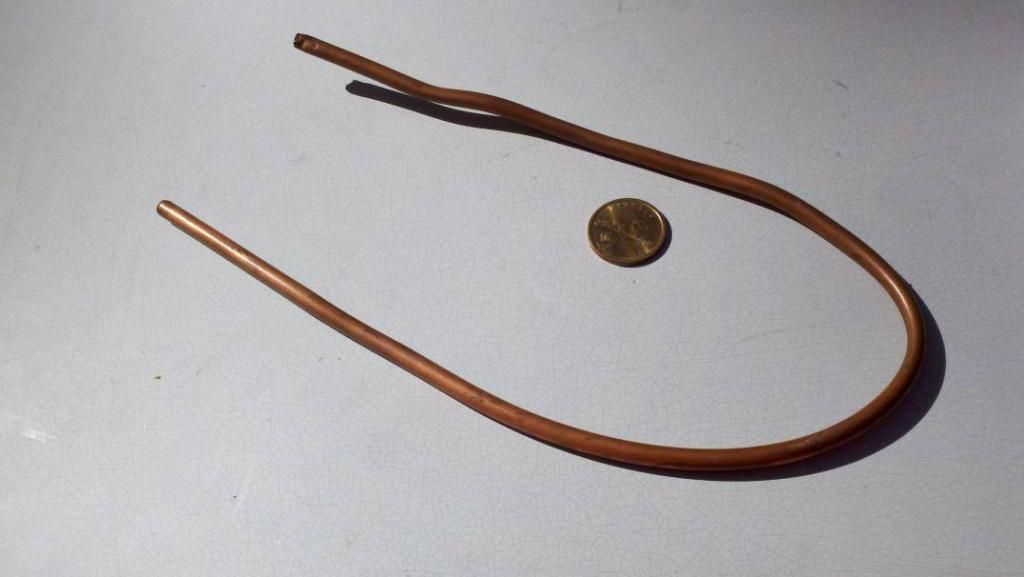 Auto part store:
- gasket paper ($5 for a roll with lots left over)
- Hose clamps and 1/4" line (cheaper by the foot behind counter) if you didn't get elsewhere.
Optional: short bolts (you can reuse the old ones shortened) and spray paint.
So if you have no materials to start estimate 10-15 bucks. I had most this stuff so I paid about $2.
Procedure:
Remove FITV and disconnect hoses. Estimate size of plate needed. I think mine was ~2.25x2.5 inches.
I scratch scribed and cut down the plate with a jigsaw.
I then radiused the edges with a drill mounted abrasive disk. I just did it by eye. It's slightly imperfect, but no sharp corners. *
Carefully figure out the location of your drill holes. There are some hoses on the right side which are a tight fit. I'd suggest locating the right hole first, checking, then using the FITV itself to locate the other two. Drill them slightly oversize for wiggle room...plenty of gasket surface here so it's ok.
Cut the gasket paper. Put holes in it. A gasket punch is best, but i just drilled through against a backer block and cleaned it up with a knife.
Cut the bolts down. These are very short, less than 10mm I think. Just cut a bit at a time, too short and you'll need a new bolt. I used a dremel cutoff wheel. I kept my long bolts and used some spares.
You could mount the FITV back on top of this plate if you were concerned about emmisions inspection giving you issues but this seems unlikely.
Loop a hose from iacv down to the line below. Cut where it looks like a good spot (engine cold), no kinks or rubbing. Hose may be a tight fit on IACV, I chucked a nail set (smooth conical head) into a drill, put on some soap and spit for lube, and flared the end of the hose. Easier installation.
Hose barb is simple. If using tube then cut a length maybe 3.5", clean up ends, and clamp in one side then slip in other and clamp.
You'll need to bleed your coolant for bubbles and maybe refill a bit.
Last step is to reset your base idle.
Done.
*this is a galvanized steel plate and should not rust, however by cutting the edges you're exposing the metal inside, so hit it with matte black paint to keep it rust free. I didn't, and it's not really a problem, but I might paint it at some point.