Alright I started this write up and realized I needed to get some more things worked out before I posted it. Without further ado here is a list of parts needed. I will have the pix up as I have the time to post them. I will post the fronts first as this is more easily accessible for me right now.
FRONT: PARTS LIST: $35.00 plus tax per side from the junkyard COMPLETE with rotor and caliper and all.
From what I KNOW TO BE TRUE RIGHT NOW- THESE ARE A DIRECT BOLT IN FOR ALL CB's and DO NOT REQUIRE REAMING OUT THE LOWER CONTROL ARM.... MEANING: the lower ball joint is the SAME SIZE.....
00-02 EX 4dr and 2DR V6 front knuckles WITHOUT UPPER A ARMS just the front knuckles WITH calipers/ rotors.... the 98-99 I have ONLY seen v6 in LX forms and these ARE DIFFERENT and have a smaller inner spline and WILL NOT WORK FROM THE LX OR 98-02 V6....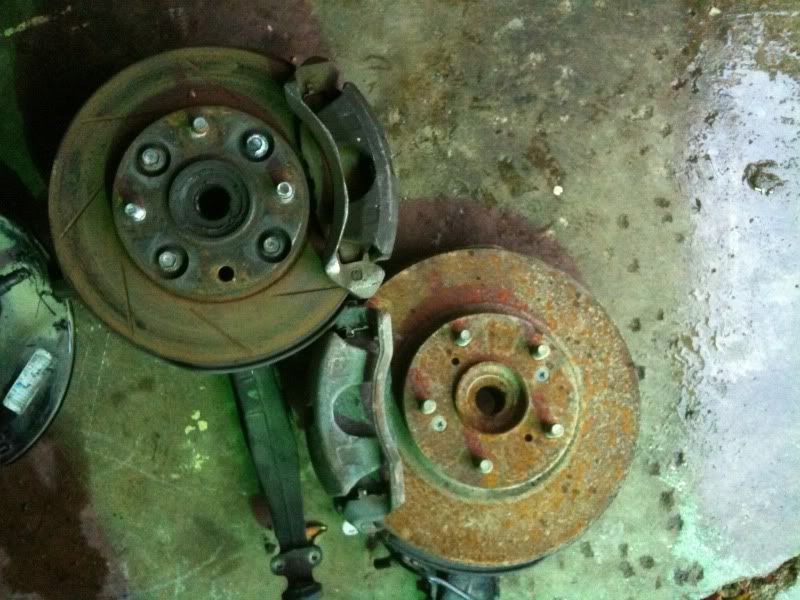 SIDE BY SIDE OF 98 LX V6 NO BUENO....
This is the vehicle I pulled them from.... 00 EX 4dr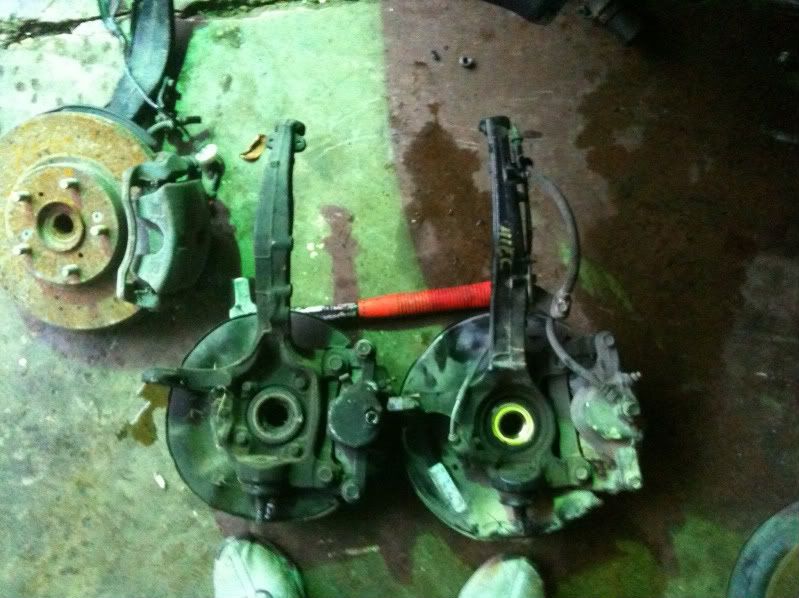 Side by side of 98 LX (Left and facing front... see the smaller diameter shaft spline... THESE WILL NOT WORK!!!!), 91 CB7 hub Middle facing down (see the 4 hub bolts?), FAR RIGHT 01 V6 EX(facing down with the S5 stamp and white sticker on it) ...
Side by side of cb7 hub VS v6 EX HMMM LOOK AT THE SIZE DIFFERENCE!
Side by side with H22 shaft stuck inside the 00 EX hub.... SEE THE S5 STAMP... THIS IS WHAT THEY HAVE TO HAVE STAMPED INTO THEM TO WORK!!!!
00 EX 4dr shot of placement of tie rod being underside JUST LIKE CB's
INSTALLED after rotors turned- there was a slight amount of surface rust on the rotors even though they were NEW with NEW pads... I went ahead and turned them for obvious reasons. I also showed the shot of the brake line still attached from the CB and from the 00EX... I recommend using the CB line since it is a little longer. I tried attaching the 00EX and it WILL work but it will be TIGHT after suspension install.
Prerequisite: I should hope before you start this project that you have the following:
A.obtained all the parts listed above
B. Have tools or access to tools to get the job done
(tool list I used as follows 1. 36mm socket,17mm sockets, 12mm sockets, 10mm sockets and 10mm open end wrench, pliers, hammers 1 small sledge 1 12lb or so size, needle nose (possibly), flathead screwdriver, 1/2" ratchet, 3/8" ratchet and I use a 1/4" ratched too and possibly a ball joint seperator if necessary oh and last but not least a cup or container to catch brake fluid, jack and jackstands)
C. I AM NOT RESPONSIBLE FOR YOUR LACK OF KNOWLEDGE ON HOW TO USE TOOLS PROPERLY- in other words if you don't know what you are doing please get help from someone that at least knows how to use a ratchet and wrench.
1. obtain above parts listed above or as follows- 00-02 Accord V6 EX front knuckles STAMPED S5 on back on dust cover, with caliper, rotor and you DO NOT NEED upper A arms.
2. jack car up
3. remove wheels
4. remove cv shaft 36mm nut and you can either A. Leave shaft in or B. take shaft out (taking it out is easier for me but you CAN leave it in to do this)
5. remove 12mm bolt from back of caliper and place a cup or container to grab any brake fluid, remove the 2 10mm bolts from the side of the a arm as well. DONT FORGET TO PLACE THE CUP OR CONTAINER UNDER THE LINE... it WILL LEAK...
6. leaving the UPPER A ARM IN..... remove 10mm dust cover bolts from upper a arm knuckle joint
7. remove cotter pin in upper ball joint and losen BUT LEAVE IN the 17mm nut
8. remove cotter pin from tie rod, remove 17mm nut and tap the knuckle NOT THE END OF THE TIE ROD with a hammer... the tie rod should fall out.... IF NOT place the 17mm nut back on the tie rod and smack it with the hammer till it looosens... DO NOT HIT THE TIE ROD END WITH THE HAMMER DIRECTLY AS THIS WILL MESS THE THREADS UP.... You can use a ball joint seperator as well.... I dont like this option as it normally will tear the grease joint up....
9. on the very bottom of the knuckle (the nut and cotter pin face the ground underneath) remove cotter pin and remove 17mm lower ball joint nut.... smack the lower control arm with a BIG OL HAMMER and then pull up on the knuckle, should come right out of the lower control arm and if not hit again a few times and repeat process. Your last resort is the ball joint seperator which I do NOT use....
10. go back to your upper a arm ball joint that you loosened the 17mm on and remove that nut now.... smack with a hammmer on the knuckle side and you should come right off....
11. REMOVE the WHOLE KNUCKLE
12. REPEAT PROCESS FOR OPPOSITE SIDE
13. Reverse process INSTALLING the 00-01 EX knuckles.....
REAR: You need the following parts:
1. Rear 97-01 CRV outer drum (they are 42 new at autozone... mine were free from off a wrecked crv I bought for just the motor for 600 I have priced them at the junkyard for between 10-20.)
2. I used rear prelude hubs right now as these worked and I had them handy from a project on my crv when I was doing rear disc brake swap on it. You all know the price for these if not they are around 100 new or range in price from 150-300 depending on what all you buy. .... I paid 100 for BOTH my rear disc swap parts from the 99 lude for the CRV and these were left overs so to me they were free since the rest of the setup went into the crv stuff.
YOU NEED A HUB REMOVAL TOOL FOR THIS.... RENT ONE FOR $16 at AUTOZONE IF YOU DO NOT HAVE ONE. Possibly a large flathead or flat chisel.... BE CAREFUL WHEN USING THESE!!!
1. MAKE SURE YOU HAVE OBTAINED PARTS and get your tools out same as above for fronts but add a 32mm or 1-1/4" socket for rear spindle nut
2. Jack rear of car up and place the car on jack stands
3. Take rear wheels off
4. Remove center hub nut (save this by placing somewhere that you can find it)
5. Remove outter drum brake and HUB at the SAME TIME by attaching hub removal tool with lug nuts to the rear hub- then tighten it and will loosen off the hub. You will need a 19mm for this part or whatever type of tool is required for your specific hub removal tool.
here is an example of one:
http://www.jcwhitney.com/jcwhitney/p...23&zmap=813995
6. If part of the bearing stays attached to the hub still as mine did you can take a flat blade chisel or large tip flathead screwdriver and tap behind the bearing closest to the dust cover and the remaining bearing and hub part will come right off DO NOT SCAR THE HUB!!!
7. clean the surface of the hub up look for any knicks (you should not have any but just in case) if you have knicks you messed up BUT this may be able to be cleaned up!
8. take your rear hub from your prelude and slide into position where the 4 lug hub once was at- this may require a little jiggle but should slide right on.....
9. Place hub nut 32mm back on hub and tighten down hard to specs... Then you will notice there is still thread. I used bustedlx advice and staked the SHIET and I dont have any issues.
10. Place CRV drum on
11. PULL EBRAKE CABLE TO INSPECT- E BRAKES WORKING!!!
12. Place wheels back on car
13. Take Jack stands out and place car back on ground.... ENJOY!
Side by side view of Accord on left and prelude on right
Accord left Prelude right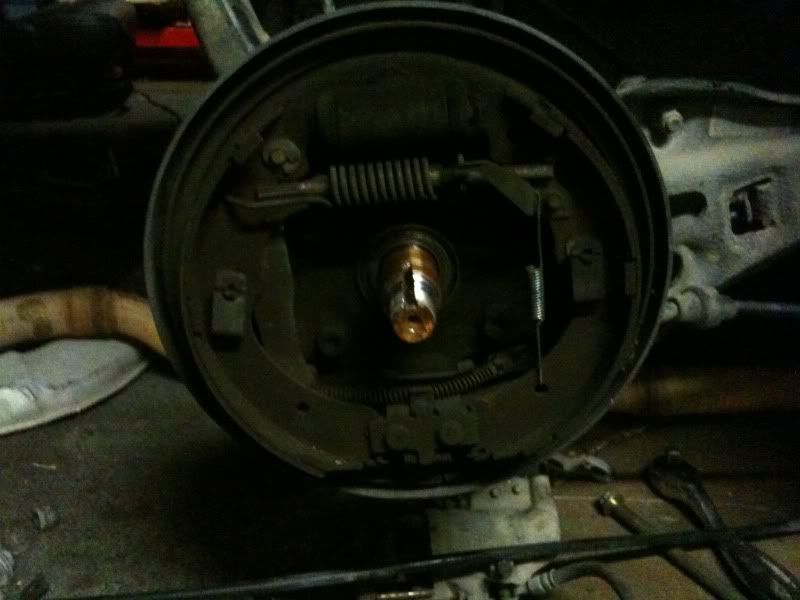 Accord hub removed
Prelude hub installed
CRV drum on
(This is me at the State Fair of Texas with the INFAMOUS funnel cakes and how you should feel after completion of this DIY)