Well hello everyone this is actually my second MRT sold my last Cb and picked up this one for $600.
LATEST PiC's AS OF 10-4-11 iN LAST PAGE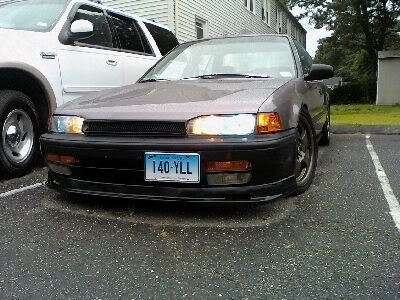 EXTERiOR: (As Of 9-21-11)
*Amber Corner Lights
*Acura Legend Lip
*Ek Civic Mugen Style Lip (Buh Bye)
*Cd5 Rear Side Markers
*Blackhoused/Yellow High Beam Headlights
*90/91 Oem Fogs On 92 Bumper
*Diy Black Mesh Grill
*Thule Roof Rack
*ill Sticker
*Diy DRL's
*6k Hids On Lows
iNTERiOR/MUSiC:
*Jvc Cd Player
*6x9 Rear Speakers
*5 Panel Booty Mirror (Wink Mirror)
*Oem Fog Light Switch
*Clean
UNDER THE HOOD:
*F22a1 With 104k
*H22 Tranny
*All Stock And Clean
SUSPENSiON/RiMS:
*Lowering Sleeves
*Bronze Motegis (Sold)
*Cd5 Wheels (Traded)
*American Racing Rims (Current)
FUTURE PLANS: (As Of 9-21-11)
*5% Tints All Around
*Body Work And Paint With Black Top
*16 iNch White Widened Steelies
*Engine Bay Wire Tuck
*H22 Or H23 Swap?
*Cl Leather Seats Or Heated Leather Seats
*Side Markers (Gotta install)
That's all for now all those plans all should be done in the next couple months.
Now here are some pictures will take more soon, I got the car stock I added the hids, amber corners and rims.