If theres any threads I enjoy reading the most it's swap journals. So I decided to make my very own. I saved every paycheck I earned and managed to buy myself a 95 JDM H22a (OBD-1) with M2B4 LSD tranny purchased from hmotorsonline. I recently moved into a brand new house with my parents, so as you can guess they were not soo thrilled with the idea of me swapping out the cb7.

They even offered to pay for a shop to do the swap. After much convincing I finally got the okay from mom and pops to do the swap.

Unfortunately I hardly had anytime to actually work the swap itself. Being as I'm still 17 From 7:30am-12:00pm I go to school, then from 2:00pm-7:00pm I work mon-fri. I only had weekends and even then a good majority of the time I was hunting down various parts. I'm not going to go into details on the grand total of the swap because I'm still in denial. I couldn't have done this swap without this site: cb7tuner.
Huge thanks goes out to cp[mike], timmy0tool, and NAiL05 for answering some of my PM's on the swap.
BTW if this thread is hard to follow its because im tired and have had a lonng day so bear with me....
Here she is, my long awaited LOVE...
Some of the various parts I will be replacing, OEM honda.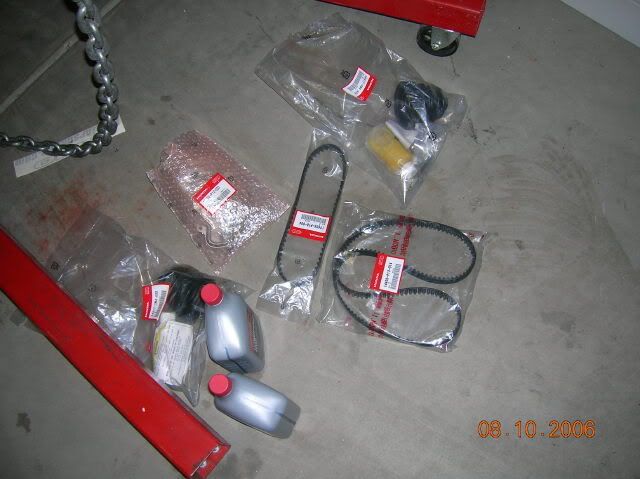 I started my swap right after I got off work, I began taking off the strut bar, EGR system, intake, alternator, ps pump, shift linkage, ac compressor, and header.
F22 header > me
I then started working on the h22, replacing the timing belt, water pump, balancer belt, and a few other misc. things. Due to time restraints I was not able to change out the clutch.

I most certainly would have if I had simply had more time to do it. I wasn't skipping on the clutch to be a penny pincher. (you can only bum rides for soo long.)
Next I drained ALL the fuids from the cb7. The radiator, clutch, and tranny fluid was drained. I also removed the battery tray, TB to allow for more room, cruise control, radiator, fuel line, and anything else that was connected. The header hose was the biggest PITA of all, I eventually just gave in and cut it off.
I saved the best for last, the axles. I used a craftsman impact which broke the 36mm nut off within a few blows, I was impressed. Everytihng was going dandy until I got to the damn lower balljoint. I couldn't for the life of me break it loose. I tried banging on it for what seemed like hours, I even tried a few pullers which just got me fustrated. Finally a this method to break them loose.
http://www.honda-tech.com/zerothread?id=887859
. Thanks to k-mart for the link, this was a life saver for me. After a a lot of persistance with various crow bars I finally got her out.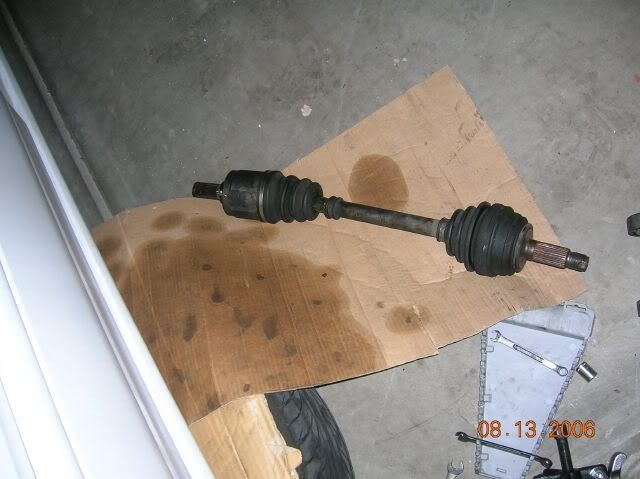 I will be constantly editing this thread so if it seems different each day you know why.