Arm tired? Yeah it is. Solve all your problems by getting an armrest installed!
Today we're gonna be installing your suuuper JDM/CDM/wherever-you-got-your armrest-from armrest in your 1992-1993 Accord! But before we get that armrest in, we're gonna be taking care of one extremely crucial requirement in getting your super awesome armrest in - you gotta relocate your e-brake to the center.
Not all people have pre-threaded holes in our accords for relocating the e-brake to the middle. There's holes! But they're not threaded. And they're far too big for the bolt, and too thin of sheetmetal to tap it. This is an invasive method to gain access to "THE TUNNEL" so that you may put some nuts under there and bolt your e-brake in the middle. There is no other way that I can think of. There is no bathroom. YOU'RE GONNA HAVE TO CUT YOUR CAR OPEN.
The guy in this video also feels your car's pain.
http://www.youtube.com/watch?v=1op3ZoNeflc
Tools Needed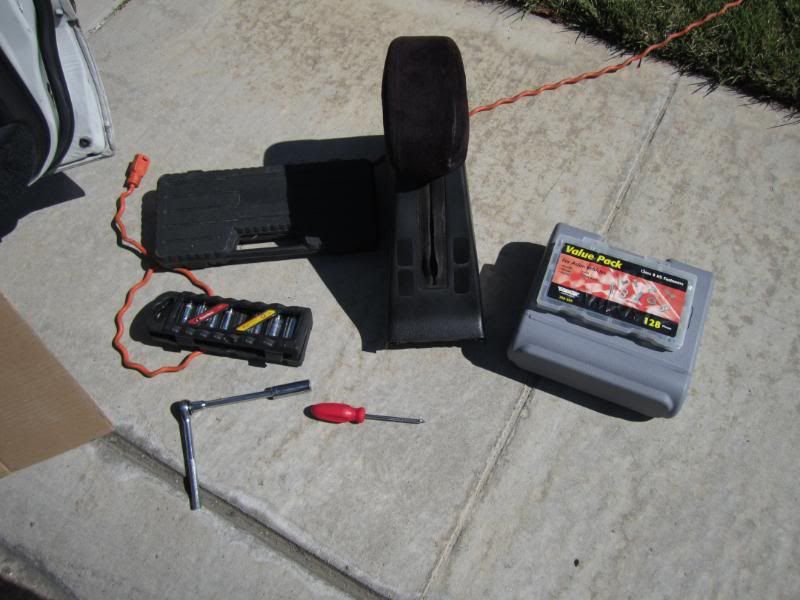 -Phillips Head Screwdriver to remove your center console
For Your Socket Wrench
- 14mm Deep Socket to remove seats
- 12mm Deep Socket to remove your e-brake assembly and adjust tension on e-brake cables
Things You Need to Cut Stuff
- Dremel and the knowledge of how to use it.
- 2-4 reinforced metal cut-off wheels
- Safety Glasses/Goggles. You'll feel cooler and safer with Goggles.
- Patience. The sheetmetal is thick, and your dremel WILL GET HOT, so let it cool down when it needs to.
- *OPTIONAL BECAUSE I WAS SCARED* A big piece of cardboard to wrap around the cutting area to prevent sparks flying everywhere.
Assembly
- Nuts that will fit the OEM bolts
- Washers to prevent the nuts from going through the holes
- Your Super _DM Armrest, yo!
- Something to hold that nut in "THE TUNNEL" while you bolt down your e-brake assembly, these are two valid options:
+ JB Weld
+ Magnetic Pick-Up Tool
HERE WE GO!
*NOTE* YOUR CAR MUST BE ON A FLAT SURFACE, NO INCLINES. YOU HAVE TO REMOVE YOUR E-BRAKE, SO YOU WON'T BE ABLE TO USE IT.*END NOTE*
Step 1) Remove your seat. I chose to remove the passenger side, since my car was parked in the street.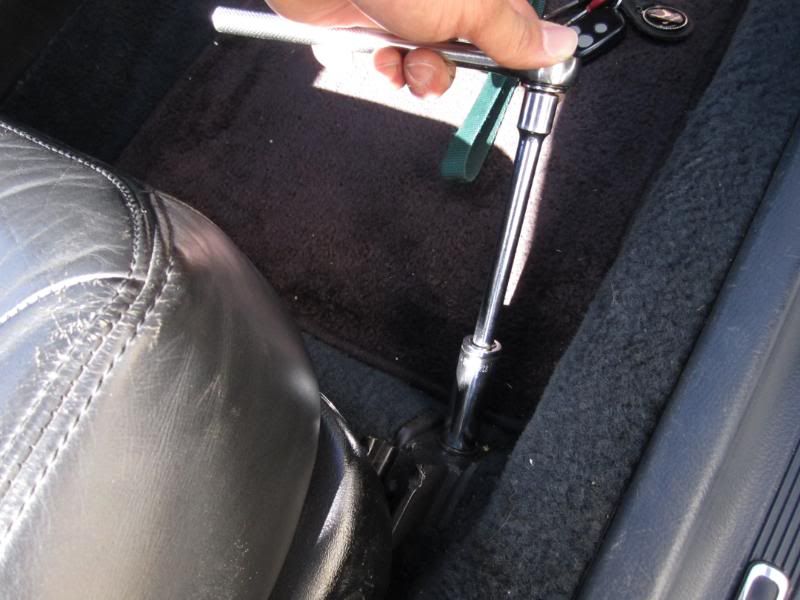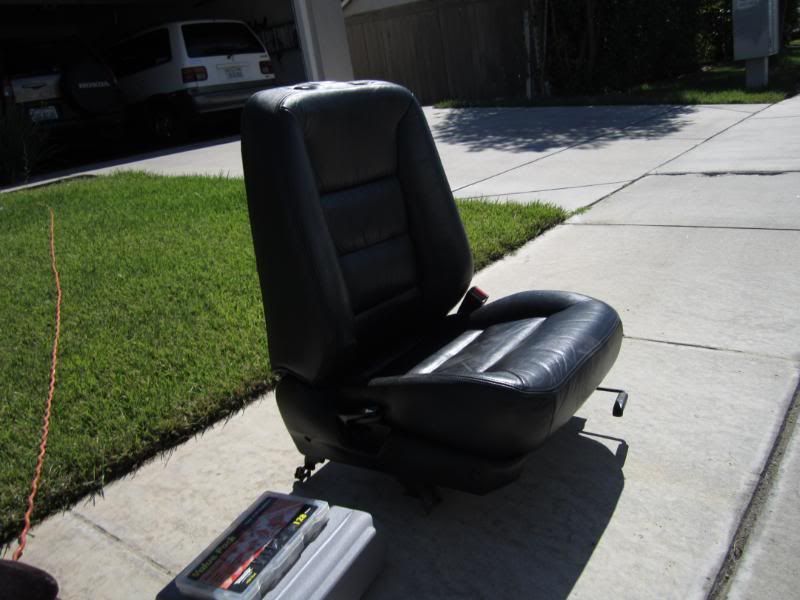 Step 2) Remove your current center console by unscrewing the two phillips head screws on either side.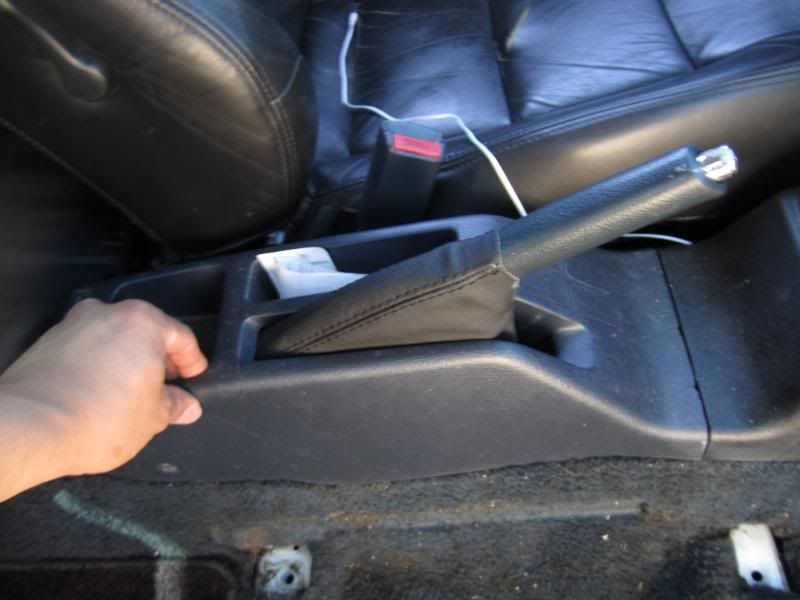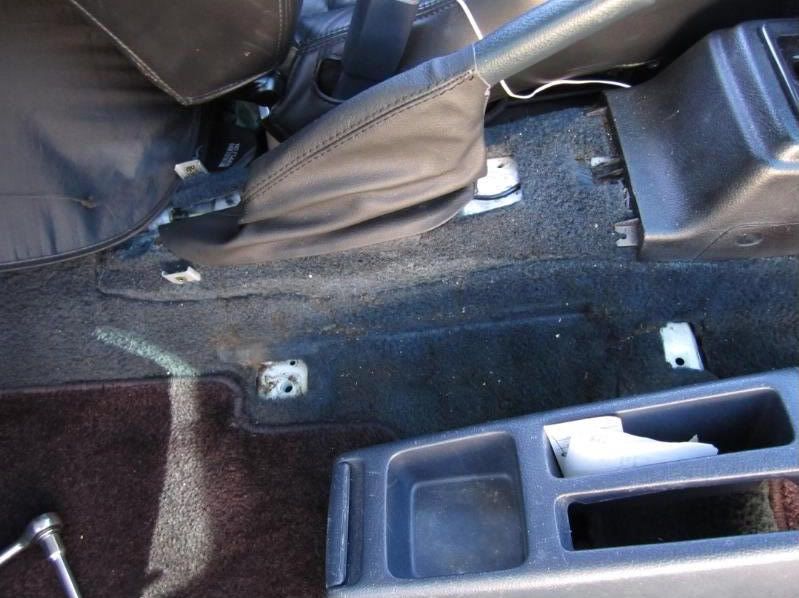 Step 3) *NOTE* MAKE SURE YOUR E-BRAKE IS OFF *END NOTE* Loosen the tension on the e-brake cables a bit by getting your 12mm deep socket and loosening this part
Step 4) After you loosen the cables, remove the cables from the E-Brake Assembly. You're going to have to pull a bit and swivel the stuff around to get them out. You'll see how they go in/out.
Step 5) Once your cables are off, remove your E-Brake Assembly by unbolting the two bolts holding it down. Set it aside, taking care not to pull on the wiring that senses the E-Brake. I put it close by, but out of the way.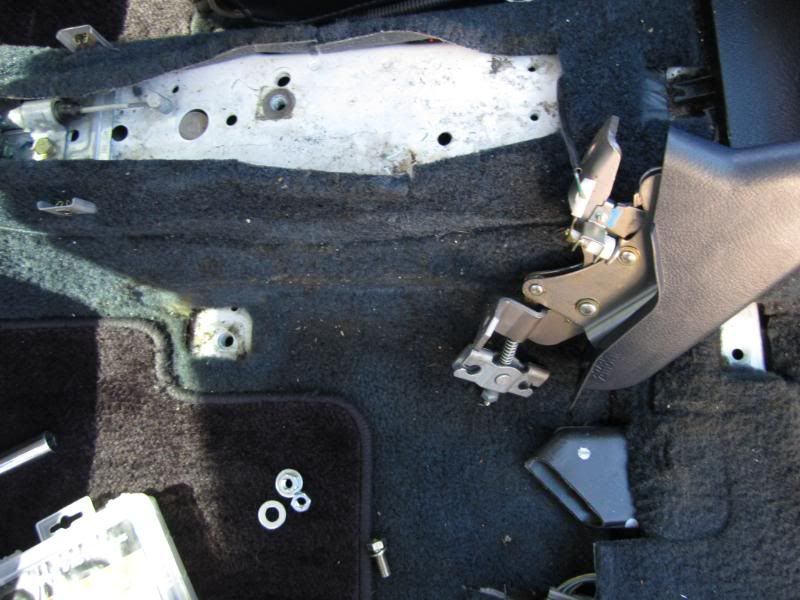 Step 6) *OPTIONAL* Set up your cardboard wall.
Step 7) Get out your dremel with the reinforced metal cut-off wheel attached securely, and cut out a rectangle/square/hole big enough for your hands or something to get in there. cut them so they're pretty close to the holes you need, but leave enough metal for structural integrity (ooooooh ahhhhhhh). I ran through 2, I would've rather had 3 on me, so that I'd have a fresh thick juicy wheel to use each side of the rectangle (you gotta cut pretty deep, surprisingly). DON'T LET THE BLADE KICK, USE TWO HANDS. AND LET THE DREMEL COOL DOWN WHEN IT NEEDS TO. Clean up periodically with your Magnetic Pick-Up Tool, if you have one. *NOTE* YOU GET TO SEE HOW A MAGNETIC FIELD BEHAVES IF YOU PICK UP ENOUGH METAL SHAVINGS. TUG ON THE STUFF AND SEE HOW YOU CAN GET IT TO BEND. IT'S HELLA TIGHT.*END NOTE*
VERY FREAKIN' IMPORTANT: Wear safety glasses. I forgot to, but YOU SHOULDN'T. If something goes wrong, it's game over man, GAME OVER!
Me, scared off my ass because of the sparks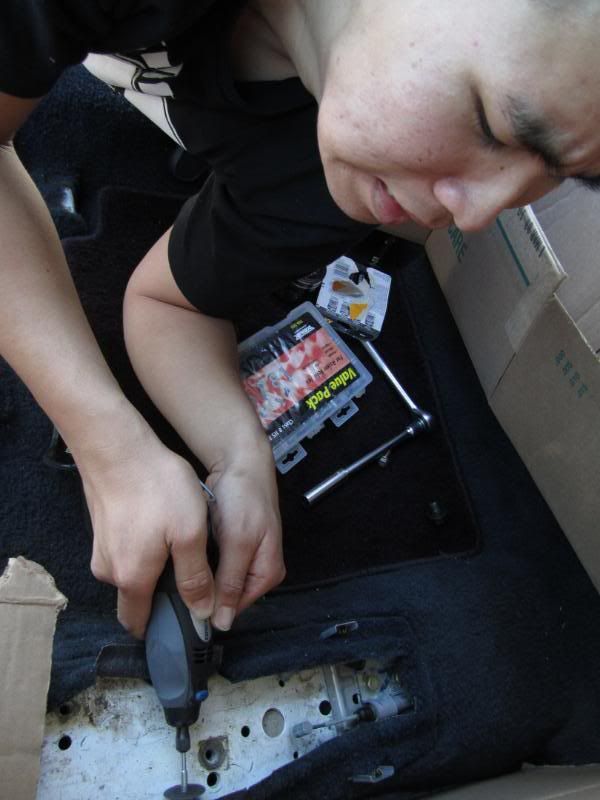 First Layer Removed
Coooooool... Physics 11C teaches you stuff. that you don't understand until you're done with the school year. :\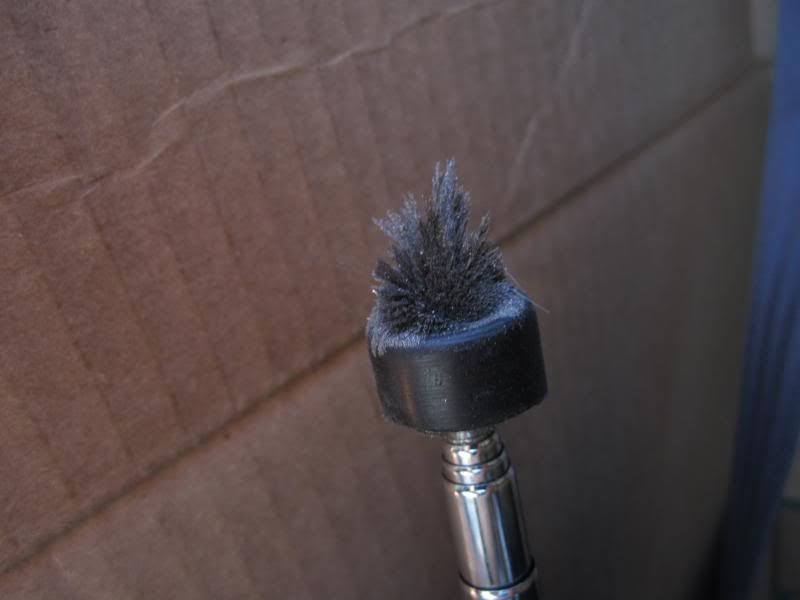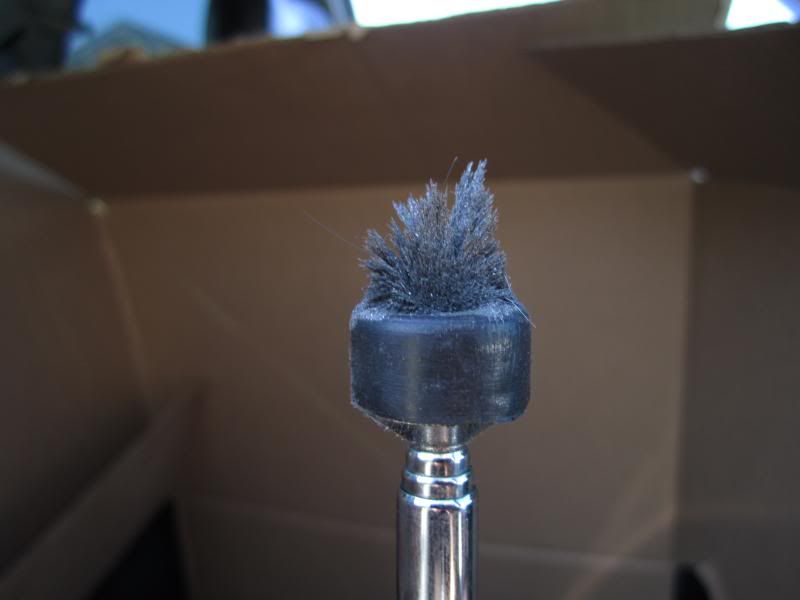 DONE!
Step 8) Bolt down your E-Brake Assembly (EASIER SAID THAN DONE) via the FRONT BOLT HOLE, the one closest to your shift knob and all that stuff, not the one next to the e-brake cables (I WILL TELL YOU WHY THAT ONE FIRST IN STEP 9). This part is frustrating... especially when all you have to get the nut in the tunnel is a Magnetic Pick-Up Tool. IF YOU HAVE JB WELD, I WOULD RECOMMEND JB WELDING THE NUT AND WASHER TOGETHER, AND TO THE UNDERSIDE OF THE SHEETMETAL. It'll be waaaay easier than using a magnetic pick-up tool. Let it dry, bolt away. BUT, if all you have is a magnetic pick-up tool, you may follow my footsteps.
8-1) Put nut on magnetic pick-up tool.
8-2) Stack washer on top of nut.
8-3) Stick magnetic pick-up tool, with everything on it, into the tunnel and place it all underneath the hole, and then put your e-brake assembly over it and bolt down... ALL WHILE HOPING AGAINST PHYSICS THAT THE MAGNETIC FIELD DOESN'T KICK IN AND MESS UP YOUR NUT-AND-WASHER SET-UP. What I did was stick a screwdriver into the hole, put the NUT-AND-WASHER in the hole, and stick the screwdriver in them, and guide it over to the hole.
Step 9) Okay, you got your e-brake assembly lined up with one of the holes, and it better be the front hole. The reason being is: on my car, the back hole did NOT line up with the e-brake assembly. You can do one of three things *I did #3 because i didn't care and I was already working on it for 2 hours*:
1) IF YOUR BACK HOLE LINES UP WITH YOUR E-BRAKE ASSEMBLY
Repeat steps 8-1 through 8-3 for this hole.
2) IF YOUR BACK HOLE DOES NOT LINE UP WITH YOUR E-BRAKE ASSEMBLY
You may choose to drill a hole to accomodate your e-brake assembly's new position, and then repeat steps 8-1 through 8-3 for this hole.
3) IF YOUR BACK HOLE DOES NOT LINE UP WITH YOUR E-BRAKE ASSEMBLY
You may notice that the lower layer of sheetmetal is slightly off-center from the top layer (IF YOU HAVE THIS SITUATION). When I placed my e-brake assembly over the hole, I noticed the bolt would go in at an angle... and that, because the sheetmetal wasn't centered, the bolt could BITE onto the sheetmetal, and I was able to put the bolt in, bolt it down, and the bolt bit enough of the sheetmetal to hold. If you don't mind having the back hole bolted down like this (most of the force is applied near the front hole), then do this, and then go back and make sure your front bolt is secure. You can also put a nut on the end of the second bolt at this time if you want to, I didn't.
Here are pictures of it after relocating the E-Brake Assembly: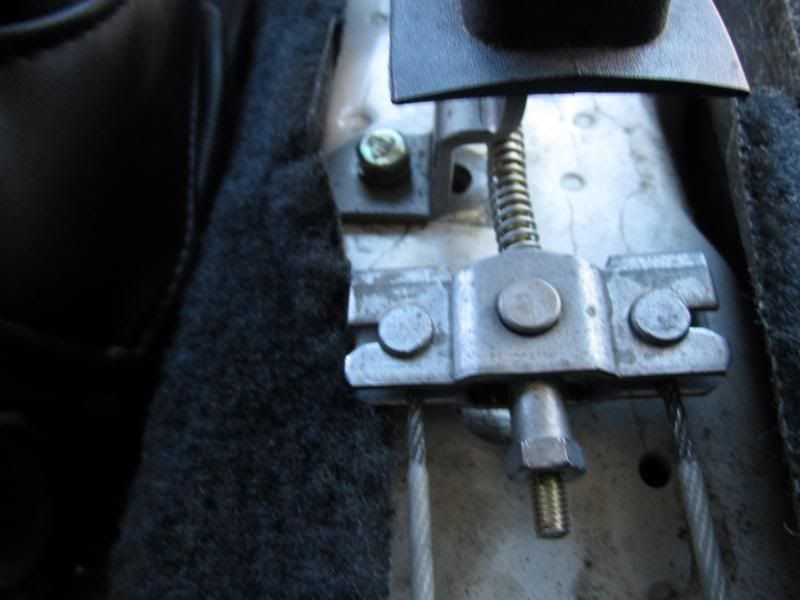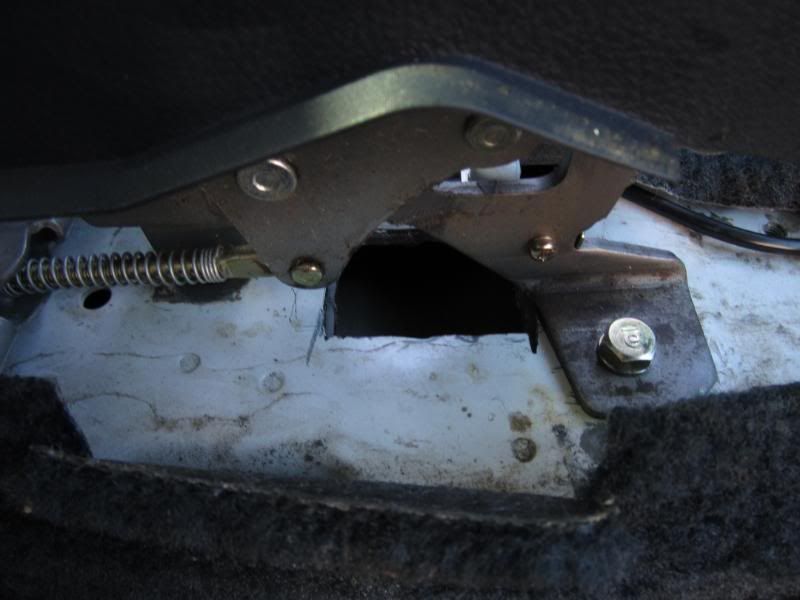 Step 10) INSTALL YOUR SUPER ULTRA _DM 9293 CENTER CONSOLE ARMREST, YO!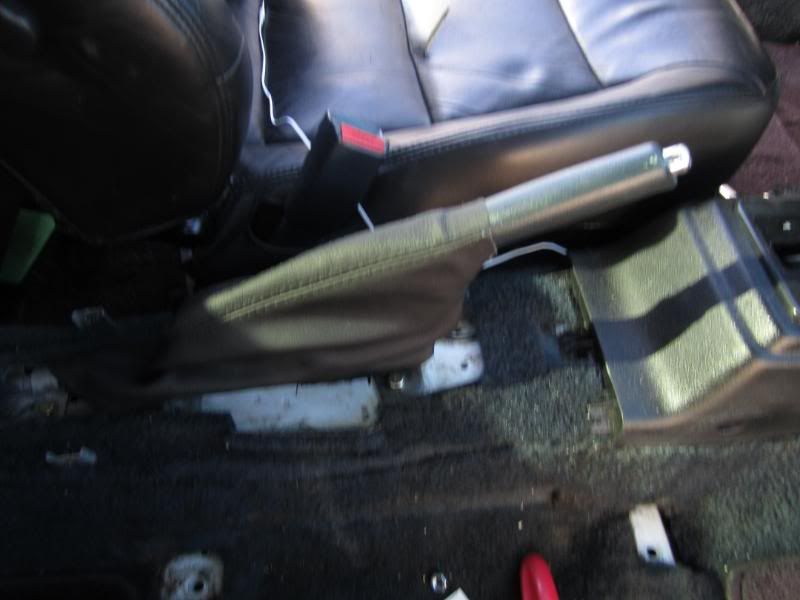 Step 11) Re-Install your passenger/driver's seat.
Step 12) Stand back, admire. Get in the car, Enjoy.
Cheers to a happy new year!