Me and my step dad share and work on this car, its my familys Daily driver and has been a good car over the years
Most Recent Pic
needs a bath
Favorite Pics
and theses
http://www.cb7tuner.com/vbb/showpost...&postcount=656
Engine Specifications:
F22A4 with 180 compression across the board 340k miles.
Engine Misc.:
NGK plug wires
NGK Vpower
Short Ram intake
F22a6 Intake manifold
Blocked off EGR, FITV, IACV, Air boost
Exhaust:
F22a4 Header VHT High temp painted flat black with shiny new nuts
3" cat back dual Magnaflow Resonators
Fart Can (lol)
Drivetrain:
Fidenza Flywheel
Exedy stage 1
Weight reduction & transfer:
Gutted trunk
Suspension, wheels & tires:
Eagle Alloy rims
Neuspeed Strut Bar-Sold
Good year tires
Newer Struts
94 EX rear sub frame
94 EX rear disks
94 EX rear sway bar
Rebuilt Front suspension
Interior:
brown interior
Woodgrain sticker crap (removed)
G1 legend shift knob
Glow shift gauges:
AFR, VOLT, VAC
ICE:
Deck- JVC with thumb drive reader
Rear Speakers- JVC 6"
Front Speakers- Pioneer 6"
Exterior:
Clear corners ( Removed)
Amber Corners (broken)
Old tint-Removing
EX Lip
Custom Blackhoused bumper lights-removed
Black trim with bronze flake
Removed EX badge from trunk
Luminics Ultra white low beams
Relocated Plate using CD5 bracket
OEM Moon Roof Visor(removed)
88 Legend moon roof visor
OEM Spolier-Removed
Black Door handles
Black Mirrors
Antenna
92-93 Sedan trunk, bumper grille Conversion
Oem corners
94-95 Accord bumper lights
5% tint on rear side windows, rear window coming soon
Coming Soon:
Repaint trim again
Repaint door handles
install CD5 rear corners
Fix CD5 side skirts
replace fender
90-91 grille
blackhouse headlights
lower
larger sway bars
new tires
much more
What I've Fixed/Replaced:
Hooked amp back up-Removed again
Replaced Hub
New front speakers
Cleaned up interior
Removed Woodgrain sticker crap
(valve job,Timing belt Water Pump all other belts , Random seals and gaskets , Axles and other shit were just recently replaced by previous owner)
Replaced VSS 5 times
Smogged
PCV Valve
Cleaned inside out
Cleaned IACV
New NGK V Power Plugs
New Radiator
NGK plug wires
New Grounds
New headlights
New corner lights
Fixed Air con
Removed Power Steering
Bought neuspeed sturt bar
New Muffler
New Alternator
New Lower radiator hose
New FR UCA
New brake master cylinder
New Starter
2 New Tires
New heater/fan knobs
New Fuel filter
New plugs again
Removing Tint
New Antenna
Installed Catch can
Replaced Rusty engine bay bolts with shiny gold ones
new tires Barum Bravuris 2
Replaced Radiator again (new one blew out after 10 months)
Replaced more cooling hose
Replaced catch can hose
Replaced VSS again
Replaced Glove box latch
Replaced interior door handle
Replaced cig lighter
Replaced broken fuel door
Replaced Interior door handle again
Installed mazda cd player
Installed 2 more steelies so it matchs
Replaced front brake pads
Replaced Plugs again
Replaced mazda cd player with pioneer
Replaced infinity refrence with walmart speakers
Swaped the DIY grille on to my car and stock 92-93 on this car
92-93 Conversion
Replaced alternator again
Reinstalled Cruise Control
REinstalled Power Steering
Toped off Freon
Rear Disk conversion
Iradium plugs
NEw rims
Exedy stage 1 clutch
Fidenza light weight flywheel
Replaced Left UCA (right was replaced less then 2 years ago)
Replaced both lower ball joints
Replaced Tie rods
Replaced LCAs
Replaced Clutch master cylinder
Replaced Clutch Slave Cylinder
Welded on fart can
Replaced Rear brake pads
Replaced caliper pins
Replaced Right Axle
Replaced Deck with new JVC with thumb driver reader
Replaced rear speakers with JVC
Replaced Valve cover gasket
Removed PS
Replaced oil pan and gasket
painted header and new gold nuts
More items i cant think of...
Frist Photoshoot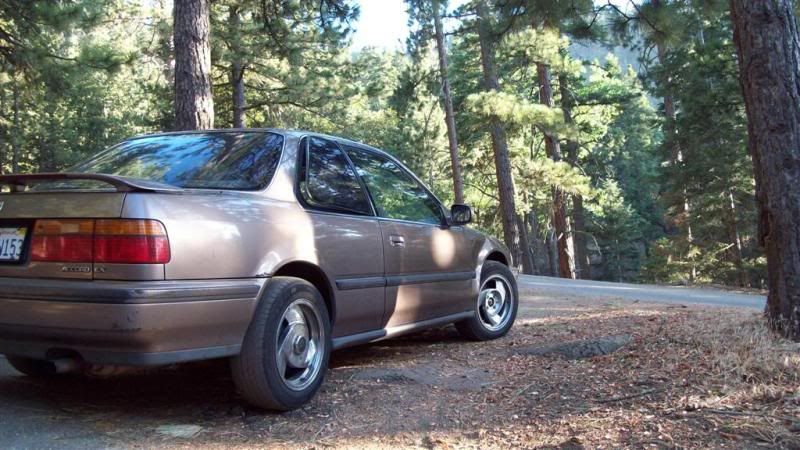 Repainted trim
Amber Corners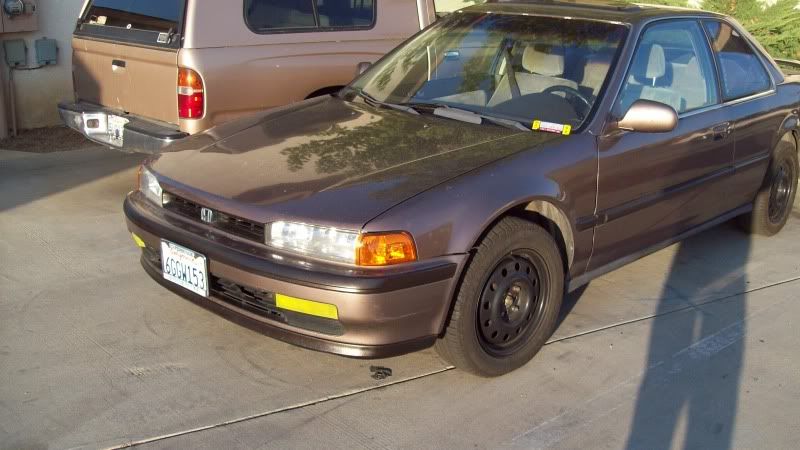 NGK wireset and new rad + tune up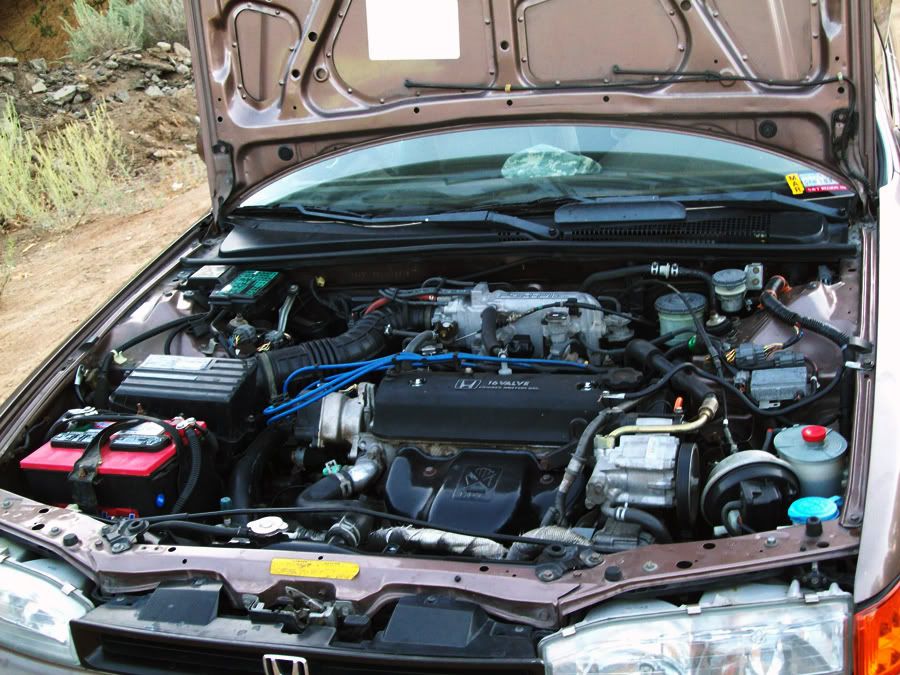 Photoshoot 2
Orange Valve cover
Luminics Ultra white H4 bulbs
Accord Badge and black "H"
Neuspeed bar and Power Steering removed
Tsudo Muffler
day 1
more old pics
http://i242.photobucket.com/albums/f...b7006Large.jpg
http://i242.photobucket.com/albums/f...b7008Large.jpg
http://i242.photobucket.com/albums/f...b7009Large.jpg
http://i242.photobucket.com/albums/f...b7010Large.jpg
http://i242.photobucket.com/albums/f...b7011Large.jpg
http://i242.photobucket.com/albums/f...b7012Large.jpg
http://i242.photobucket.com/albums/f...b7013Large.jpg
http://i242.photobucket.com/albums/f...b7017Large.jpg
http://i242.photobucket.com/albums/f...b7019Large.jpg
http://i242.photobucket.com/albums/f...b7020Large.jpg
http://i242.photobucket.com/albums/f...b7025Large.jpg
http://i242.photobucket.com/albums/f...b7026Large.jpg
http://i242.photobucket.com/albums/f...b7028Large.jpg