Updates on Page 3 - Turbo - Paint - More
This car had one owner until 2000 when my oldest brother bought it. It was bought in New York I believe. It's been through both my brothers and now it's mine. It was stock until I started to modify it and I have much more to do!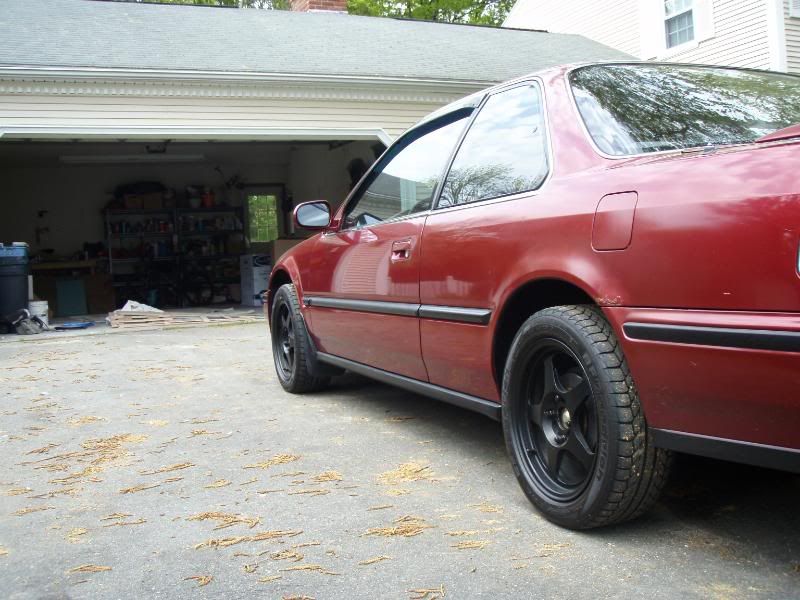 Mod List:
Engine:
DC Sports Battery Tie Down
AEM red SRI
NGK Iridiums
Yellow Top Optima
Megan Racing Header
T.A.S. Auto Cat-Back
Exterior:
Amber Corners (clear kind)
Red/Clears w/ Sedan Trunk
EX Front Lip
Custom Grill
Debadged (except the new accord emblem on the new trunk)
Black license plate covers
50% Window Tint
OEM Spoiler
Rain Gaurds
16" Black Rota Slipstreams
Interior:
Black winter mats
Yeamans Short Shifter/Under Bucket Conversion
Dojo weighted aluminum shift knob
Mugen Boot
Carbon/Silver Pedals
Suspension/Brakes:
ST front/rear Sways
Megan Front/Rear/Tie Bars
Electronics:
Pioneer head unit
focal speakers
2x 10" polk subs
xplod/pioneer amps
ipod attachment
Future Mods:
Amber Side Markers (acquired)
Ex Alloys (selling these)
OEM Spoiler (installed)
PT6 (acquired)
A6 runners (payed for/waiting)
h23IM/TB (aquired/cleaning)
Extra IAB plate as IM Spacer (gutted)
Window tint 35%front/5%back (50% installed)
Window Visors (installed)
4-2-1 Header (installed)
High Flow Cat
Catback (installed)
S2k Antena
Short shifter (acquired/installed)
ESP Bar Kit (went w/ megan)
ST front/rear sways (acquired/installed)
Possible master bushing kit (partially acquired)
Possible springs/struts
Possible big brake upgrade
Possible head swap and/or turbo
That's about it for now!