I rehosted the pics so new members can take advantage of this DIY
ok for those of you whom have, or want to get intersection lights but dont know how to wire them so that they work as there supposed to, this will help you. The intersection lights are supposed to come on, and stay lit, as your turn signal comes on and blinks. Using a traditional relay will not create this effect, because it cant create a solid current (for intersection lights) from a pulsing current (from turn signals).
Other vehicles such as Nissan Maximas, Cadilacs, and Range Rovers have intersection lights, which are actulally refered to as cornering lamps. The cornering lamps work on a controll unit, that uses the current from the battery and a signal from your turn signals to illuminate the cornering lamp.
So this is what I did:
I went to the junkyard and pulled the corner lamp control unit from and 87-89 nissan maxima (located under the hood on the driver side close to the fuse box) it is labeled
CONT. CORNER LAMP
. cut the harness leaving enough wire to work with. You may also want the bracket held on with phillips head screws, this will make it easier to mount the control unit. I opted to leave the bracket because the screws were stripped, and i was going to hide the unit anyway. I have junkyard connections so I got it for free, you can prolly pick one up for less than $10 bucks... or five-finger it since it will fit in your pocket...control unit looks like this
using this schematic (for maxima control unit) I wired up the control unit
sorry for the cut off pic ill break it down
R/W- 12v constant source ~ fused 15A
R/Y- low beam headlight lead
Orange- high beam headlight lead
Or/Blue- left intersection light
Or/Black- right intersection light
G/Y- left turn signal lead
G/R- right turnsignal lead
black- ground
*lead= the wire suppling the power to the light, not the gound-which is black*
when connecting the wires from the control unit to the headlights or turnsignals just use a wire tap, such as these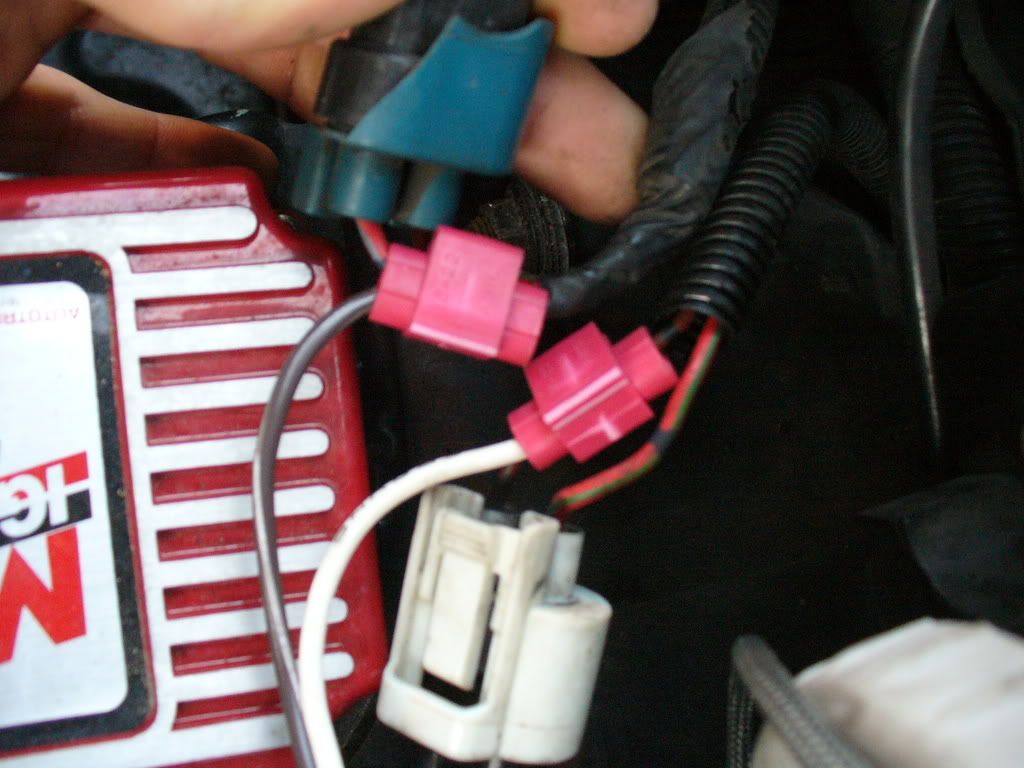 As for the actual cutting of the bumper and installing the lights, I used some 2" masking tape and traced the trim ring of the intersection lights. If you have a stock oem bumper there should be templates on the back side of the bumper, but mine didnt have that, so be sure to measure both sides to make sure they are in the same place BEFORE YOU CUT! I cut it out with a wiz wheel, some sort of air saw, and a round file to make it smooth.
Finished product:
what do ya think? i hope this helps some.