A little(?) late starting this. I'll have to dig up some older photos.
1990 Accord LX Sedan. Purchased by my wife and her late husband in 1992 with 37,750 miles. Now at 313,000+. It has spent, and continues to spend, its life as a daily driver.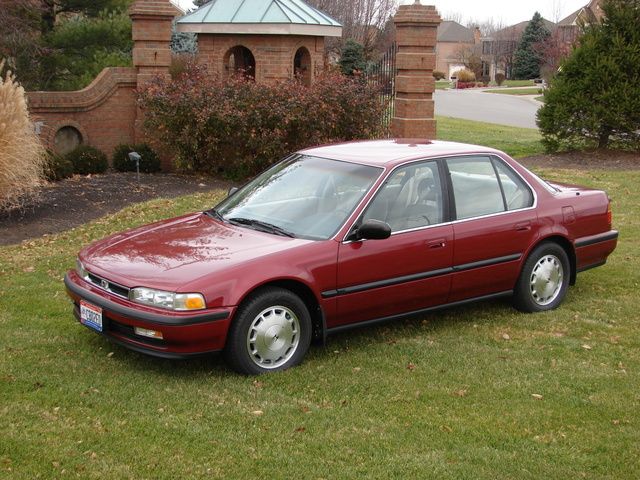 MOD LIST
ENGINE
- F22A6 with H23 intake manifold (Original F22A1 engine swapped out at 331,200)
- PT6 ECM
- F22A4 Exhaust manifold
- F22A6 Exhaust from manifold back
EXTERIOR
- EX lip
- Extensive quarter panel rust repair (
http://www.cb7tuner.com/vbb/showthread.php?t=180806
), the rest of the body is all original sheet metal.
- 92-93 door guards
- 92-93 front license plate bracket
INTERIOR
- EX front seats
- Custom (vinyl painted) leather door panel inserts
- Custom recovered rear deck
- CB9 trunk compartment
SUSPENSION/WHEELS
- Bilstein front shocks with OEM springs
- Bilstein rear shocks with OEM springs (3/30/17)
- EX front and rear sway bars
- Mugen front shock tower brace
- Mugen rear shock tower brace
- 92-93 EX 12 spoke alloy wheels (refinished by RimWorks in Dayton, Ohio)
AUDIO/ELECTRONICS
- 1991 OEM 6 disk C/D changer
- Honda dual cone 6.5 inch speakers
- Compact CB radio mounted in console, all controls on plug in mic, K40 antenna mount in trunk lid
FUTURE PLANS
- scrapped plans for rear disc swap for the time being.