Well this is my first wagon, it's taken sometime to getting used to driving something bigger than a coupe or a sedan but overall this is my 4th Accord.
I bought it from another member on here (Mtnbikkah) since he moved on to an Acura TSX.
Last fall me and another member Accrdwgnguy helped replace the steering rack on this car and the subject of him selling the wagon came up. Months later I finally bought the car from him and I can say I'm going to enjoy this car for quite sometime.
It feels great to finally own a car that is pretty much stock. I figured I can take my sedan off the road for awhile while I figure out what I'm going to do next with it.
Over all I'm happy I got another members car and I'm definitely going to take real good care of it, he actually gave me a book that has all the dates of the oil changes and major stuff that he has done to the car over the years of ownership.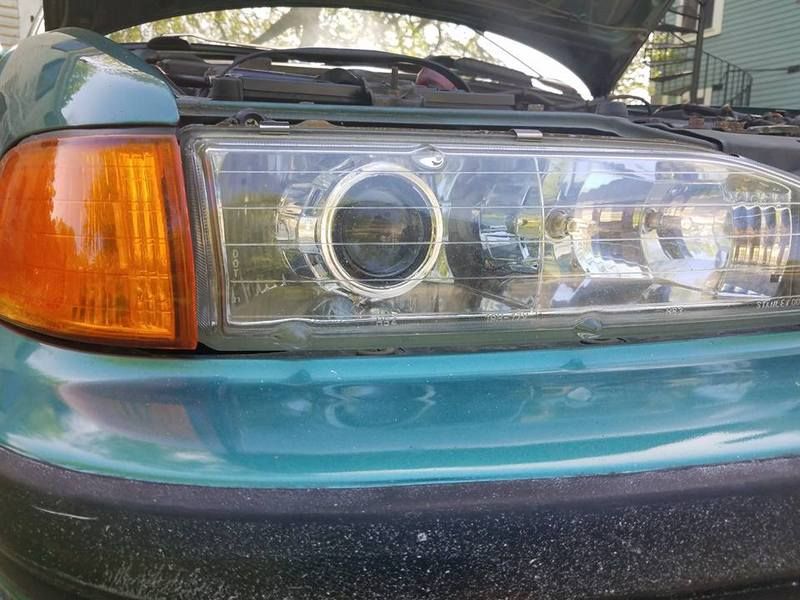 In the 3 years of ownership I've done a lot to this car. I purchased it with 186k original miles from a friend who had owned it for ten years while he lived in NC. The time came for him to move on and buy a TSX, so after negotiating a good price, I bought in May 2017.
Engine:
- Stock
- Aluminum radiator with dual 80 watt slim fans in an aluminum shroud
- Nuespeed tower brace (black, bought one of the last ones they had in stock, since then they have been discontinued)
Exterior:
- Stock
- Sedan front bumper with JDM fogs and Intersection lamps
- OEM Keyless entry (with key!)
- Morimoto Mini H1 4.1 Projectors
- Mini Gatling Gun Shrouds
- Morimoto H1 Bulbs, 4300k
- Morimoto 3Five 35w ballasts (updated versions)
- Morimoto Heavy Duty Aux Wiring Harness
Interior:
- Converted the stock tan interior to grey with various parts shipped in from Colorado in Winter 2017 (yeah I was that adamant of getting rid of that tan interior).
Suspension:
- Progress rear sway bar
- Goodrich braided SS lines
- Ground Control coilovers with Koni Yellows
- FFC top hats
- Prothane master bushing kit (red)
- 5 lug conversion with 1st gen NSX front calipers
- Acura Legend GS wheels with Continental Contact Extreme DWS06s 205/50/16
Audio:
- Kenwood HU with MB Quarts front and rear with a Alpine amplifier hardwired to speakers.
Future plans:
- Install sedan front bumper (
done
)
- Prelude shifter with Hybrid Racing spherical shifter and Fat Four base plate bushings (
done
)
- Replace power antenna (
done
)
- Diagnose and repair a/c system (
done
)
- Install Neuspeed tower bar (
done
)
- 5 lug (
done
)
- Slight drop with Ground Control coilovers and Koni Yellows (
done
)
- Replace the rubber bushings with a Prothane kit (
done
)
- Install Acura TL-S webs with 225/45/17s also using Continental DWS06s